Today, we are called upon to cultivate a culture of innovation within organizations that is capable of translating ideas into tangible outcomes.
The importance of brainstorming and challenges in fostering innovation within organizations, whether they are universities, SMEs, or large corporations, is often discussed. However, despite these efforts, many people find it difficult to achieve concrete results. Defining the concept of "Innovation" in theory is not enough. If you find yourself trapped in an unproductive cycle of brainstorming sessions that fail to produce the desired results, it's time to break free and embrace a new perspective. In that spirit, we invite you to enroll in our "Innovation Culture" course, which has been designed and will be taught by our CEO at Collabwith, Jara Pascual. Continue reading to discover the program's details and offerings!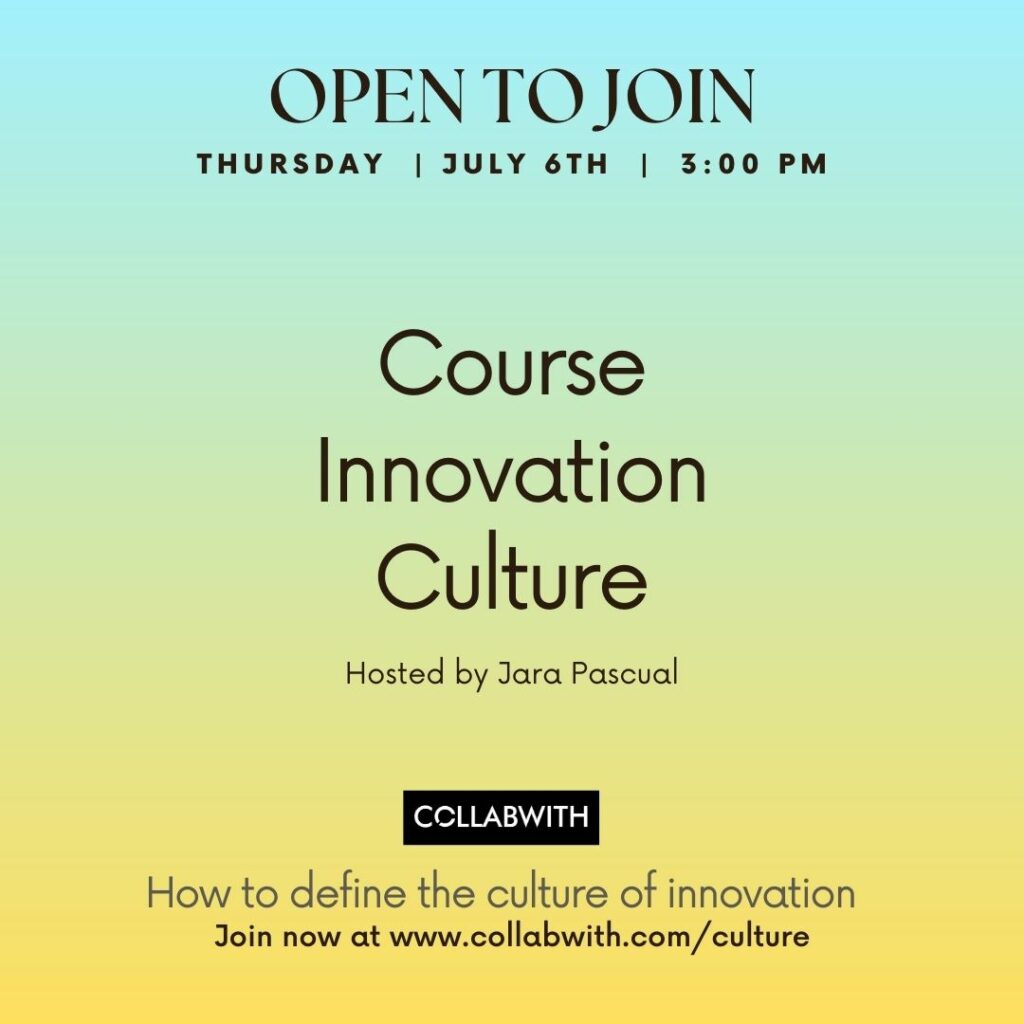 Why an "Innovation Culture" course?

Our program has been carefully crafted to enable you to unleash the full potential of your organization. The course content goes well beyond conventional brainstorming techniques, providing you with a systematic approach to building a culture of innovation and fostering essential skills in leadership, communication, organization, and mindset. While specific content will be covered, we also emphasize the importance of grasping the bigger picture. With the guidance of our innovation expert and coach, Jara Pascual, you will gain inspiring insights and useful practical tools to transform your organization's approach to innovation.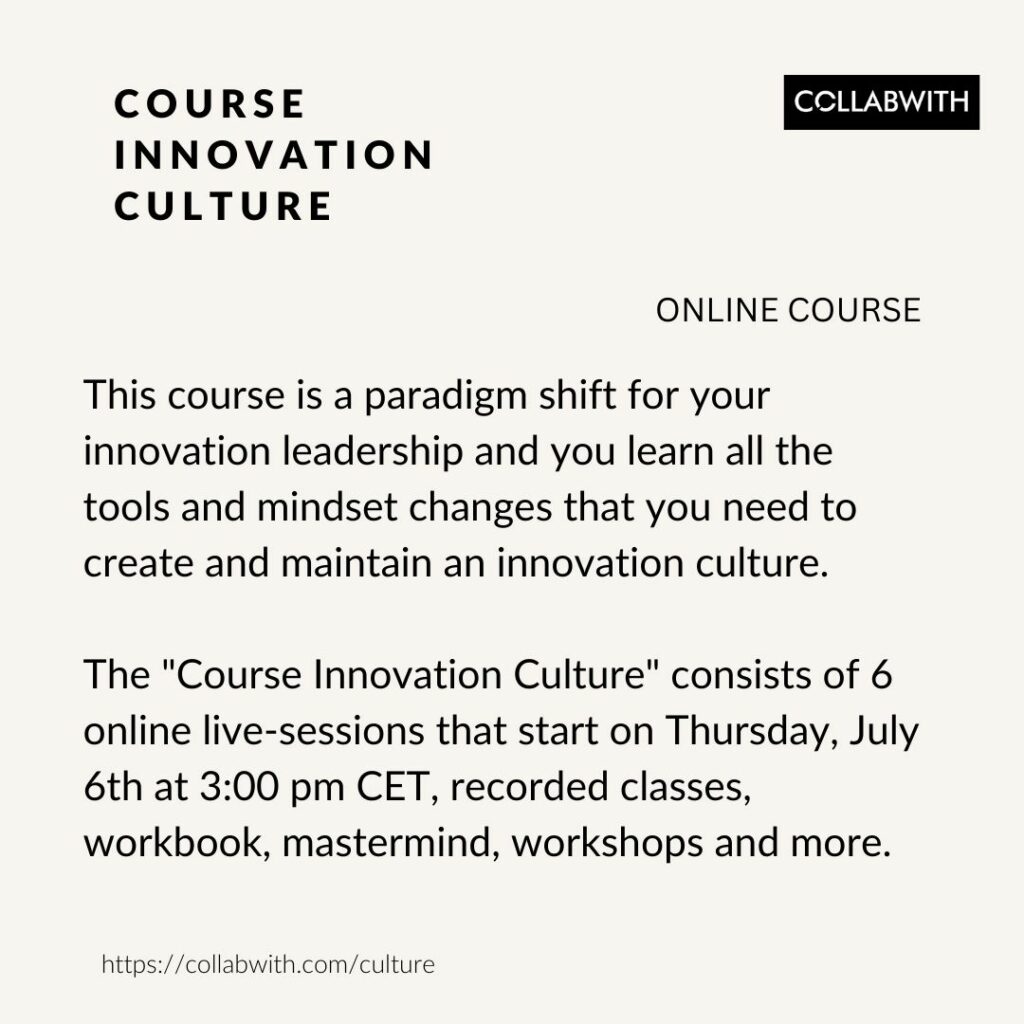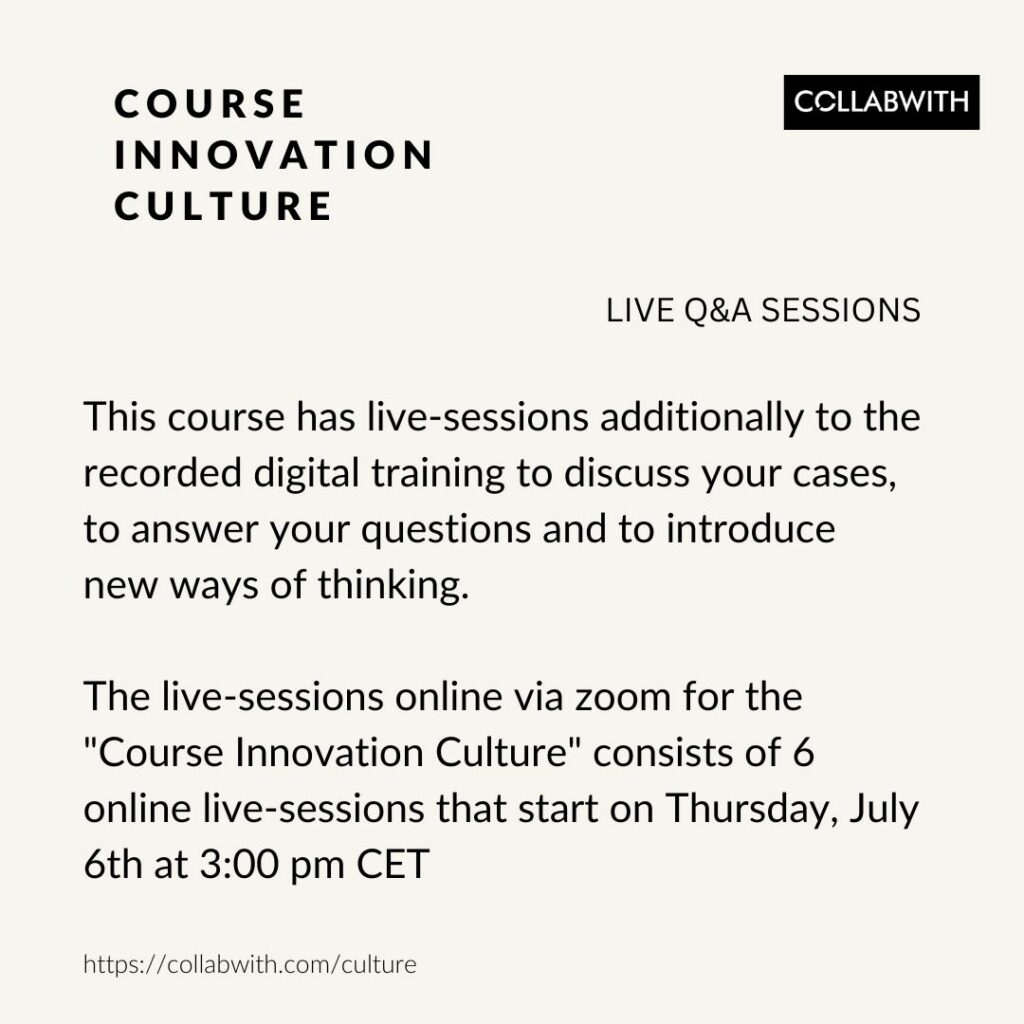 Course details and practical information
The program comprises of six live sessions, scheduled for every Thursday, starting from this week, July 6th at 3pm CET. Additionally, the course will continue in September after the initial sessions in July, providing further opportunities for learning and growth. Check the Agenda below to see all the scheduled appointments!
The sessions will combine interactive Zoom meetings and recorded lectures, ensuring accessibility for all participants. Alongside each session, you will also receive extra resources, including a course workbook, which will help you connect the dots and develop a holistic understanding of innovation culture with practical exercises and case studies. Throughout the course, you will gain insights on building an innovation team, creating an innovation manifesto, and nurturing a sustainable culture of innovation within your organization. By the end of the program, you will also master the knowledge and tools necessary to effectively measure and maintain this culture. Furthermore, participants will have access to an always-on chat platform, ensuring continuous support. Extra materials and resources will be made available on-demand, so as to meet specific needs and requests.
Course lessons and main training topics
In the course, six essential lessons to foster an innovation culture will be covered:
Lesson 1: "Innovation Culture": this lesson will focus on creating and maintaining a step-by-step structure for innovation
Lesson 2: "Innovation Leadership": in this lesson, the focus will be on transformational leadership and the necessary shift from a non-innovative culture to an innovative one
Lesson 3: "Innovative Organization": this lesson will delve into the challenge of transitioning from an innovative team to an innovative organization
Lesson 4: "Innovation Manifesto": this session will tackle the importance of shaping an innovation manifesto to bring clarity within your organization
Lesson 5: "Innovation Teams and Ambassadors": this lesson will emphasize the role of teamwork and the importance of breaking down organizational silos within your organization
Lesson 6: "Promotion of Innovation": this final live session will focus on the strategic role of effective communication to promote innovation
Course bonuses and extra contents
The course offers three additional bonuses to enhance the learning experience. These encompass extra masterclass sessions, workshops, and Collabwith premium content. These valuable additions serve to complement the course material and provide you with even more in-depth knowledge and practical insights. With these bonuses, you will gain access to expert guidance that will enrich your understanding of innovation culture.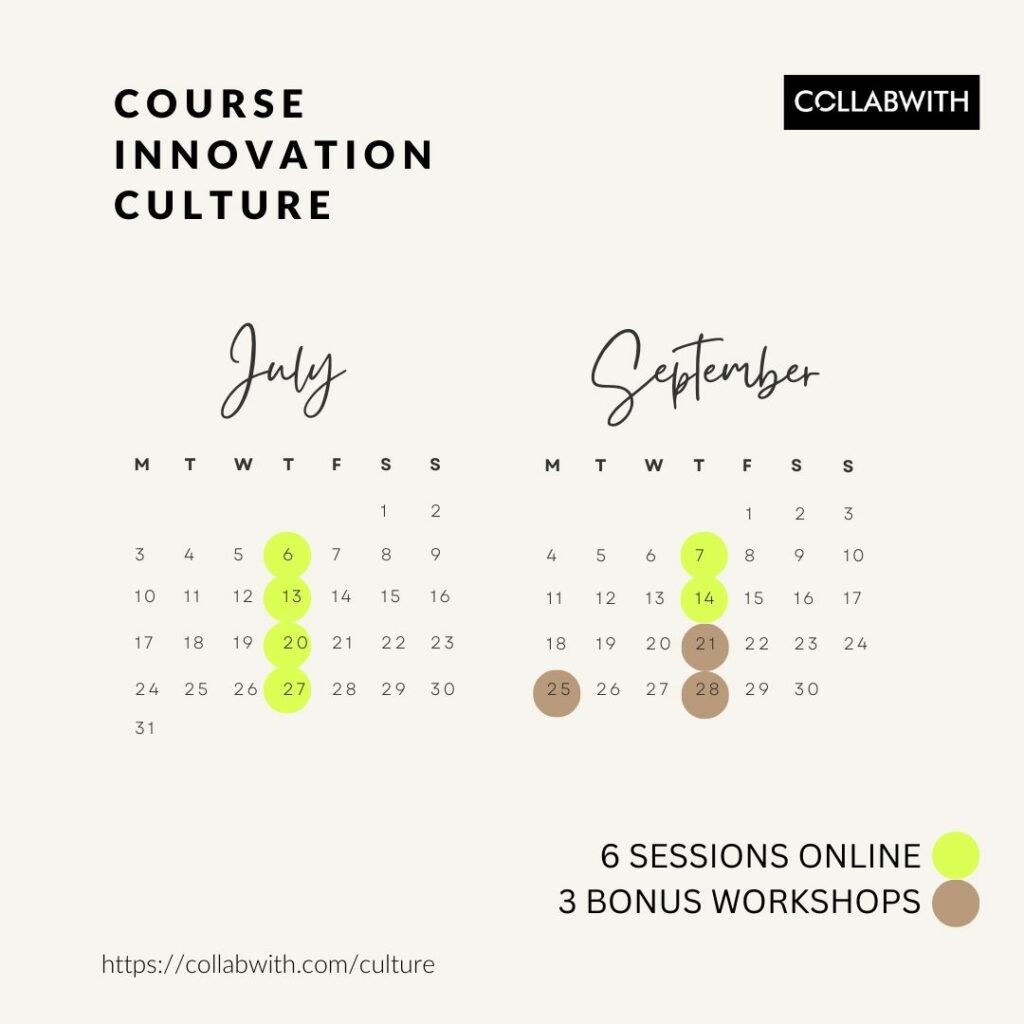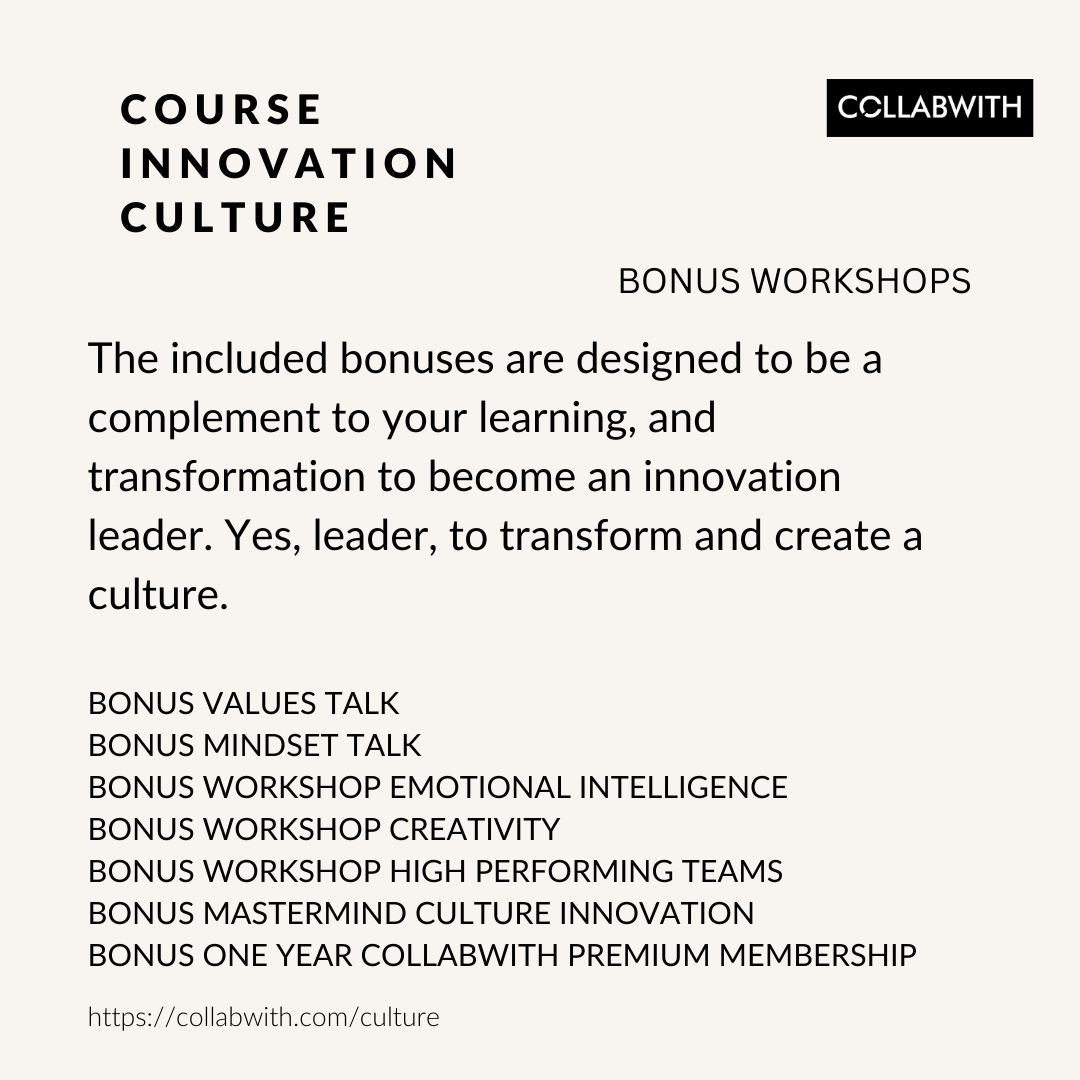 Don't miss this opportunity! Take action now and register for the course on our website in the dedicated section: https://collabwith.com/culture
Join us to start your own journey to build a culture of innovation in your organization. We look forward to welcoming you and helping you unleash the full potential of your organization. Register today and… See you on Thursday!