"I always wanted to be an inventor and create something new, but I realized the TV was already invented! I started telecom engineering and was looking for my way to contribute when I joined an elective class called "Science, Technology, and Society" with Prof. José B. Mariño and Prof. Climent Nadeu. I started reading books by Manuel Castells on the impact of technology on society. At that moment, I found my path… technological innovation! But still something was missing: society as part of the ecosystem, but then I learned about the user experience and human-machine interactions with Prof. Raquel Navarro-Prieto. That's when all the pieces came together for user-centered innovation.  I was working as an innovation manager for adidas when I saw how difficult it is to find professors for research collaboration and how difficult it is to contract with them. At the time, I dreamt of a global database with all academics in one place, and I made up my mind to become an entrepreneur. Four years later, I moved to the Netherlands and started an MBA to prepare myself to run a business. I was thinking deeply about how to streamline the whole supply chain of working with academics and startups. Then, I created  Collabwith, an all-in-one place to find, make requests and contract academics and startups faster, digital and in a standardized way."
Jara Pascual
RELEVANT NEWS
Read here all our company news and press releases and more press media articles, here.
TEDx ErasmusUniversity with Jara Pascual about Emotional Intelligence, Innovation and Leadership.
Recorded on October 2021, and published on TEDx on January 2022. Jara Pascual will challenge you to think about the kind of innovation that is bettering the world, that we think about the future (not about flying cars) but what planet, life, values, society, industry we are leaving to our next generations. Positive and emotionally intelligent leadership is what drives impact and a positive future. This talk was given at a TEDx event using the TED conference format but independently organized by a local community.  Watch the TED talk from Jara Pascual, here.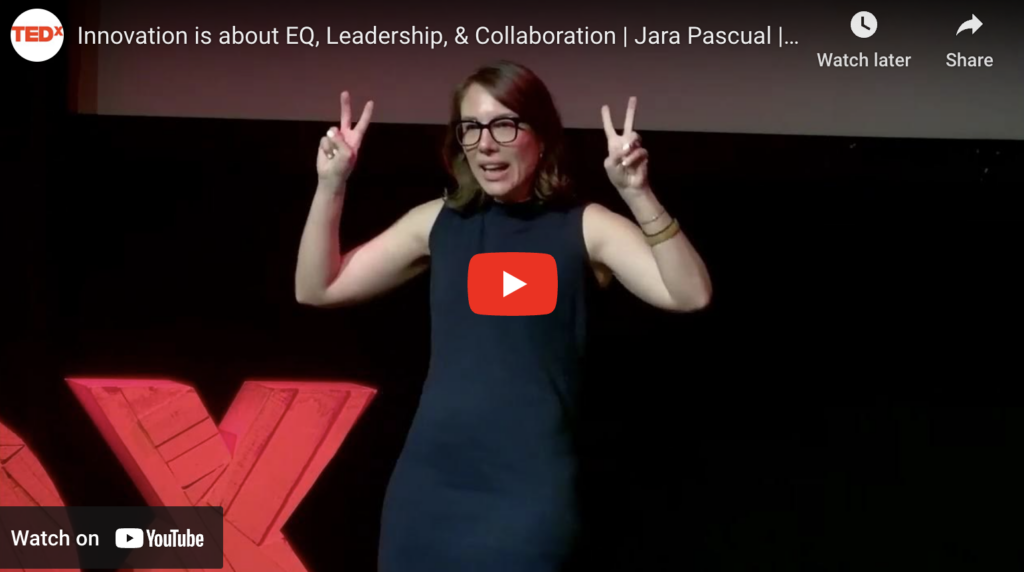 PODCAST INTERVIEW WITH JARA PASCUAL, PROTOLABS AND LONGITUDE, FINANCIAL TIMES.
On 7th July 2022. Jara Pascual, CEO Collabwith is interviewed by Megan Wright, senior editor at Longitude, a Financial Times. Listen to the Podcast here.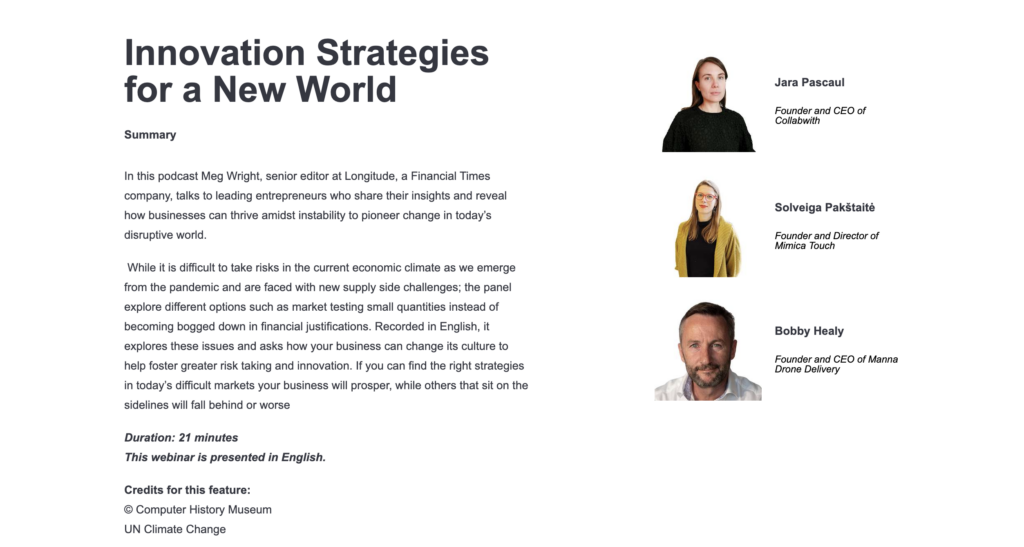 R&D Management. Book review about "Innovation and Collaboration in the Digital Era".
On 30th May 2022. Prof. Julia Wolny has written a review for Jara Pascual's book.  Read the full book review here.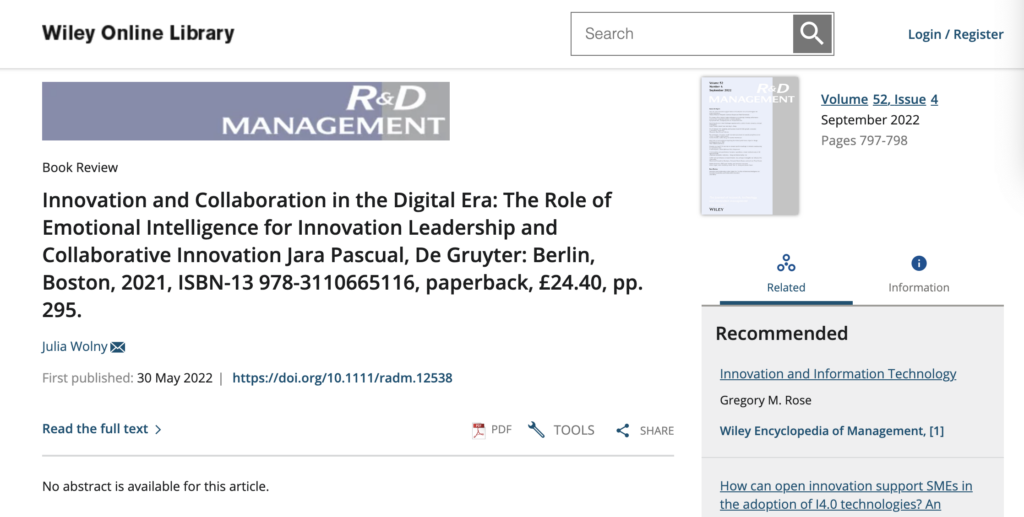 INNOVASPAIN. Artículo sobre el Liderazgo de la Innovación y la Colaboración".
El 21 de Abril de 2022, Jara Pascual habla sobre la colaboración para la innovación, el liderazgo de la innovación y la inteligencia emocional en el diario InnovaSpain. Aquí puede leer el artículo completo.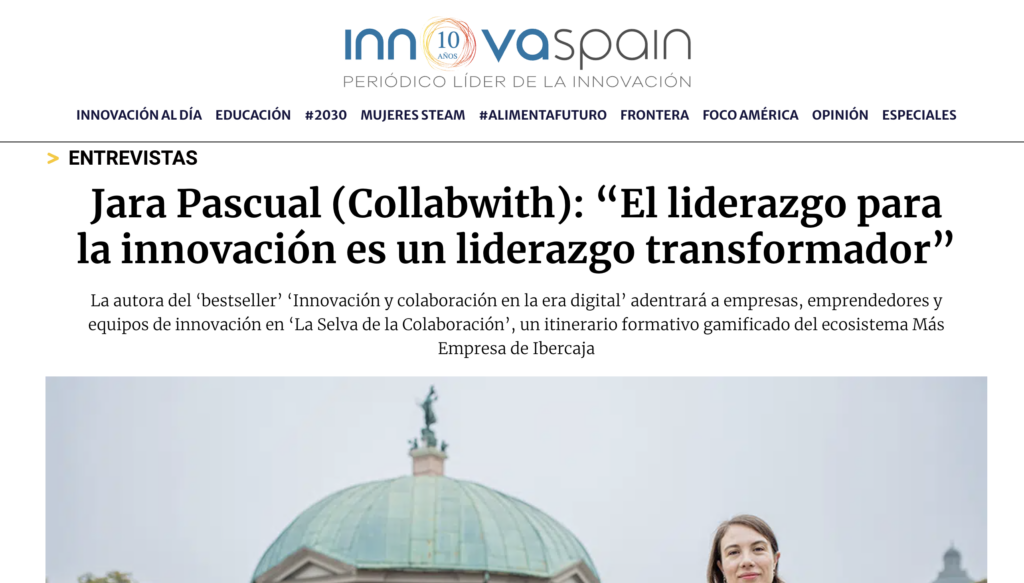 PODCAST SUCCESS TALKS ABOUT WOMEN OF THE NEW ERA WITH SANDER SCHIMMELPENNINCK AND RSM ERASMUS UNIVERSITY
On 14th October 2021. Success Talks: Women of the new Era. What's it like to be a woman in a management position? We discuss this question and more with our guests Pei Wen Lin and Jara Pascual and our host Sander Schimmelpenninck. Watch and listen to the podcast interview here. And english version of the article here, here you can read the article.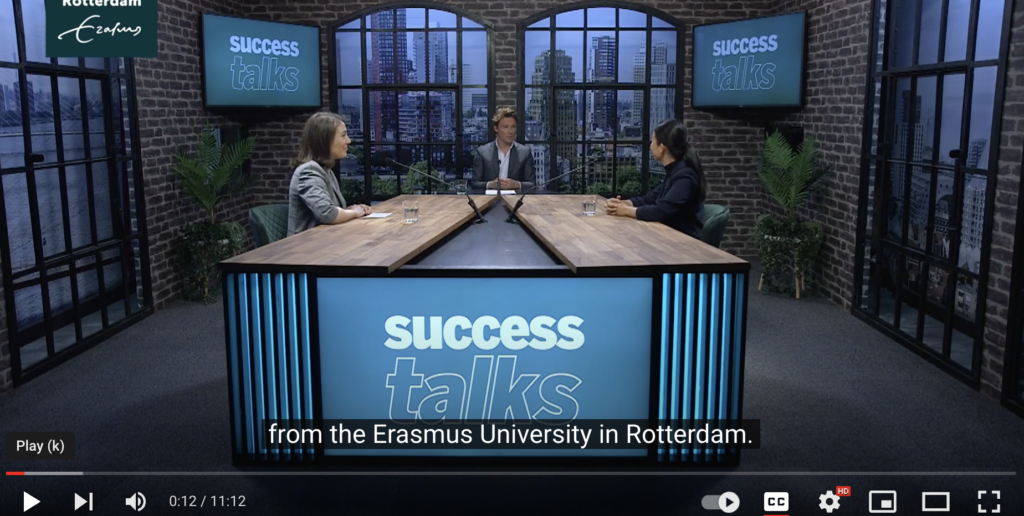 ARTÍCULO "Cuando la Innovación pierde el norte" por Esther Paniagua.
El 29 de enero de 2022. La periodista Esther Paniagua entrevistó a Jara Pascual sobre la razón lógica de utilizar la innovación. Ambas reflexiones me llevan a una cuestión: ¿Está la innovación perdiendo el norte? Le pregunto a Jara Pascual, CEO de Collabwith y experta en innovación. Su respuesta: "Hace tiempo que lo perdió". No en el plano teórico, claro, sino en el práctico. "Uno de los grandes problemas es que se está equiparando innovación a ideas, y a menudo son ideas sin aplicación, que no responden siquiera a retos. Y lo peor de todo es que a veces llegan a convertirse en productos", señala. Aquí puede leer el artículo completo.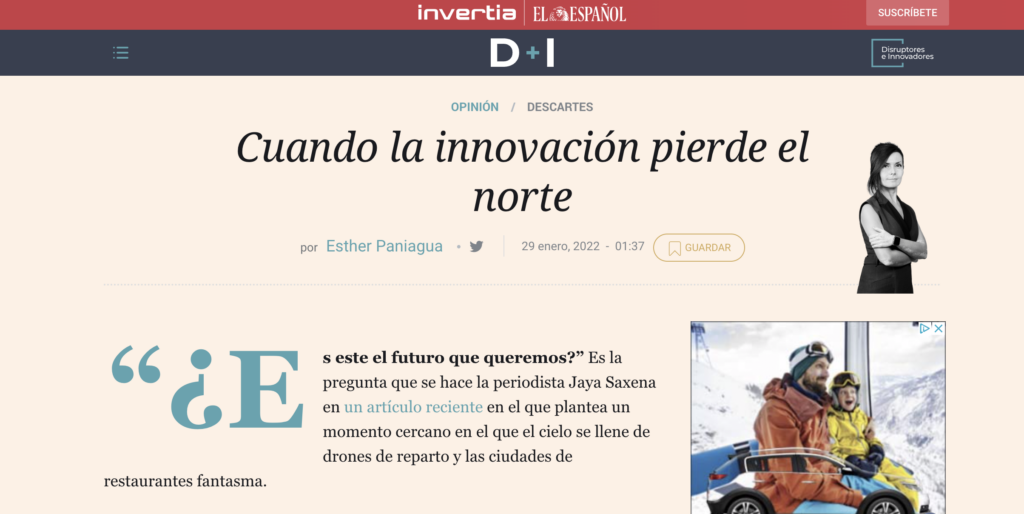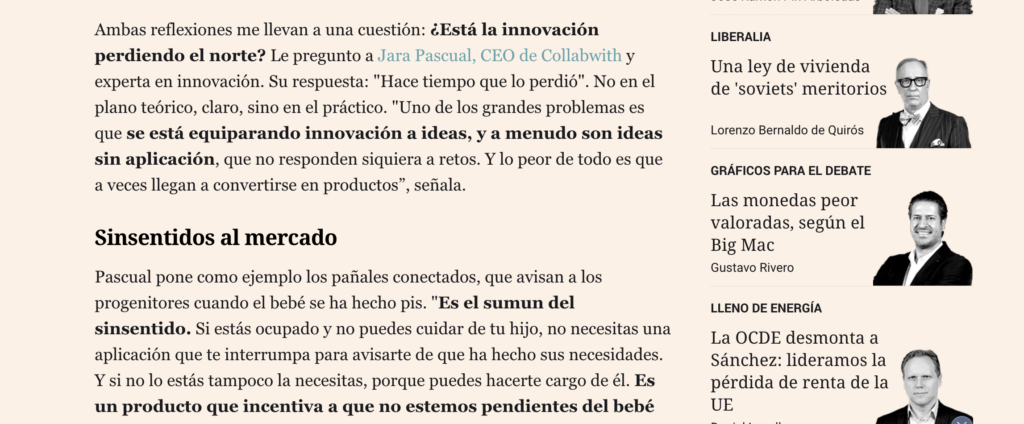 INVERTIA interview about book "Innovation and Collaboration in the Digital Era" with author Jara Pascual
On 28th September 2021, journalist Julio Miravalls wrote an interview titled: "Los bulos al innovar: de los científicos que le tienen "miedo" al dinero a la obsesión por los 'brainstorming' La española Jara Pascual, creadora de Collabwith y 'guru' europea, publica un 'manual de uso' de la innovación y el uso de inteligencia emocional." Read full article here.
INTERVIEW ARTICLE BY INNOVATION MAGAZINE "VEINTIDOS"
On, 2nd February 2021, Jara Pascual was interviewed in the regional newspaper Segre, innovation magazine "Veinidos", by Joan Teixidó Pau. Read here the interview. Jara Pascual discussed about Collabwith platform, how to increase the women in technology at University level and how to support women at European Parliament level.
PODCAST ABOUT INNOVATION ECOSYSTEMS WITH JARA PASCUAL " DAILY OF THE MONTH" WITH JOSHUA BAKER AND CHRIS MAGOLEY. 
On, 30th December 2020, Jara Pascual, our CEO Collabwith is the guest in the German Podcast Daily of the Month "Zusammenarbeit, Agile & Mehr" with Joshua Baker and Chris Magoley. You can listen the interview here.
This episode takes a Meta View of the organisation as it fits into the context of the bigger economy. We zoom out to look at how we are standing at the "The time between two Worlds" and dialogue with Jara Pascual our special guest about how groups of organisations and institutions can benefit society by creating innovation ecosystems to redefine what value in our society equates to. This means the realignment and integration of our economical systems, ecological systems and social systems.
More information about this episode and our guest at: https://www.agile-podcast.de/blog/folge-14-innovation-coworking/
JARA PASCUAL, CEO COLLABWITH APPEARED IN THE MOST READ NEWSPAPER IN SPAIN WITH HER WORK IN THE EUROPEAN PARLIAMENT ABOUT INNOVATION, INVESTMENT AND ENTREPRENEURSHIP FOR WOMEN SUPER INNOVATORS.
On 21st December 2020, Elena Arrieta wrote the article in Spanish "Jara Pascual, la española que ha elevado a Bruselas la brecha de genero en startups" talking about her work together with the Forum Knowledge4Innovation in the European Parliament with Collabwith and her spin-off The Wominvest Observatory. Her leadership for innovation of focusing on bringing together such as the investment actors together to solve the gap in the investment arena for women venture capital and women entrepreneurs.

JARA PASCUAL, CEO COLLABWITH APPEARED IN THE INNOVATORS MAGAZINE IN BRUSSELS WITH HER WORK IN THE EUROPEAN PARLIAMENT ABOUT INNOVATION, INVESTMENT AND ENTREPRENEURSHIP FOR WOMEN SUPER INNOVATORS.
On 9th December 2020, Innovators Magazine inside its December 2020 issue dedicated to the Women Investment Day organized by Collabwith and Forum Knowledge4Innovation during the 12th European Innovation Summit. Jara Pascual, CEO Collabwith and Board Member of the Forum Knowledge4Innovation, and Managing Director of TWOO The Wominvest Observatory wrote an introduction and edited to the December issue.


COLLABWITH (former Knowco Collabwith) APPEARED IN THE STARTUP BUSINESS ITALIAN MAGAZINE
On 4th November 2018, KNOWCO appeared in the most important online magazine in Italia for the start-up ecosystem, Startup Business, founded by Emil Abirascid.
COLLABWITH (former Knowco Collabwith) IN THE FINALS. THE NEXT WOMEN PITCH COMPETITION, SEMI-FINALS AND FINALS IN AMSTERDAM, HOSTED BY EPICENTER AMSTERDAM
On, 6th October 2018 KNOWCO participated in the Finals and Semi-finals of TheNextWomen Pitch Competition in Amsterdam and we were selected by the jury to go to the finals! We were among the three Dutch start-ups founded by women who made to the finals! We are very proud to be there with KNOWCO.
RADIO INTERVIEW WITH JARA PASCUAL, FOUNDER OF COLLABWITH (former Knowco Collabwith)
On, 8th June 2018 Jara Pascual was interviewed by Alejandra Nettel during the Circulo program at Salto FM in Amsterdam, The Netherlands. Jara was explaining why she created KNOWCO together with Ingrid and how is to become an entrepreneur.
GOBIERNO DE ESPANA sobre vivir en Alemania y emprender fuera de España. 
En Marzo 2020, la Consejeria de España en Alemania publica una entrevista a Jara Pascual. Aparte sería interesante abrir una puerta a la transferencia de conocimiento y de tecnología por parte de las universidades, centros de investigación, institutos de innovación, empresas y startups dentro y fuera del país. Knowco Collabwith es un claro ejemplo de crear una comunidad del conocimiento y de la tecnología en formato digital para facilitar este intercambio de oportunidades y establecer conexiones para la colaboración.  Lee aqui el articulo completo.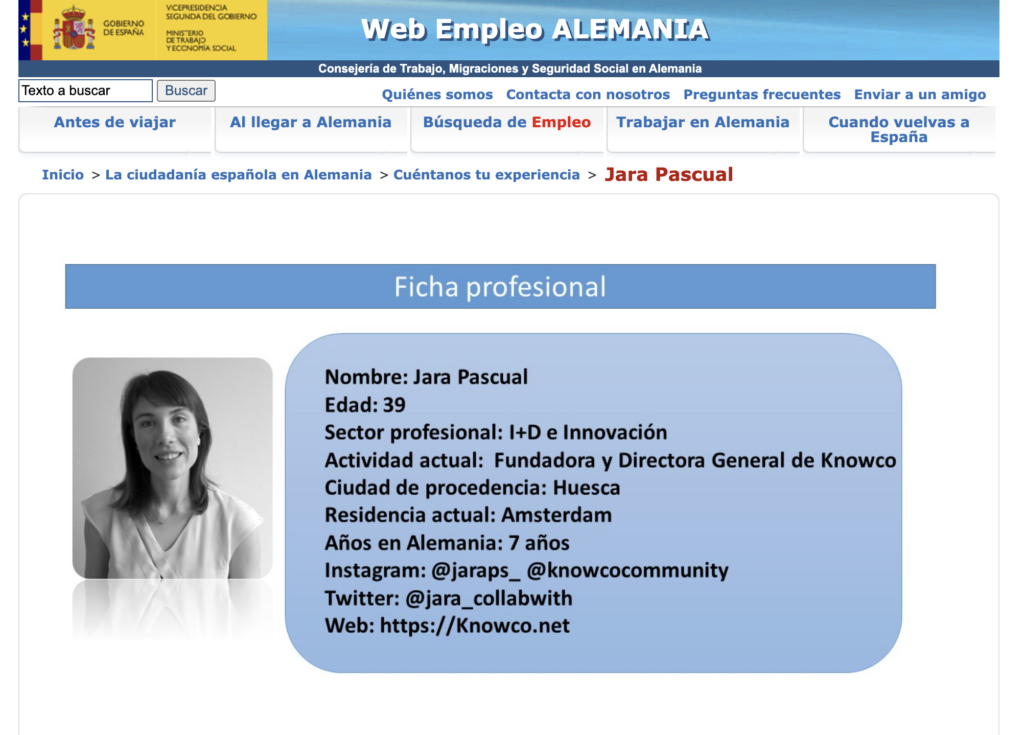 PRESS CONFERENCE FOR THE EMIGRANTS COUNCIL IN MUNICH (GERMANY) WITH MAJOR CHRISTIAN UDE, MÜNCHEN RATHAUS 
16.11.2010, Die Liste "Kulturelle Vielfalt für München" mit seine Kandidaten Sevda Çalışkan, Monica Prestel, Walter Tagliabue und Jara Pascual waren zusammen mit Oberbürgermeister Christian Ude und dem aktuellen Vorsitzenden des Ausländerbeirats Cumali Naz anwesend, um Frage und Antwort zu stehen.

RADIO INTERVIEW FOR THE EMIGRANTS COUNCIL IN MUNICH (GERMANY) FOR INTERKULTURELLESMAGAZINE.
20.11.2010, BR5, Radio interview, Interkulturellesmagazine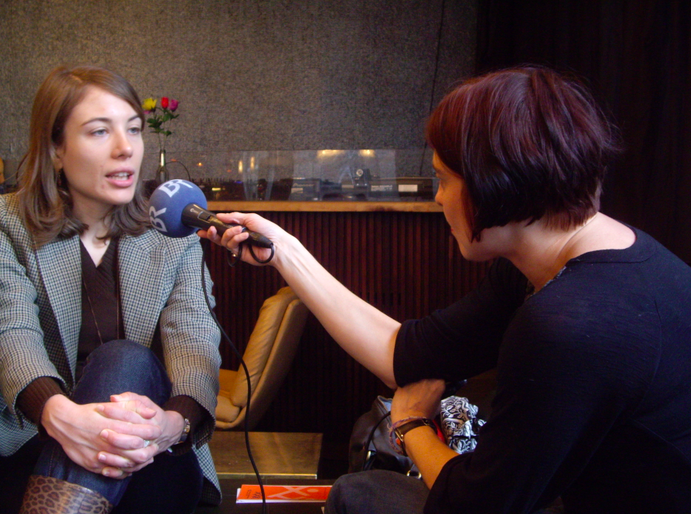 PRESS ARTICLE FOR COSMOPOLITAN MAGAZINE ABOUT MY WORK AS INNOVATION MANAGER AT ADIDAS GROUP
20.12.2011, Revista Cosmopolitan España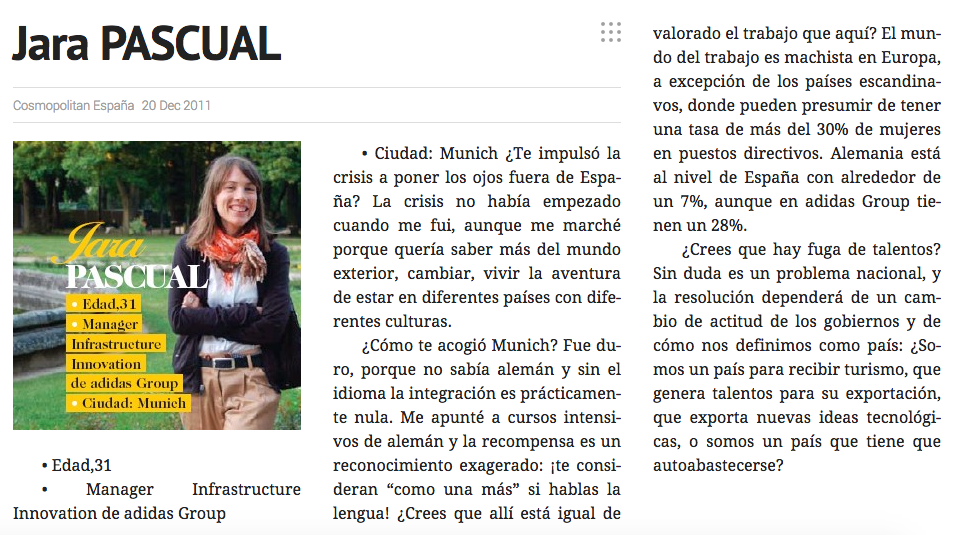 TELEVISION PROGRAM FOR RTVE SPANISH TELEVISION ABOUT BEING SPANISH AND LIVING IN MUNICH, GERMANY
26.01.2011, Españoles por el Mundo en Múnich, RTVE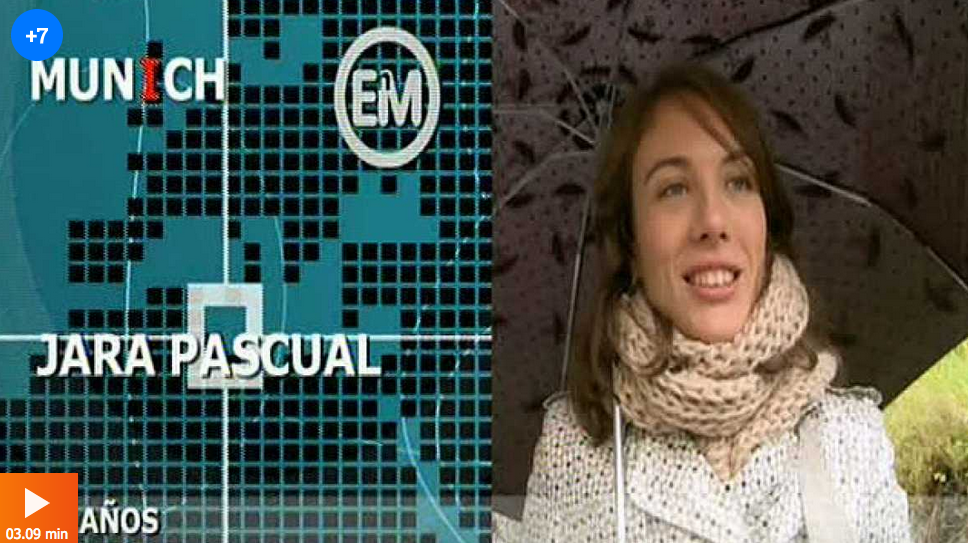 RADIO INTERVIEW FOR LASER A SPANISH RADIO STATION ABOUT BEING SPANISH AND LIVING IN MUNICH, GERMANY
05.12.2013, Cadena Ser Teruel, Entrevista Audio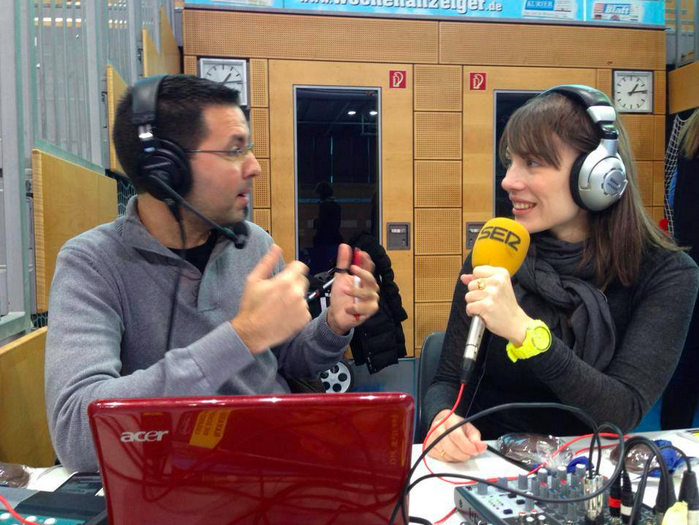 You can listen to our podcast episodes "Business of Collaboration", on iTunes, Spotify, Google Podcasts, Stitcher and here.
If you are looking for a solution for your innovation ecosystem, please, book a demo with us: