Hi there, Collabwith friends! We are here again with our monthly updates! Summer is in full swing, and we have got some fantastic workshops and training sessions lined up for August.
We are really excited to share four training classes that will help you dive into the world of innovation, collaboration and mindset. Let's not wait any longer – here are the cool events we've prepared just for you this month! Keep reading to find out more about them.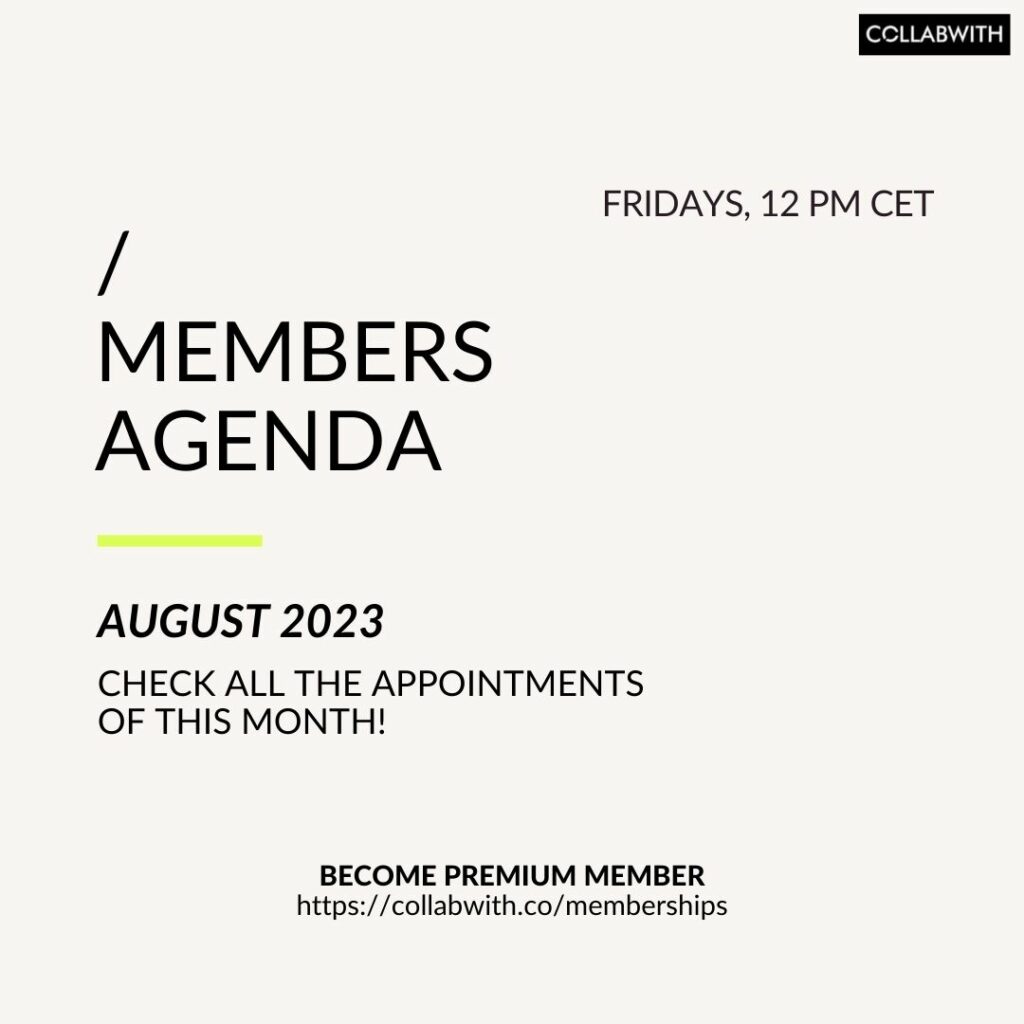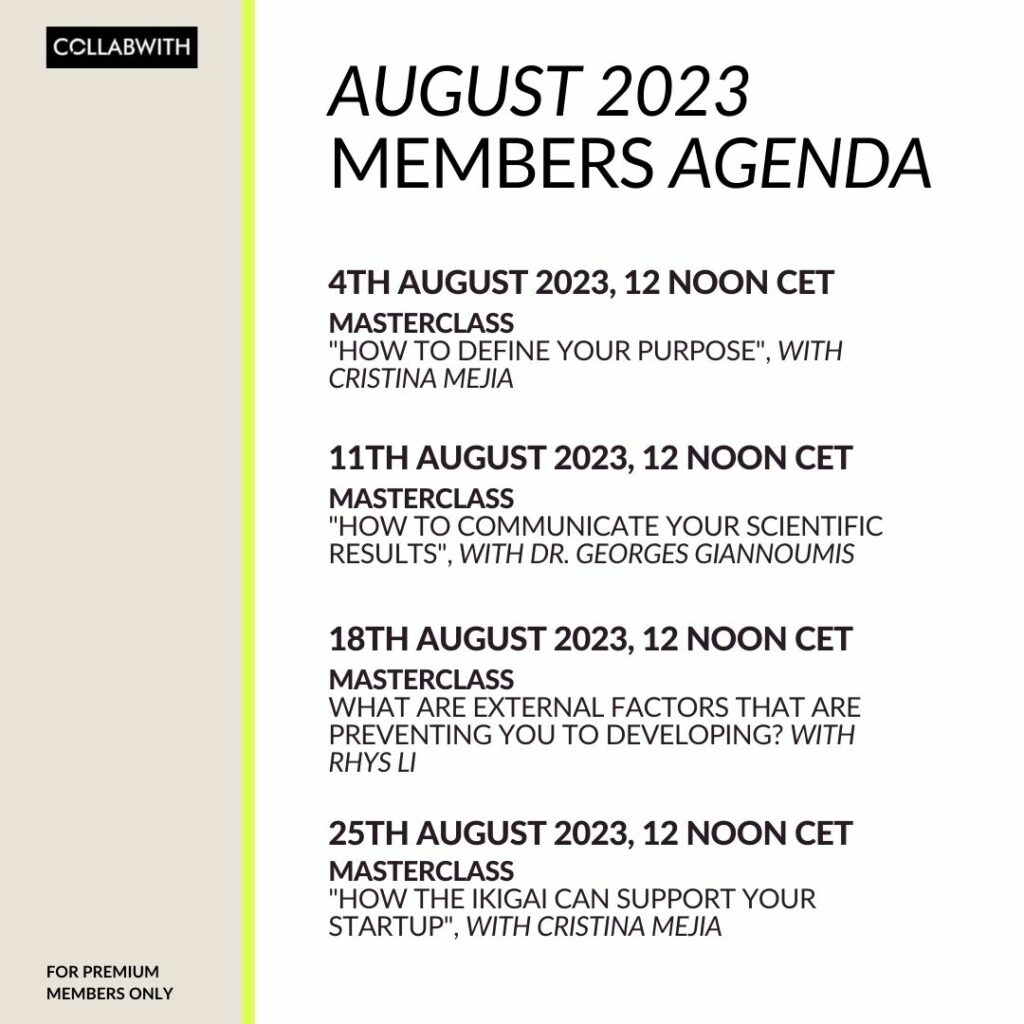 We are thrilled to present our Masterclasses for Collabwith Premium Members, featuring top-notch experts from around the globe. These engaging sessions will concentrate on essential aspects like mindset and perspective, empowering innovation and collaboration. Together, we will explore what drives our work, what gets us out of bed in the morning with motivation, and we will learn to communicate effectively while tackling new topics. By taking part, you will acquire valuable skills to excel in your collaborative projects. Now, let's dive into our exciting August program!
MASTERCLASS:  "How to define your purpose", with Cristina Mejia
Friday 4th August, 12 noon CET: We are proud to introduce Cristina Mejia, a passionate advocate for human potential and its capacity to create. With a diverse background in Ontological Coaching, Executive Coaching, and Body Therapy, Cristina has spent over twelve years guiding individuals and groups on journeys of self-discovery, personal growth, and understanding. Now, she invites you to her captivating masterclass titled "How to Define Your Purpose." Join us as we delve into the profound exploration of purpose to navigate this meaningful aspect of our lives. Don't miss this opportunity to embark on a transformative experience with Cristina!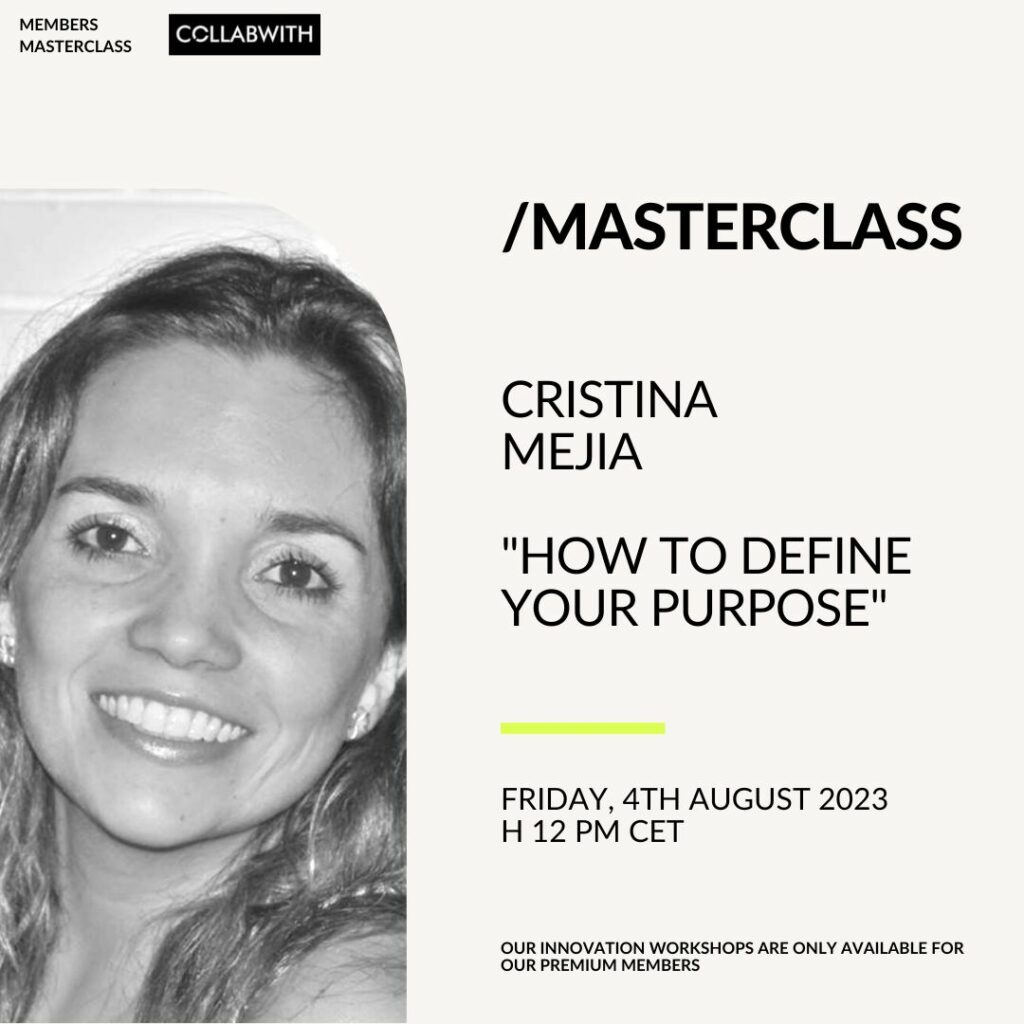 MASTERCLASS:  "How to communicate your scientific results", with Dr. Georges Giannoumis
Friday 11th August, 12 noon CET: Discover the art of communicating in the masterclass by Dr. Georges Giannoumis titled "How to Communicate Your Scientific Results". Learn from a motivational speaker on inclusive leadership, author of 50 scientific articles, and a renowned advocate for diversity and innovation. As the co-founder of Inclusive Creation and the mastermind behind the 4 fundamental principles of universal design, Dr Georges Giannoumis is a lifetime advocate for diversity and inclusion, a mentor earning numerous awards, including recognition from the United Nations for his inclusive innovations. Don't miss this opportunity to enhance your communication skills and make an impact!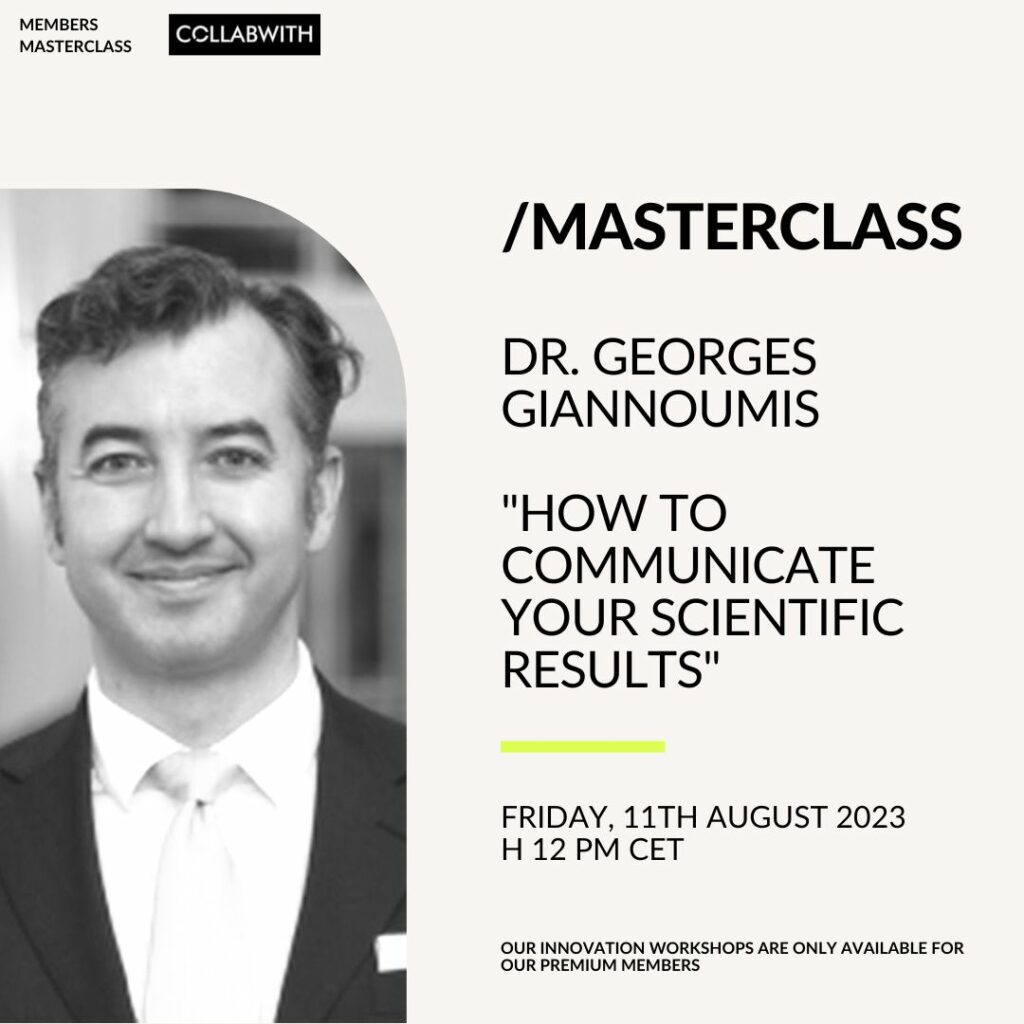 MASTERCLASS:  "What are external factors that are preventing you to developing?", with Rhys Li
Friday 18th August, 12 noon CET: Unravel the factors that may be hindering your growth in the masterclass titled "What are External Factors that are Preventing You from Developing?" hosted by Rhys Li. With over 20 years of experience as a risk consultant and being a certified organizational coach and facilitator, Rhys Li is a firm believer in cultivating a positive mindset and forging purposeful partnerships to achieve remarkable results. Equipped with an MBA and trained as a systemic constellation facilitator, Rhys brings a wealth of knowledge to help you identify and overcome the external barriers holding you back. Join us for this transformative session and take a step closer to unlocking your full potential!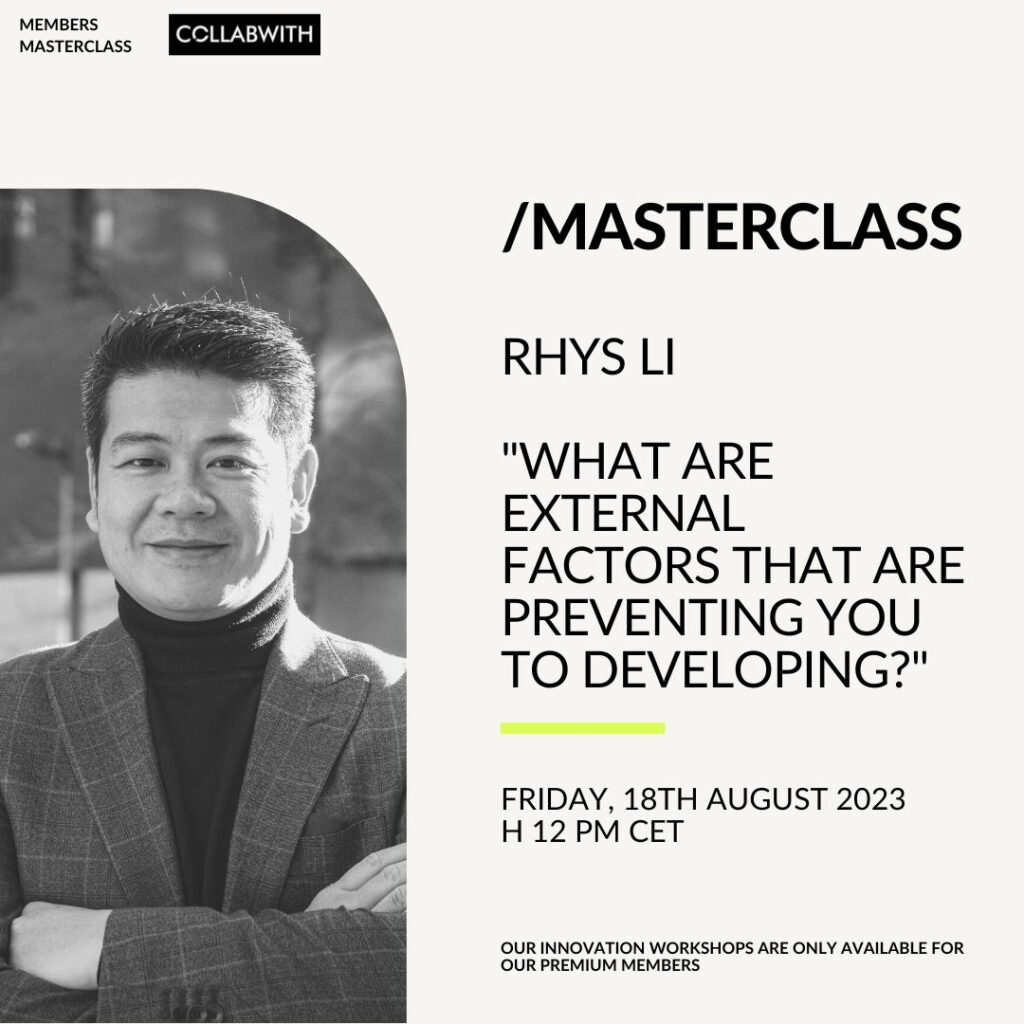 MASTERCLASS:  "How the Ikigai can support your startup", with Cristina Mejia
Friday 25th August, 12 noon CET: We are excited to present the second masterclass of the month by Cristina Mejia, titled "How the Ikigai Can Support Your Startup." In this engaging session, Cristina will delve into the concept of Ikigai, a powerful Japanese philosophy that helps individuals find their purpose and passion in life. Now, she brings this wisdom to the world of startups, showing how discovering your Ikigai can be the key to success and fulfillment in your entrepreneurial journey. Don't miss this unique opportunity to gain valuable insights and support for your startup endeavors with Cristina Mejia!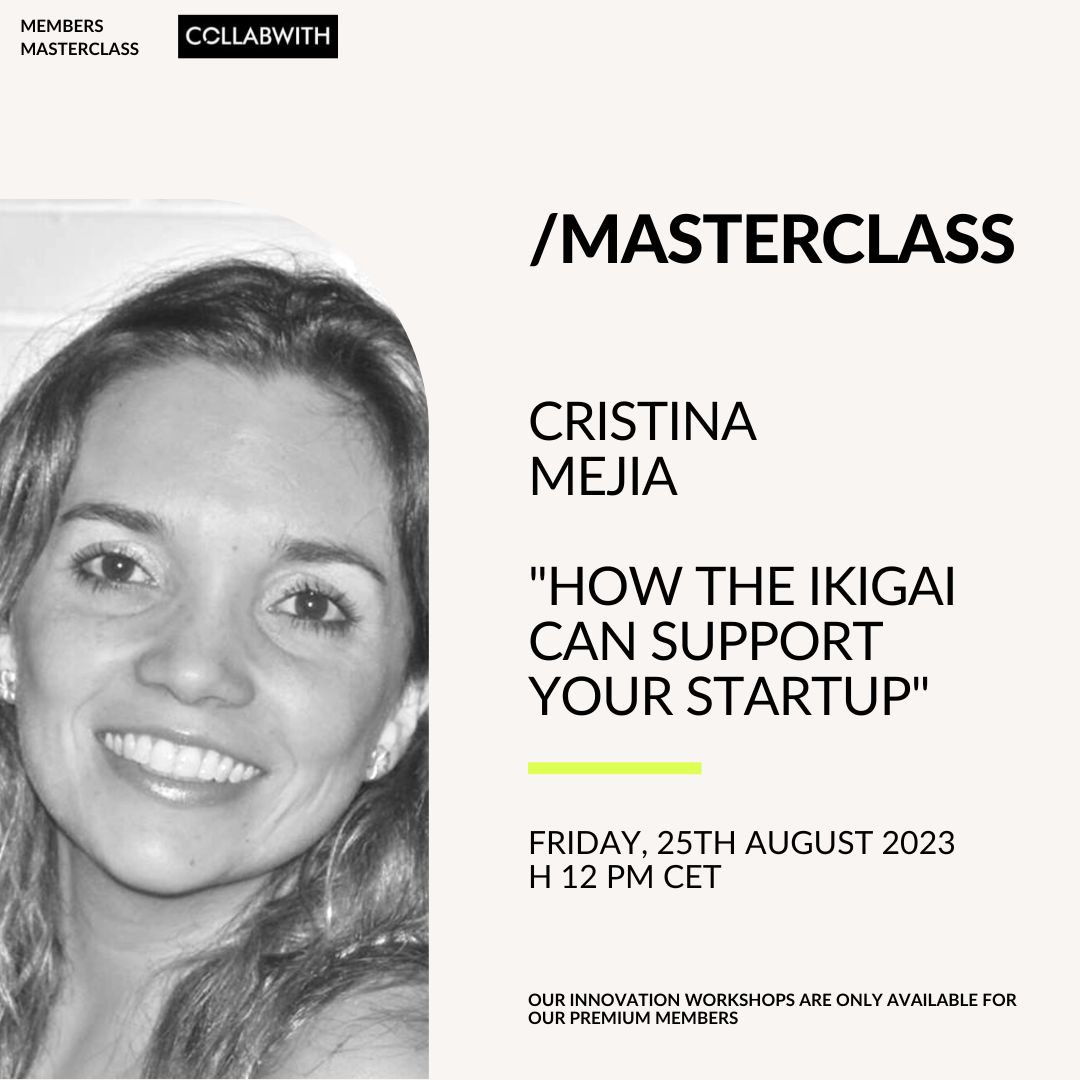 Our Masterclasses are exclusive opportunities tailored for Collabwith Premium Members. Don't miss out on this exceptional content – become a premium member today! For more details, visit our website at https://collabwith.co/memberships.
Embark on your journey by joining our Collabwith Digital platform, where you will gain access to a wealth of content, masterclasses, and training opportunities. Upgrade to a full membership to fully enjoy all the valuable resources that await you. In the never-ending adventure of knowledge, we keep exploring new territories together at Collabwith.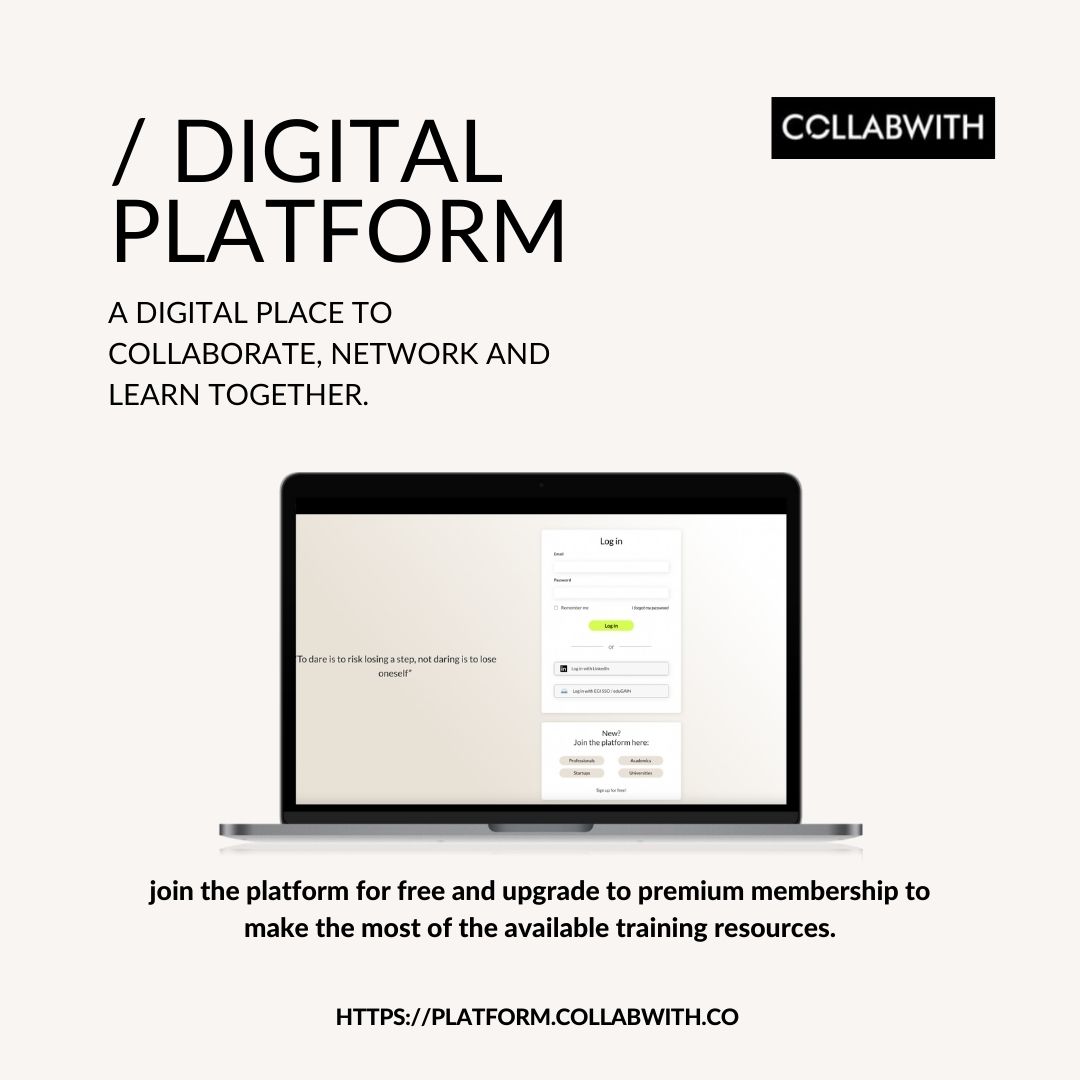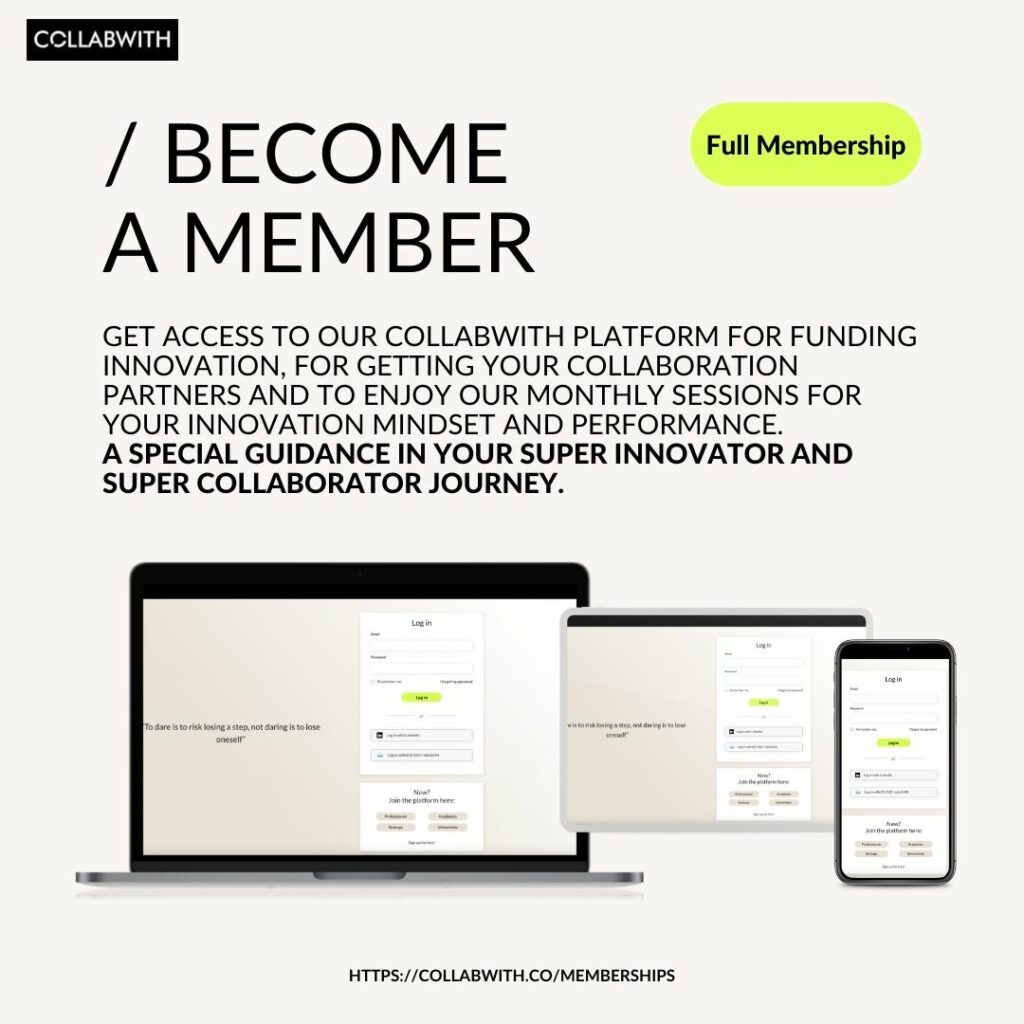 ABOUT COLLABWITH

Collabwith is a technology and a service to structure collaboration for innovation. It's a tool to connect academics-startups-organizations. Because a tool is not enough to transform how you collaborate, here we have created a new methodology, personalized trainings, a new way of communication and a tailored made consulting for you to be more effective and efficient, now. Grow your business and innovation through smart collaborations with Collabwith innovative and holistic approach to collaboration.

Magazine: https://collabwith.co

CollaborationXInnovation Platform: https://platform.collabwith.co
Do you want to know more? Book a demo with us,
Contact us here.