An external help to help you take the necessary steps to create a culture of innovation and take you to the next level of leadership to innovate. You are not alone, so start creating your own group of super innovators and innovation enthusiasts who are usually hidden in other departments and teams. At least, with individual and group consulting.
The objective of the consultancy is that you achieve your objectives and help you to do so. In other words, be part of your growth path to become an innovation leader. Consulting can be done individually with individual sessions to accompany you step by step to reach your innovation goals, but also in a group as a mastermind to share cases and provide solutions, in this way you learn together in a group. Consulting mastermind groups are made with the team responsible for the transformation or with different heads of groups that have to innovate and lead teams with innovation projects and manage alliances or collaborations between companies and universities. The topics that we consult on are the following, but we also tailor the consultancy based on your needs that we have jointly identified.
Roadmap for consulting

INNOVATION ECOSYSTEMS
First we analyze the current innovation ecosystem, and we create a structure of programs and activities that help the ecosystem to flourish and grow together to collaborate among the actors to innovate and to make the region innovative.
CORPORATE INNOVATION
We help break down silos within teams and between departments so you can create an innovation process that works and maintain the innovation mindset. There is a system of how to create innovative organizations without having to have extra budgets.
INNOVATION CULTURE
Together with you, we create the structures to create and maintain a culture of innovation, which is collaborative and with a positive environment towards innovation. We touched on various aspects and created an innovation manifesto that will guide all teams to know what innovation is and how it is done within the organization.
COLLABORATION TO INNOVATION
Innovation is not done in isolation, because by definition an innovative solution is a transformation of industry and society and this is not done alone, but at a 360 degree collaboration level. This consultancy helps you manage the entire path and ecosystem of collaboration to innovate.
EMOTIONAL INTELLIGENCE FOR INNOVATION
Emotions are the key to the success of innovation, and this concept of uniting emotional intelligence for innovation, collaboration, innovation ecosystems and innovation processes is created by Jara Pascual, and will help you understand how applies, almost without talking about emotions but using them for the high performance of the innovation.
DIGITAL TRANSFORMATION TO ADOPT INNOVATIVE DIGITAL TOOLS
The "onboarding" process for the adoption of a new digital tool is key for the use of this tool to be successful. Going one step further, would be to buy the "digital solutions" together with the end users of said tool, adapting the purchasing processes.
INNOVATION LEADERSHIP
Leadership is what makes innovation happen, innovation is not about processes or projects, but about transformational leadership and change management inside and outside the organization. This type of consulting is done individually or in a mastermind group.
CREATE BUSINESS MODELS FOR RESEARCH RESULTS AND IDEAS
This is a 1 month consulting to support you to create a business plan (very creative) for your research results. We analyse your research and ideas, we make a selection and we create a business plan for each selected research and idea, including a roadmap.
How can we help you?
We help you to keep your organization to become innovative and future proof.
We help you to create a positive energy organization with focus on positive impact with our methodology.
We help you to change your organizational culture into an innovative and collaborative culture.
In case we cannot help you, we have a trusted network of 1500+ innovation professionals, industry leaders and academics that we can reach to bring you the knowledge and technology you need.
We help you to find the right partner matching your needs to become an innovative organization and create an advantage in your market.
We help you to increase the number of collaborations by working with you to make a personalized annual collaboration plan to grow your organization turnover and reduce uncertainty.
Watch the TEDx from our CEO Jara Pascual
Write what you have learned with this description of the consultancy and write what has caught your attention and the topic of the consultancy that you would like to receive and need. Also write if you want individual or mastermind group consulting.
If you are not ready, then, first get the monthly innovation exercises.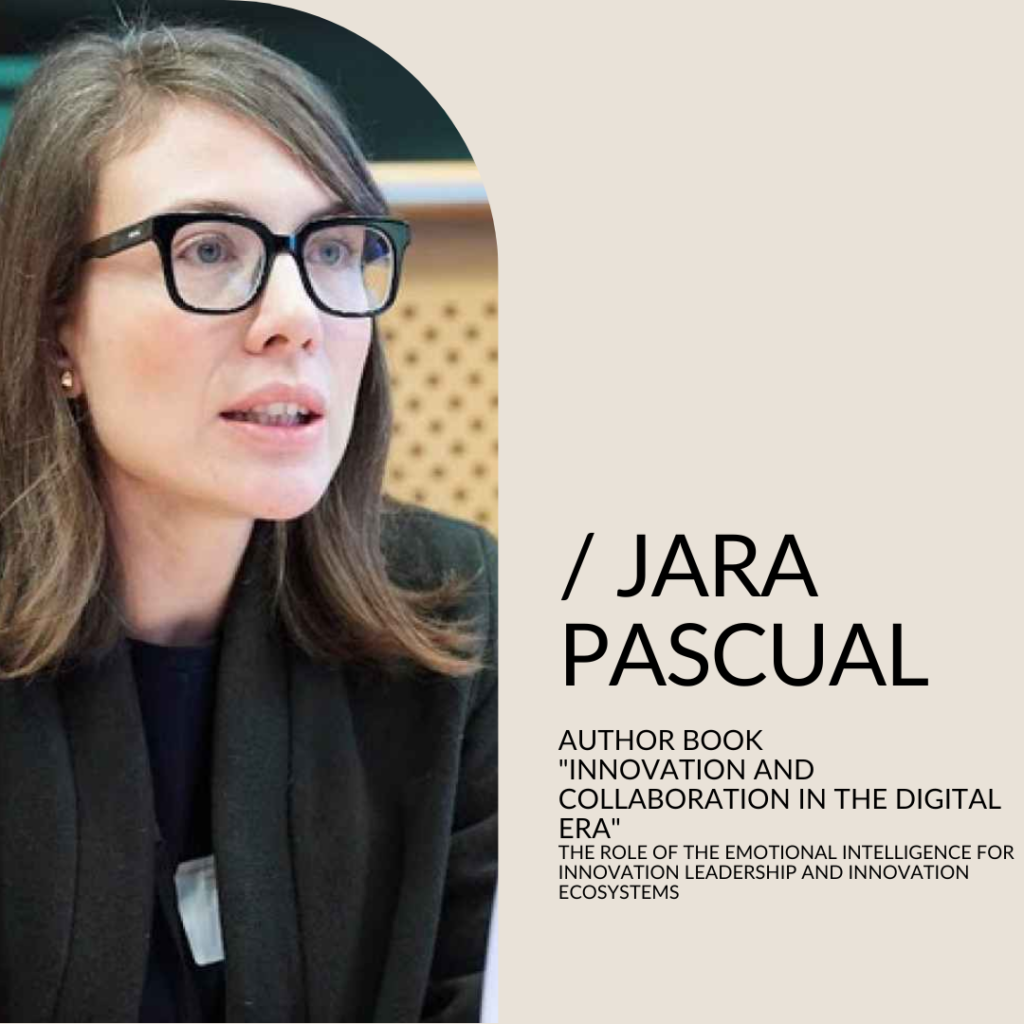 Jara Pascual, our CEO Collabwith will lead your personalized consulting with her more than 15 years of experience on innovation from R&D labs to corporate innovation. Jara Pascual is author of the book "Innovation and Collaboration in the Digital Era" and she is holding positions as a Board Member in the Knowledge4Innovation Forum in the European Parliament, Chair of the WG Innovation Ecosystems at AIOTI, Board member of AMIT-MIT, co-founder EuroSpaceHub and CEO Collabwith Group.
If you are not ready, then, first get the monthly innovation exercises."