Dear Collabwith friends, we have some exciting news to share with you! Our partnership with Signify has been mentioned in issue 41 of CPOstrategy. Keep reading to learn more!

The latest issue of CPOstrategy magazine features Signify's transformative procurement function, led by Luc Broussaud, Global Head of Procurement/CPO, and Arnold Chatelain, Transformation Program Director. The article highlights Signify's shift towards digitalization and collaboration with suppliers to deliver competitive prices and enhance product design for sustainability.
Signify takes a unique approach to procurement by actively participating in crafting tools alongside partners and organizations, fostering innovation and continuous improvement. Sustainability is a core focus for Signify, and Collabwith plays a strategic role in this regard.
Collabwith and Signify have partnered to reduce waste by connecting factories globally and shaping a marketplace for stock and excess inventory. This collaboration has resulted in the sale of 4 million items in just 6 months, showcasing the power of automation for sustainability tasks. We are incredibly proud of this achievement and look forward to more exciting projects like this.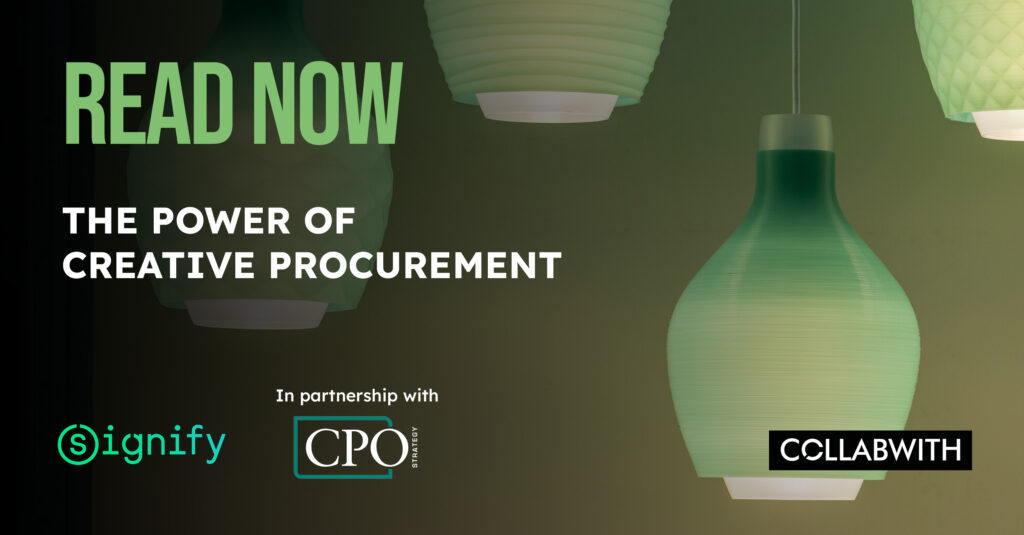 The recognition in CPOstrategy magazine is a testament to the impact and value of Collabwith and Signify's partnership. It acknowledges their innovative strategies, digital transformation, and tangible results achieved through collaboration. As we celebrate this milestone, we invite our readers to dive into the article, be inspired by their shared vision, and recognize the power of collaboration in creating a sustainable and prosperous future.
Some results, thank you to our onboarding process and platform design, we can say that we connect all the factories from Signify globally, outsourcing partners and brokers into one platform to buy and sell obsolete items and excess inventory between factories. There were sold 4 million items in 6 months.
Stay tuned for more updates and insights from Collabwith as we continue to foster collaboration, drive innovation, and make a lasting impact on industries and organizations worldwide. Together, we can achieve greatness through collaboration!
Find out more:
CPOstrategy LinkedIn
CPOstrategy Twitter
Bespoke Brochure


ABOUT COLLABWITH

Collabwith is a technology and a service to structure collaboration for innovation. It's a tool to connect academics-startups-organizations. Because a tool is not enough to transform how you collaborate, here we have created a new methodology, personalized trainings, a new way of communication and a tailored made consulting for you to be more effective and efficient, now. Grow your business and innovation through smart collaborations with Collabwith innovative and holistic approach to collaboration.

Magazine: https://collabwith.co

CollaborationXInnovation Platform: https://platform.collabwith.co
Do you want to know more? Book a demo with us,
Contact us here.