A curated list of challenges, programs, funding opportunities, academic research and startups that have caught our eye.

AIRISE Open Call 1
The call aims to support European SMEs and midcaps to create AI applications that support their manufacturing lines in being more sustainable.
AIRISE aims to conduct "experiments" to support European SME's and mid-caps to develop their idea of using artificial intelligence at their manufacturing shop floor. The AIRISE project provides support through services across all development steps from the idea to running test under realistic manufacturing conditions. The anticipated AI application must address at least one of the following objectives:
– Improve the sustainability of processes and products, significantly reduce or reuse waste and must lower the energy and carbon footprint
– Make industrial processes more agile, secure and resilient to future changes
– Make manufacturing jobs more attractive for humans, whichever the age, gender or social and cultural background, through better human-machine interfaces and more intuitive interaction with digital tools
Applications must be submitted through the AIRISE project website. For more details, please visit airise.eu/calls
SMEs TRAnsition for an European Circular tourism Ecosystem: TRACE OPEN CALL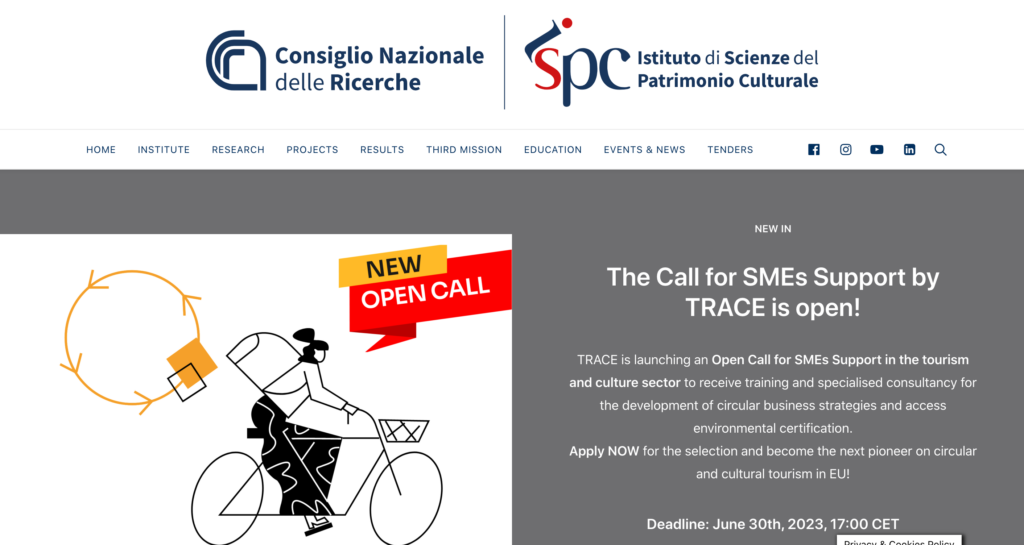 Interested applicants, represented by legal representatives of tourism SMEs, are requested to apply online and answer all mandatory questions at: TRACE Application Form link.
Applications are submitted by the SMEs on the EU Survey platform which include questions related to the TRACE programme and specific acknowledgment to the conditions of the programme.
EUSurvey platform will be the entry point for all proposals that will be submitted to TRACE programme.
Questions on the application process can be addressed at: support@iniziativa.cc
The open call guidelines can be downloaded at the following link https://www.ispc.cnr.it/en/2023/02/21/trace/
Applications must be submitted via https://pulsate-adopters.fundingbox.com.
The selection of the open call proposals will be carried out in a four-step process:
Step 1 will check the proposals against eligibility criteria.
Step 2 will involve external evaluation to assess the proposal according to the criteria.
Step 3 will involve the PULSATE consortium to prioritise the proposals based on the external evaluation results and the objectives of the PULSATE project.
Step 4 legal check before finalists are invited to sign the Sub Grant Agreement.
EUCF 5th call for applications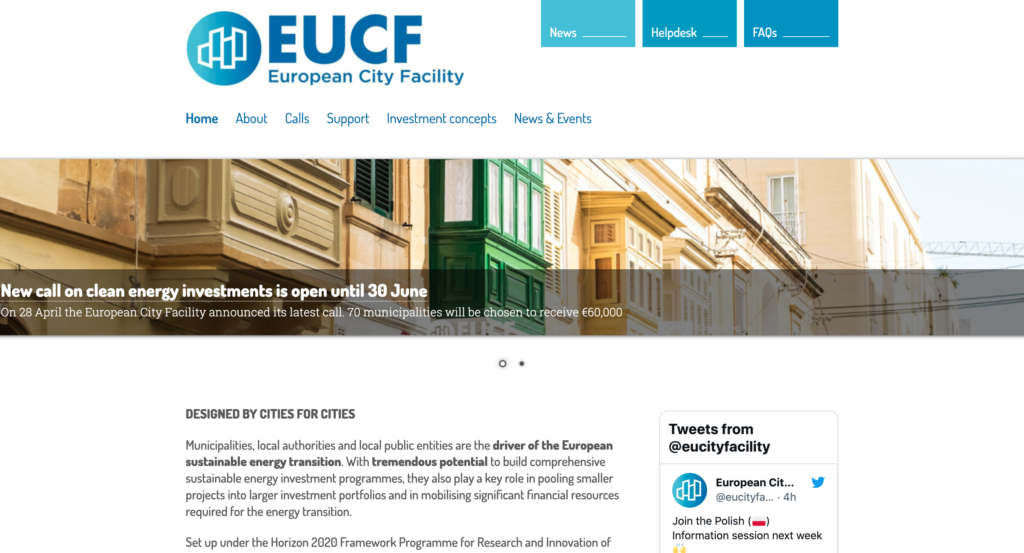 The EUCF is open to all municipalities/local authorities, their groupings, and local public entities aggregating municipalities/local authorities from the 27 EU Member States, Iceland and Ukraine. Applicants are required to have a climate and/or energy plan. This includes SECAPs (Sustainable Energy and Climate Action Plans), developed within the Covenant of Mayors initiative, or other climate and/or energy plans with mitigation targets.
Moreover, applicants have to demonstrate political commitment to the development of the Investment Concept through a letter of support, signed by the Mayor or other relevant political representative. The applicant must commit to the EUCF monitoring period of two years.
The grant cannot directly finance the actual investments, but it covers costs to mobilise resources and access services to develop an investment concept.
Applications are evaluated based on 4 evaluation criteria:
Ambition of the proposed investment concept
Governance structure for the development of the investment concept
Stakeholders engagement strategy
Coherence and plausibility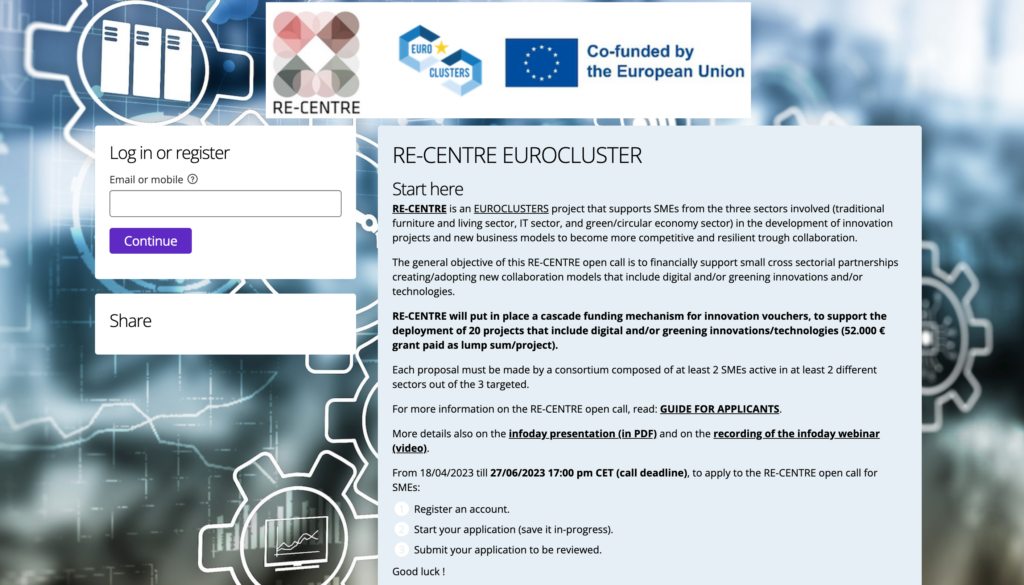 Cross Sectorial Partnerships creating/ adopting new collaboration models that include digital and/or greening technologies
Submission is made through the online submission tool available at https://recentre.grantplatform.com/ by 17:00 CET on the deadlines indicated in section 4.3 of the Guide for Applicants.
Each proposal must be made by a consortium composed of at least 2 SMEs active in at least 2 different sectors out of the 3 targeted: the traditional furniture and living sector, the IT sector, the green/circular economy sector
Beneficiaries will be selected until 31st July 2023. The funding contracts will be signed between 31st of August – 15th of September 2023. SME projects will start not later than 15th of September 2023
Evaluation process
An assessment procedure will be followed safeguarding the principles of transparency and equal treatment as described below.
· Eligibility check of the Application
· Individual evaluation of the Application at least 2 independent evaluators
· Consensus evaluation report for each Application.
· Final ranking
TheCollabEDIT will be published on the Collabwith Magazine once per week, however, you can join the Collabwith platform to check the funding and collaboration opportunities yourself every day, or as many times you want on the Collabwith Marketplace.
If you are looking for something more specific, we can make together a "Collaboration Plan" for you and your needs. Check up here the membership options or services.
ABOUT COLLABWITH
Collabwith is a technology and a service to structure collaboration for innovation. It's a tool to connect academics-startups-organizations. Because a tool is not enough to transform how you collaborate, here we have created a new methodology, personalized trainings, a new way of communication and a tailored made consulting for you to be more effective and efficient, now.
Grow your business and innovation through smart collaborations with Collabwith innovative and holistic approach to collaboration.
Magazine: https://collabwith.co
CollaborationXInnovation Platform: https://platform.collabwith.co
Do you want to know more? Book a demo with us, Contact us here.