A curated list of challenges, programs, funding opportunities, academic research and startups that have caught our eye.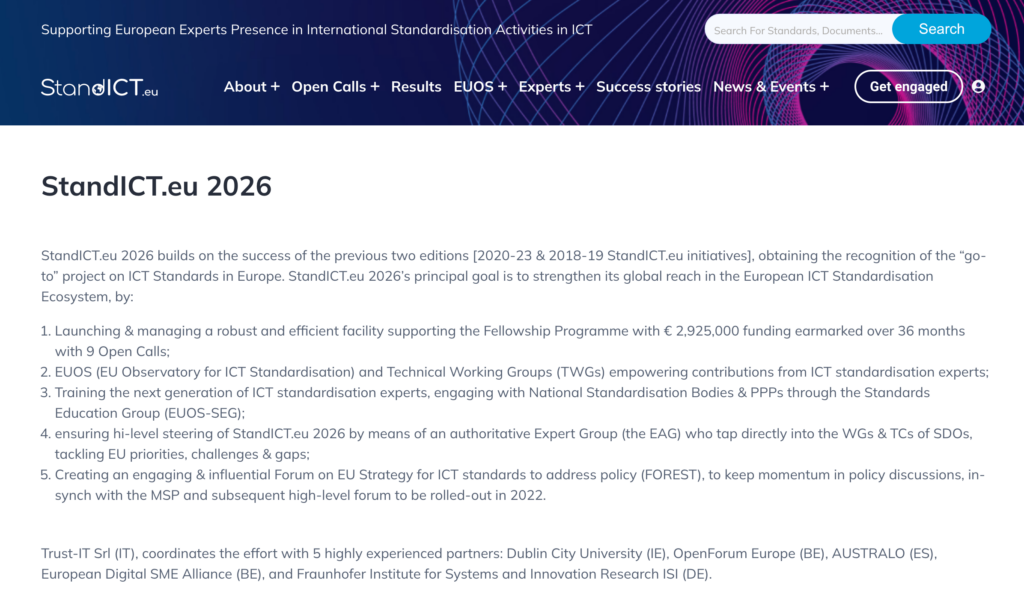 StandICT.eu 2026 – 1st Open Call
Three types of proposals can be funded under the StandICT.eu Open Calls, as shown below.
o Proposal type: LT – Long term contribution (with travel option)
Description: Contribution to ongoing standards development as a chair, convener, rapporteur or member of an SDO WG. E.g. comments on standards development and drafts, attending meetings also as an observer, paying membership fees
Maximum Contract Duration: 6 months
Funding Range: up to €10,000
o Proposal type: ST – Short-Term contributions (with travel option)
Description: Contribution to standards documentation e.g. liaison to WG, comments on standards drafts, participation at meeting paying membership or registration fees.
Maximum Contract Duration: 3 months
Funding Range: up to €5,000
o Proposal type: OS – One-Shot contributions
Description: Support to ensure participation at workshop or event (e.g., participant, observer, presentation)
Maximum Contract Duration: 3 months
Funding Range: Up to €3,000
ACCELERATOR call for supporting SMEs in the tourism sector
Apply online via F6S Application Form: https://www.f6s.com/susrur-open-call1/apply
Important documentation to be included during the submission phase are as follows:
A 2-3 minute pitch video (English only).
Past and provisional financial statements.
Declaration of SME status filled in and signed
Declaration of Honor
The open call documentation kit, as well as all other documents referred to above, are available at the following link https://susrur.eu/calls-for-proposal/open-call-1-accelerate
All personal data privacy statements are covered in the F6S form and mentioned in the call for proposals document as well (Privacy contact section – last paragraph).
Any further questions regarding the application process can be addressed through: contact@susrur.eu
The maximum amount of financial support for each third party is 60,000€ (if justified, the proposer can request higher amounts). Consortium can request up to 180.00€ when composed of 3 or more participants.
The project contribution to the third parties will be 90% (for-profit organization) or 100% (not-for-profit organization) of the declared costs, in accordance with the corresponding rules for participation in the SNS JU programme
Detailed technical, contractual, eligibility, as well as submission and evaluation process information are available on the 6G-SANDBOX website at https://6g-sandbox.eu/opencall
Description of the 6G-SANDBOX facilities can be found on the project website at https://6g-sandbox.eu/pilot-6g-sites/.
The proposals accepted in this Open Call will start the planned work in September 2023 and should be completed in February 2024 (duration six months).
Better Preservation, Restoration and Regeneration of Natural Resource Base and its Diverse Ecosystems – Participation of District Councils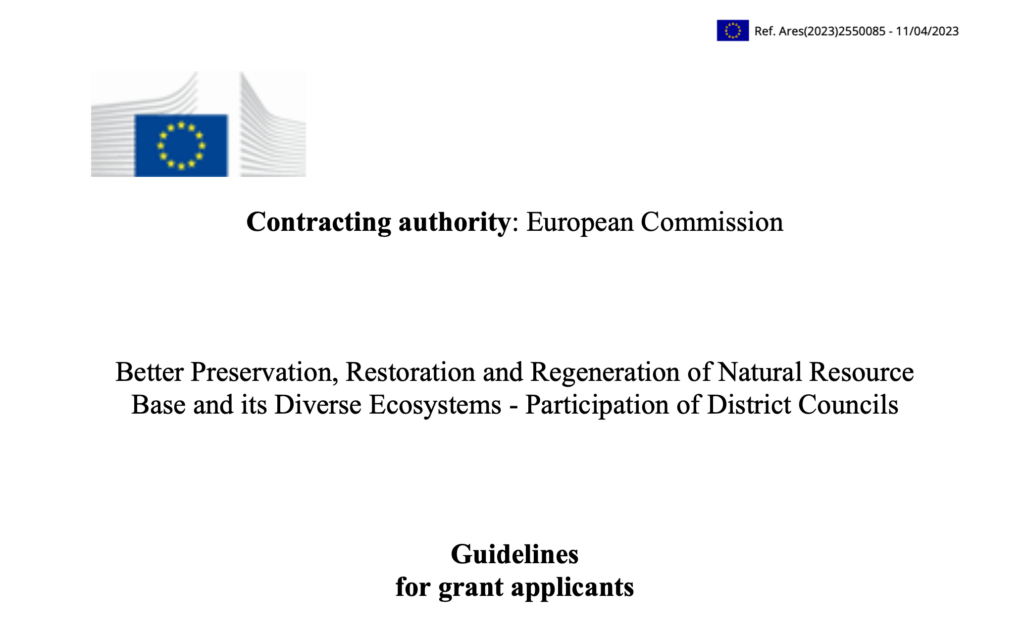 The global objective of this call for proposals is: to contribute to sustainable and inclusive transformation of food systems in Malawi The specific objective(s) of this call for proposals is/are: Better preservation, restoration and regeneration of natural resource base and its diverse ecosystems (This call for proposals relates to the Specific Objective 1 of the UCHI programme).
The objectives of LIFE Technical Assistance – Replication (TA-R) projects are to facilitate the upscaling or replication of results funded under the LIFE programme or, where relevant to fulfil the objectives of the LIFE programme, under another EU-funded programme.
Only proposals in the field of 'Environment' (i.e. 'Nature and Biodiversity' and 'Circular Economy and Quality of Life') will be eligible for this call.
Scope:
The TA-R projects could co-finance the activities necessary:
(1) to prepare the up-scaling and/or replication of the results of previous LIFE projects or of other Union programmes, as long as they contribute to the objectives of the LIFE programme.
(2) to facilitate the access of an operation contributing to the LIFE objectives to other financial instruments. This support for investment and replication appears strategic in view to supporting the materialization of green investments on the ground.
TheCollabEDIT will be published on the Collabwith Magazine once per week, however, you can join the Collabwith platform to check the funding and collaboration opportunities yourself every day, or as many times you want on the Collabwith Marketplace.
If you are looking for something more specific, we can make together a "Collaboration Plan" for you and your needs. Check up here the membership options or services.
ABOUT COLLABWITH
Collabwith is a technology and a service to structure collaboration for innovation. It's a tool to connect academics-startups-organizations. Because a tool is not enough to transform how you collaborate, here we have created a new methodology, personalized trainings, a new way of communication and a tailored made consulting for you to be more effective and efficient, now.
Grow your business and innovation through smart collaborations with Collabwith innovative and holistic approach to collaboration.
Magazine: https://collabwith.co
CollaborationXInnovation Platform: https://platform.collabwith.co
Do you want to know more? Book a demo with us, Contact us here.