Today, your host is Serena Crotti, Press and Communications Manager at LUNEX EuroMoonMars and desinger. Our GUEST is Lina Pečiūrė, Director of the Creativity and Innovation Centre "LinkMenų fabrikas" at VilniusTech, Lithuania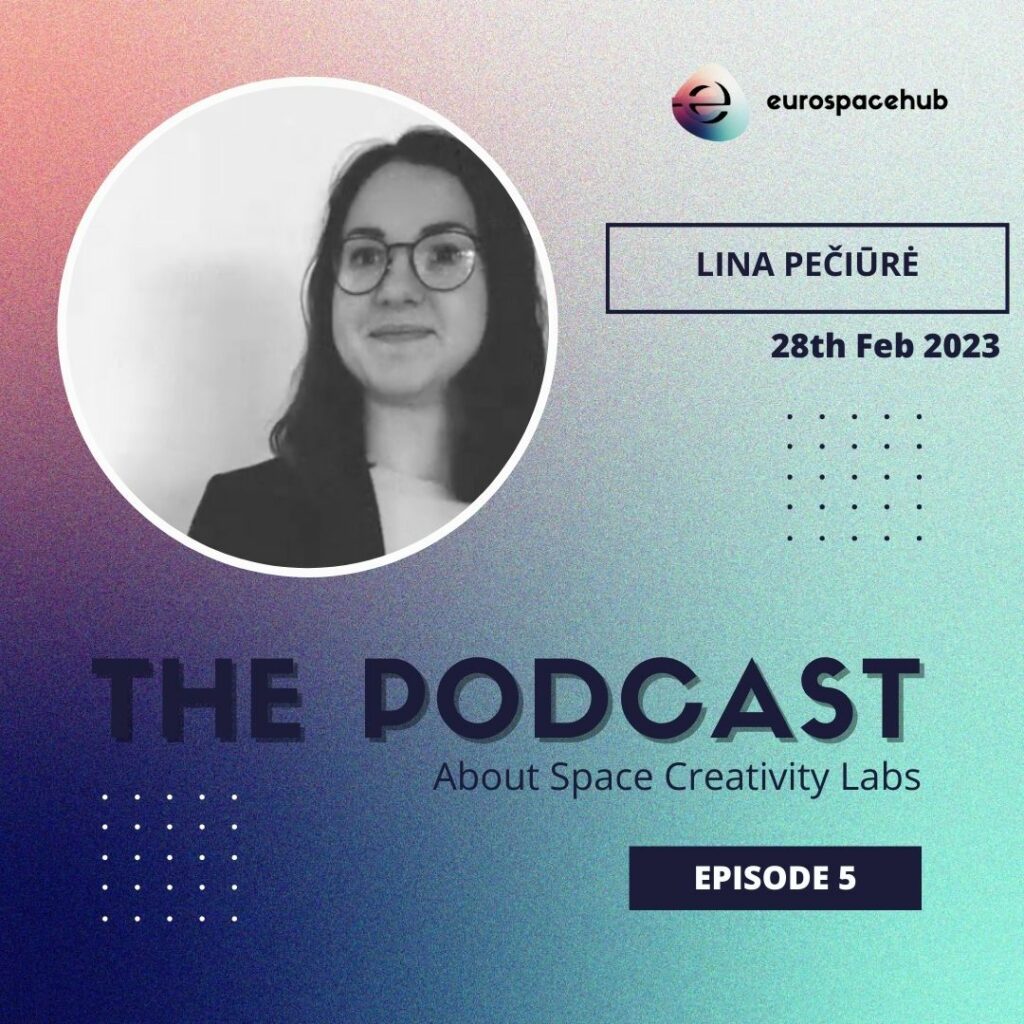 Lina is organizing hackathons, workshops, activities, lectures to enhance the creativity of students, academics and non-academics. The Creativity and Innovation Center is open to everyone who wants to create and test something for personal or professional projects. The activities are very different from professional projects such as laser cutting, product development including a media lab with production, post production and virtual reality.
The special episode EuroSpaceHub we want to share every month with you stories behind the space technology and space research. Enjoy the conversation!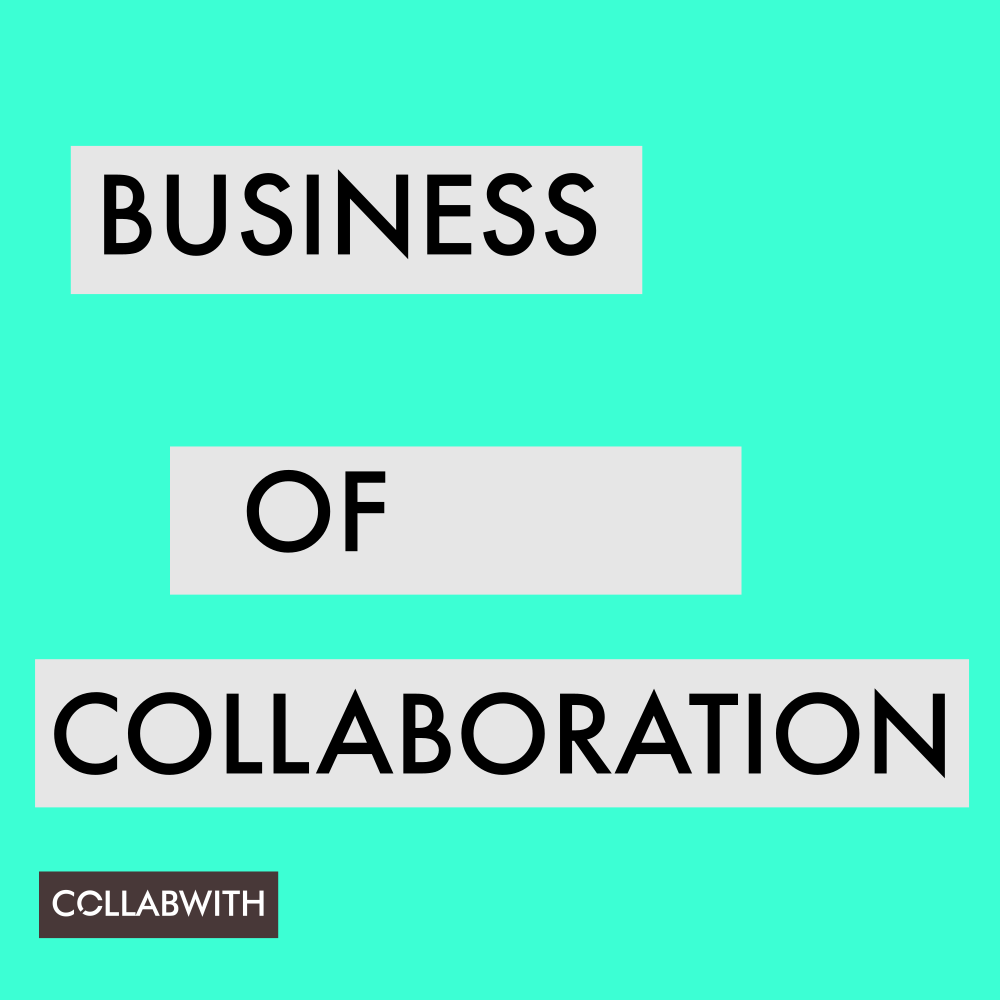 Podcast: Play in new window | Download
Subcribe to our podcast Business of Collaboration on Stitcher, iTunes, Android or via RSS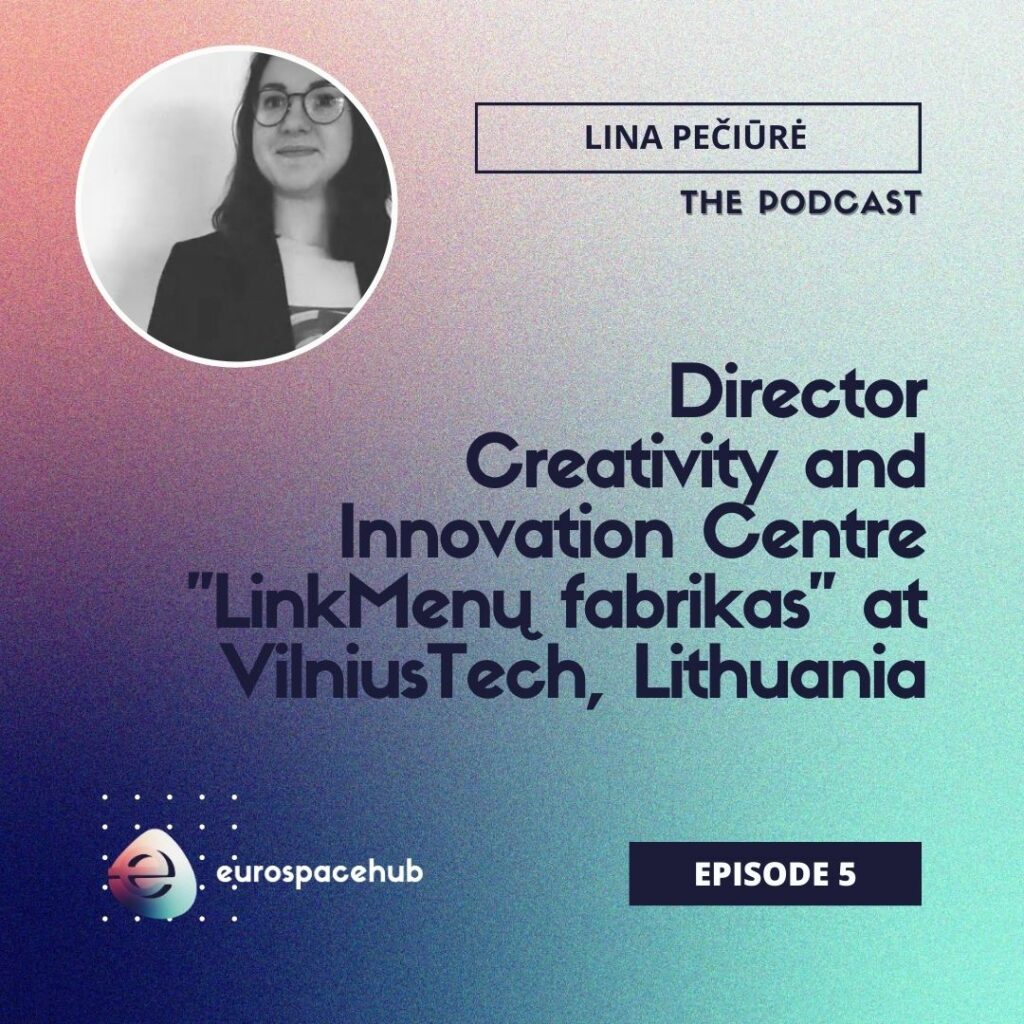 ABOUT Lina Pečiūrė
Director of Vilniaus Gedimino technikos universiteto (VILNIUS TECH) Creativity and Innovation Center "LinkMenų fabrikas" became the former vice-director of the facility, Dr. Lina Pečiūrė, who has been working here since her establishment.
She has contributed to building the center's identity from the start, helped gathering the team and develop creativity centre activities. L. Pečiūrė has been working at the university for more than 10 years.
According to the director, the main goals of becoming the head of VILNIUS TECH "LinkMenų fabrikas" are consistent continuity of activities, strengthening of the team, popularization of "LinkMenų fabrikas" among university lecturers and students, increasing the supply of educational activities. Among the aspirations of the new leader is the development of international cooperation.
"This year, VILNIUS TECH LinkMenų fabrikas became a member of the Design Factory Global Network. It was a long-standing solution in the team, so I value this membership and see it as an opportunity to strengthen the skills of both the team and the students by involving them in various network activities and participating in projects. I will strive to get as involved as possible as an active member of the network, "says the director. The new head of VILNIUS TECH, LinkMenų fabrikas, L. Pečiūrė replaced the former director of the center, who is now the vice-rector for strategic partnership – dr. Adas Meškėnas.
ABOUT EUROSPACEHUB
EuroSpaceHub is a group of 5 founding members, VilniusTECH, International Space University, Complutense University Madrid, Lunex Foundation and Collabwith Group.
EuroSpaceHub aims to connect digitally the space ecosystem in Europe, from tech transfer offices to industry, space accelerator networks, research centres, and other universities. The project will allow these actors to easily connect with financial opportunities from the Horizon Europe framework, the venture capital programme, and the InnovFin initiative. EuroSpaceHub will bridge the gap between academic institutions and industry using a collaborative mindset and entrepreneurship programmes inside the universities connected through tech transfer offices.
ABOUT COLLABWITH
Collabwith is a technology and a service to structure collaboration for innovation. It's a tool to connect academics-startups-organizations. Because a tool is not enough to transform how you collaborate, here we have created a new methodology, personalized trainings, a new way of communication and a tailored made consulting for you to be more effective and efficient, now.
Grow your business and innovation through smart collaborations with Collabwith innovative and holistic approach to collaboration.
CollaborationXInnovation Platform: https://platform.collabwith.co
Do you want to know more? Book a demo with us, Contact us here.
This podcast is edited by Alejandra Nettel, Original Music by Sandra Loewe, Voice over Kelly Wragg and Direction by Jara Pascual.

EUROSPACEHUB IS FOUNDED BY VILNIUSTECH, INTERNATIONAL SPACE UNIVERSITY, COMPLUTENSE UNIVERSITY OF MADRID, COLLABWITH, LUNEX FOUNDATIONS AND FUNDED BY THE EIT HEI INITIATIVE LEAD BY EIT MANUFACTURING & EIT RAW MATERIALS.