Bienvenidos al podcast Business of Collaboration creado por Collabwith. Collabwith es una plataforma digital y SaaS que permite que los ecosistemas de innovación conecten con startups, académicos y empresas en un entorno de matchmaking y marketplace. Hola, Soy Jara Pascual, fundadora y CEO de Collabwith y soy vuestro host de este podcast.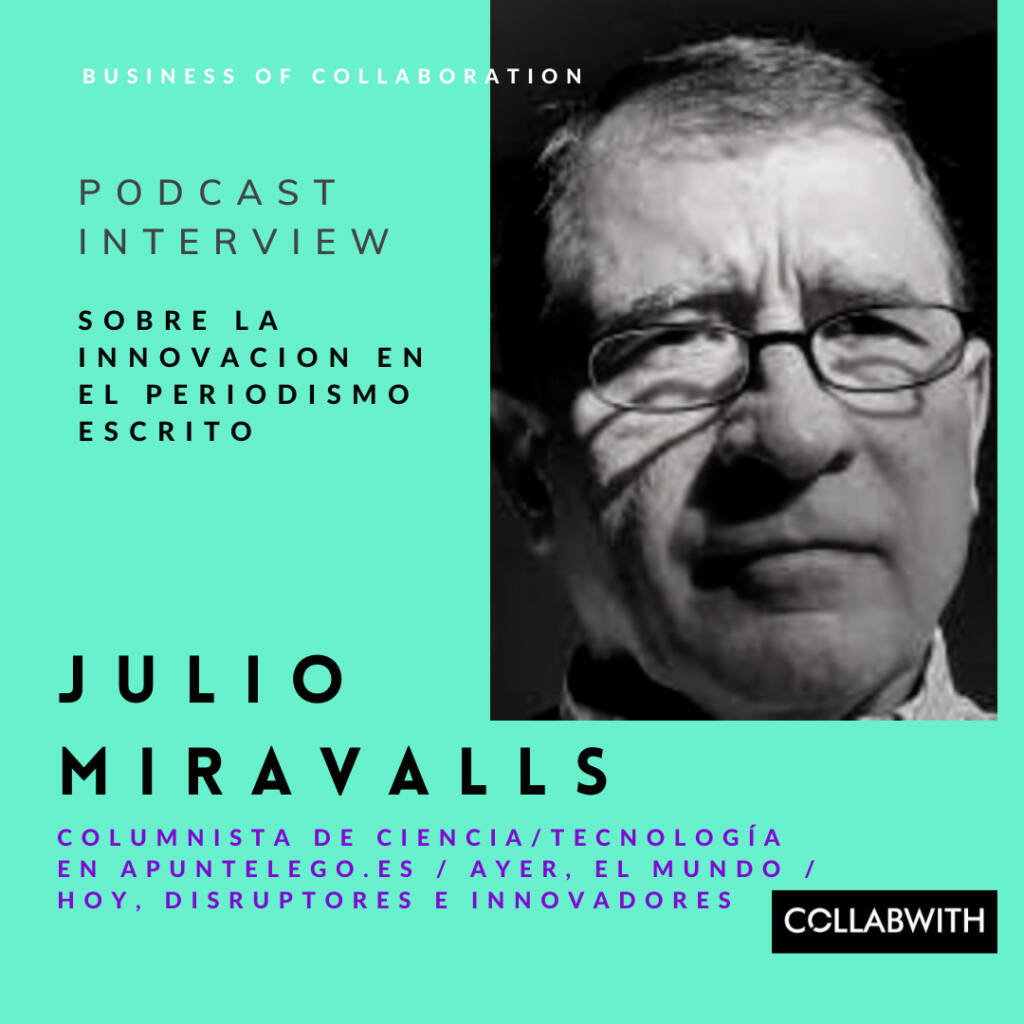 Hoy, tenemos como invitado a Julio Miravalls, periodista y ex director adjunto de El Mundo y ahora columnista del Disruptores y Innovadores del El Español. Vamos a hablar de la historia del periodismo hablando de su vida y de su carrera profesional desde los inicios de Julio en el periódico Marca en los años 70 hasta hoy como columnista en El Espanol. Lo que más me ha sorprendido es que Julio es un super innovador, y vamos a analizar como Julio hacía durante toda su vida innovación sin saber que se llamaba innovación, o colaborar con startups o hacer spinoffs, antes de que se hablara de eso, o como hacía digitalización y ser pionero en digital sin hablar de transformación digital.
Todo es mentalidad, y la vida de Julio Miravalls es un claro ejemplo de que la innovación no va de brainstormings solamente. Y Julio ha estado presente en los puntos claves de inflexión del periodismo actual.
Suscríbete gratuitamente a la plataforma Collabwith, platform.collabwith.co y si comentas sobre ésta conversación en el podcast, mándanos un pantallazo de tu comentario a hello@collabwith.org y consigue gratis una taza de Collabwith.
Y ahora vamos al podcast, disfruta de la conversación!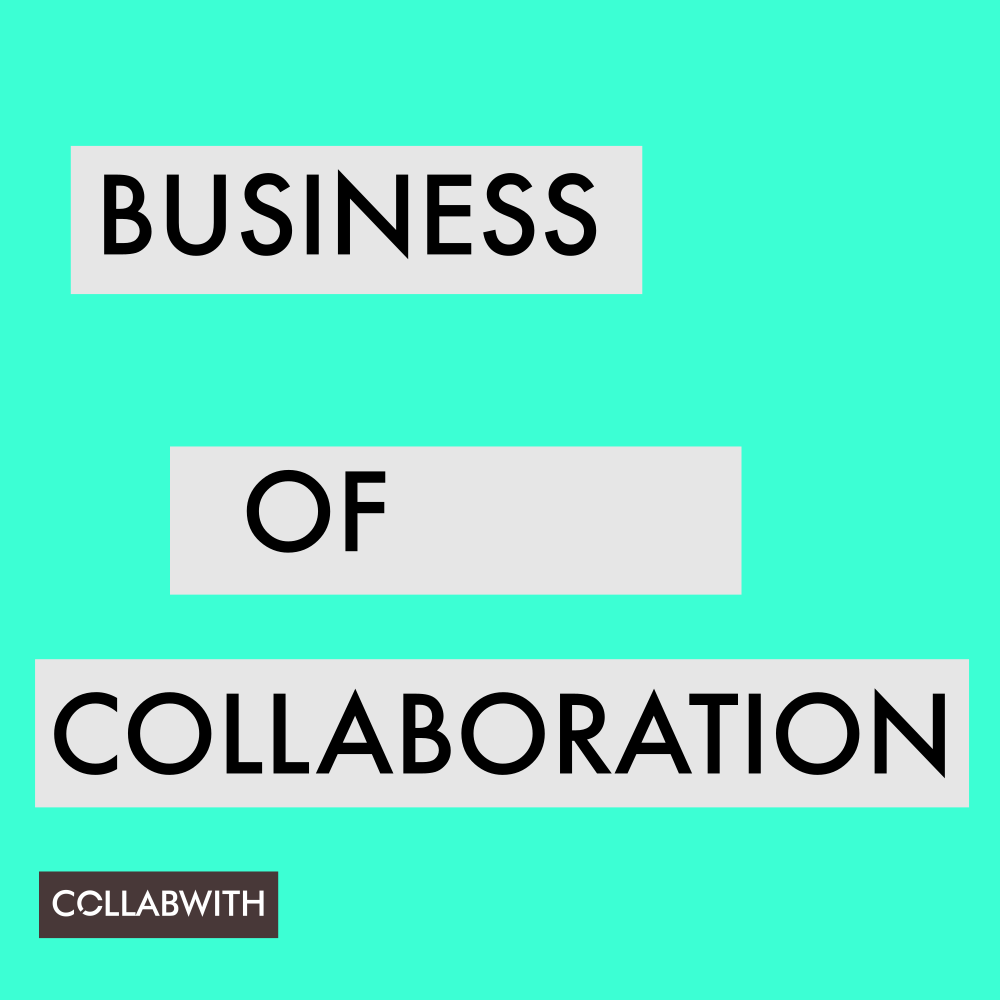 Podcast: Play in new window | Download
Subcribe to our podcast Business of Collaboration on Stitcher, iTunes, Android or via RSS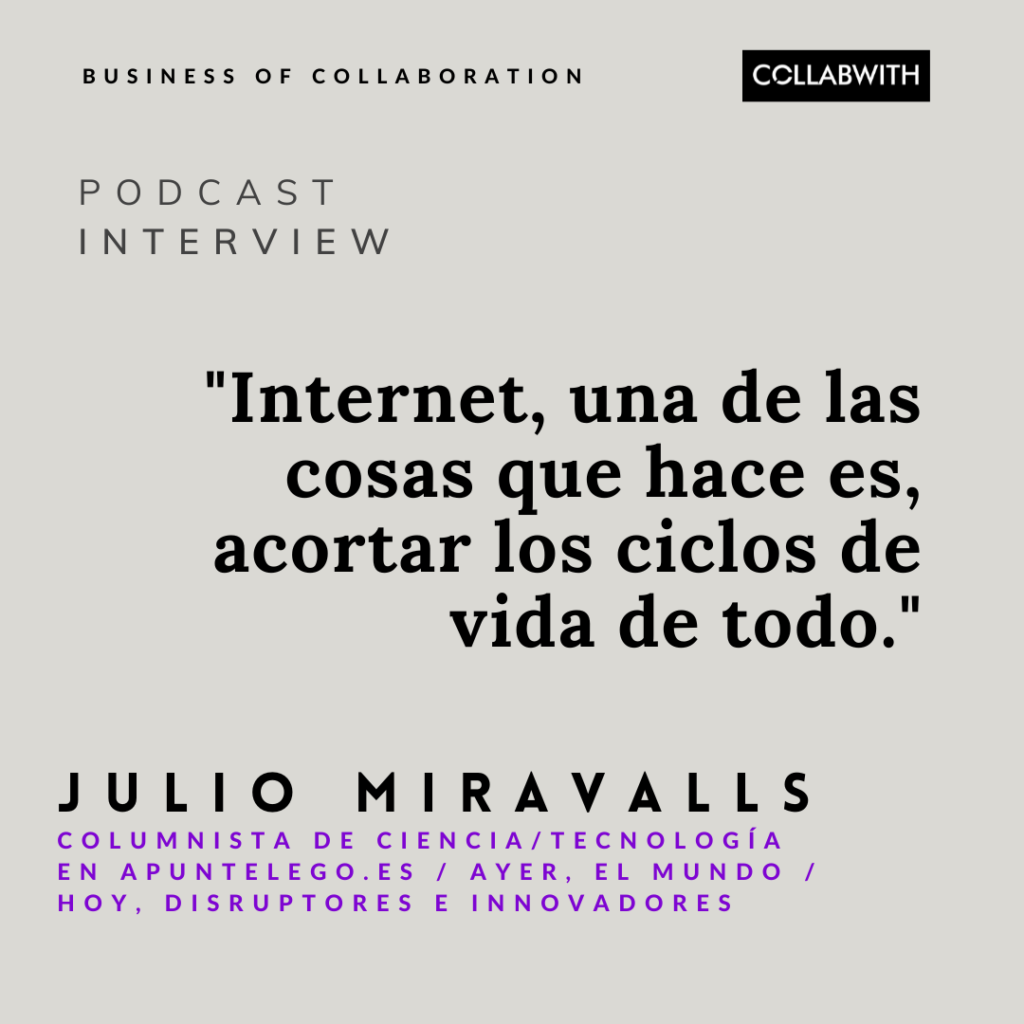 Si quieres escuchar la historia del periodismo en boca de uno de los pioneros más importantes del periodismo español, escucha este episodio de Collabwith con Julio Miravalls. Te adentrarás en cómo se hizo la innovación en el mundo del periodismo, "del plomo a la digitalización", de una forma creativa y orgánica, en el sentido más puro de la innovación, que es buscar con creatividad soluciones para dinamizar cualquier proceso de trabajo, llevar la idea a cabo y de ahí seguir implementando hasta que se llegue a lo que uno desea o necesita.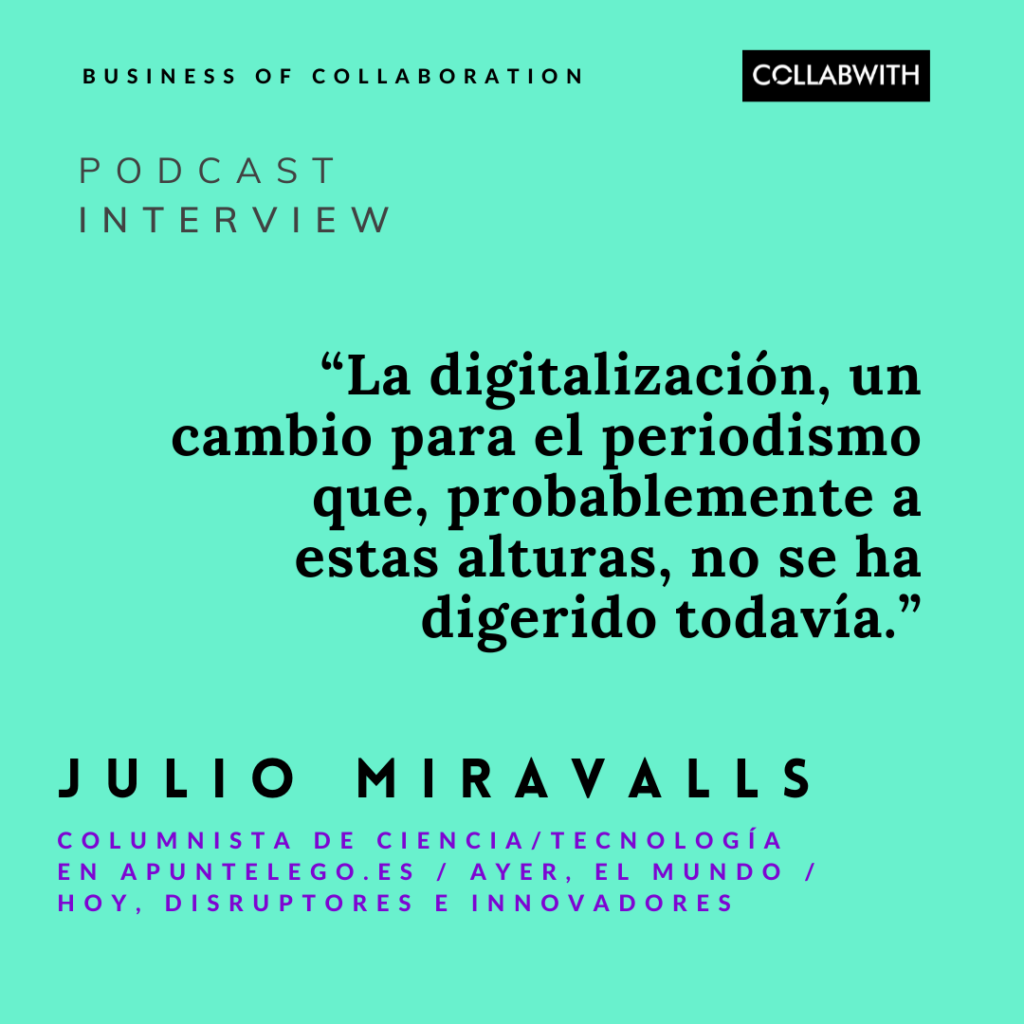 Julio Miravalls llevó a cabo innovaciones, sin saber que en el siglo que venía se le iban a llamar así. Podrás escuchar e inspirarte de un periodista que nunca ha tenido miedo a seguir probando cosas nuevas, a equivocarse para poder aprender y seguir.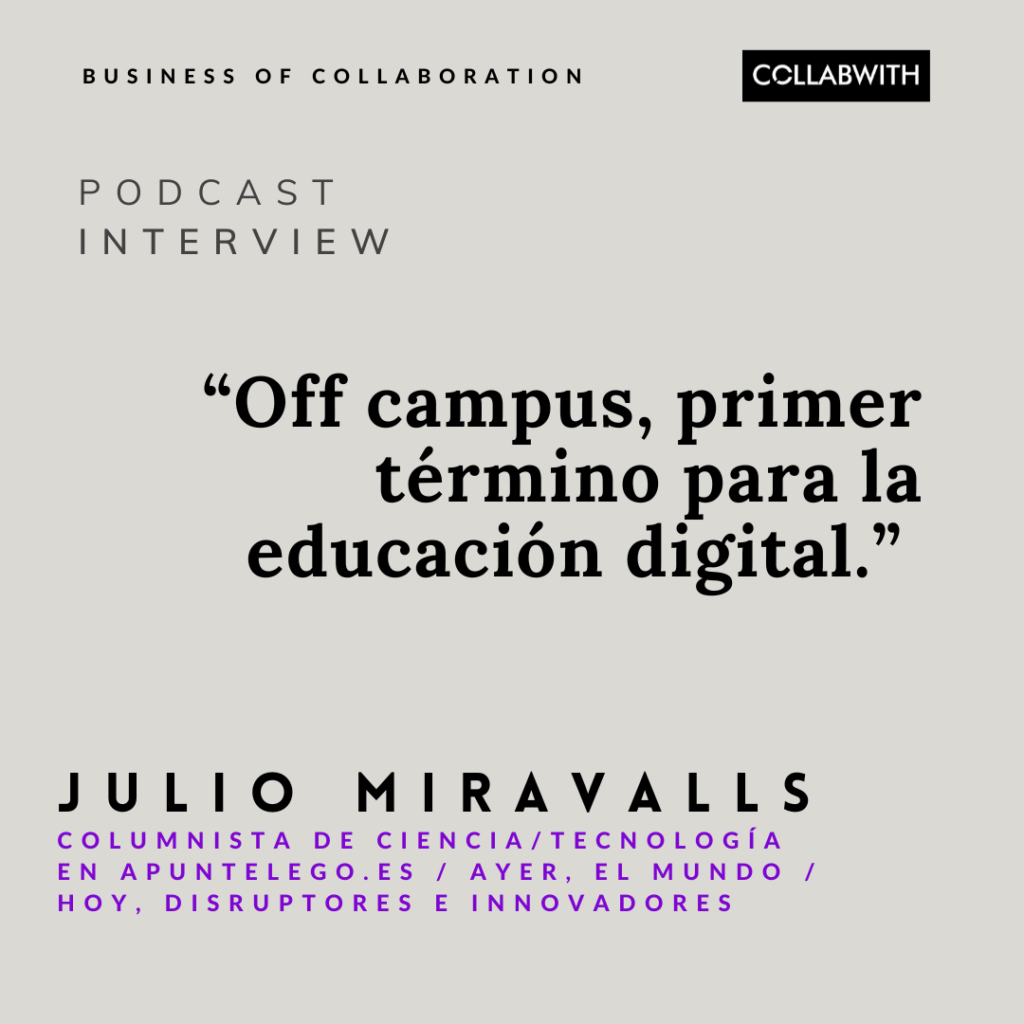 ¿A qué se le llamaba 'off campus'? Nos cuenta cómo lanzaron unas elecciones por Internet, siendo las primeras transmitidas de esta forma y el resultado. Miravalls fue partícipe del proceso de la 'infovía' a lo que hoy conocemos como una 'app'. Nos hace pensar no nada más en todo el trayecto que ha recorrido el periodismo sino en las formas y transformas del trayecto, siendo el protagonista constante de todo el recorrido. Decidimos no cortar este interesante viaje por el periodismo español, así que prepárate para un viaje de transformación periodística.
ABOUT COLLABWITH
Collabwith is a technology and a service to structure collaboration for innovation. It's a tool to connect academics-startups-organizations. Because a tool is not enough to transform how you collaborate, here we have created a new methodology, personalized trainings, a new way of communication and a tailored made consulting for you to be more effective and efficient, now.
Grow your business and innovation through smart collaborations with Collabwith innovative and holistic approach to collaboration.
Magazine: https://collabwith.co
CollaborationXInnovation Platform: https://platform.collabwith.co
Do you want to know more? Book a demo with us, Contact us here.
This podcast is edited by Alejandra Nettel, Original Music by Sandra Loewe and Direction by Jara Pascual.