Sabine Stuiver & Barbara Mounir from Hydraloop
"
Dear honorable members of the European Parliament, ladies and gentlemen. Thank you for inviting me to speak here today, at the first EUROPEAN INNOVATION AREA SUMMIT – discussing Impact innovation for a Sustainable Future – here at the European Parliament.
My name is Barbara Mounier and I am the Head of Communications and Partner Strategy at Hydraloop Systems: a Dutch, game-changing cleantech company making the only IoT-connected, consumer-friendly decentralized water recycling system that reduces water consumption in every building by up to 45 percent.
I am here today to share the vision, mission and experience of Hydraloop's Chief Marketing Officer and Co-founder, my colleague Sabine Stuiver, who unfortunately is unable to be here in person herself. It's a pleasure for me to read her speech to you, as Sabine and I share these thoughts – and the way we try to implement them in our company, in business and in life.
"The subject of "Next Generation Women Leaders – Major Drivers of a Sustainable Future" is one close to my heart."
As a female co-founder in a technical – predominantly male oriented – environment, I have experienced first hand how male-dominated VCs are still not interested to fund women led companies. Yet they have great economic and social potential.
Let's look at some facts: Of the S&P 500 companies there are 468 male CEOs and 32 female CEOs. Over the last 10 years, women-led companies have significantly outperformed male-led companies. Women do well – even better than many men – and play an important role in shaping a sustainable society and economy, creating impact every day. Unfortunately, when joining panel discussions and presentations, I still see very few women.
In December 2020, I was awarded here – at the European Parliament – with the European EU top-50 Women Entrepreneur Award for a Sustainable Innovation. I accepted that as an encouragement for what I had achieved, but also as a command to do more to inspire many young women and girls. To showthat if they work hard, they can reach their goals and become our future leaders.

At Hydraloop, through leading by example, I have created an open culture where every colleague, from CEO to intern, is welcome and invited to give their best. This calls for a certain amount of vulnerability from everyone involved – not just the women. Everyone in our team has to dare giving not only what is professionally expected of them, but also investing a part of themselves, and sharing that with each other as a team. In an open, encouraging atmosphere, where people are truly interested in each other, everyone has a voice. This female approach of work has enabled all members of 'Team Hydraloop' to evolve – working together, sharing the experience of being part of a fast-growing international business, and excelling in their special skills for the benefit of all.
And I really LOVE what Team Hydraloop is achieving: doing good by being good. I believe that having purpose in life is what drives us all – and that purpose is one of the pillars of individual and global happiness.
I've found that being myself, honest, kind, and full of passion to make our world a better place, really touches people and opens doors. While men generally tend to boast and are reluctant to show vulnerability, I know for sure that it helps to influence and mobilize people to collaborate in creating a Water Smart Society.
I am happy to see that after 10 years, the EU will now introduce a quota for women in European business leadership. It will definitely help the transition.
And as I have your full attention right now, let me take a moment to tell you what YOU can do for our much needed GREEN transition.
The water crisis in Europe is now a fact of life, even in countries that until recently had little or no water stress. We all see what's happening: shortage of water at the source, people using more tap water, more wastewater that needs treatment, and all that with infrastructures that are already insufficient.
AS CLIMATE CHANGES, LAWS NEED CHANGING
The success of our European green transition depends less on the development of new technologies, but rather on the creation of favourable conditions to increase the implementation of current solutions.
With this in mind, I ask you to use your power – encouraging, or even mandating policy makers – to adapt outdated norms, standards and legal and regulatory framework we still face today. All we want is to bring clean and efficient solutions to market and have them implemented… fast. Because the European Green deal demands it, and people have a right to it. And we all know that innovation, and collaboration, are key to protect the environment and reduce waste.
So – and believe me, it's not just Sabines voice here, but all of us at Hydraloop – I urge you to change policies so that sustainable solutions will be implemented faster, and we accelerate the much needed ecological transition.
Thank you very much!
"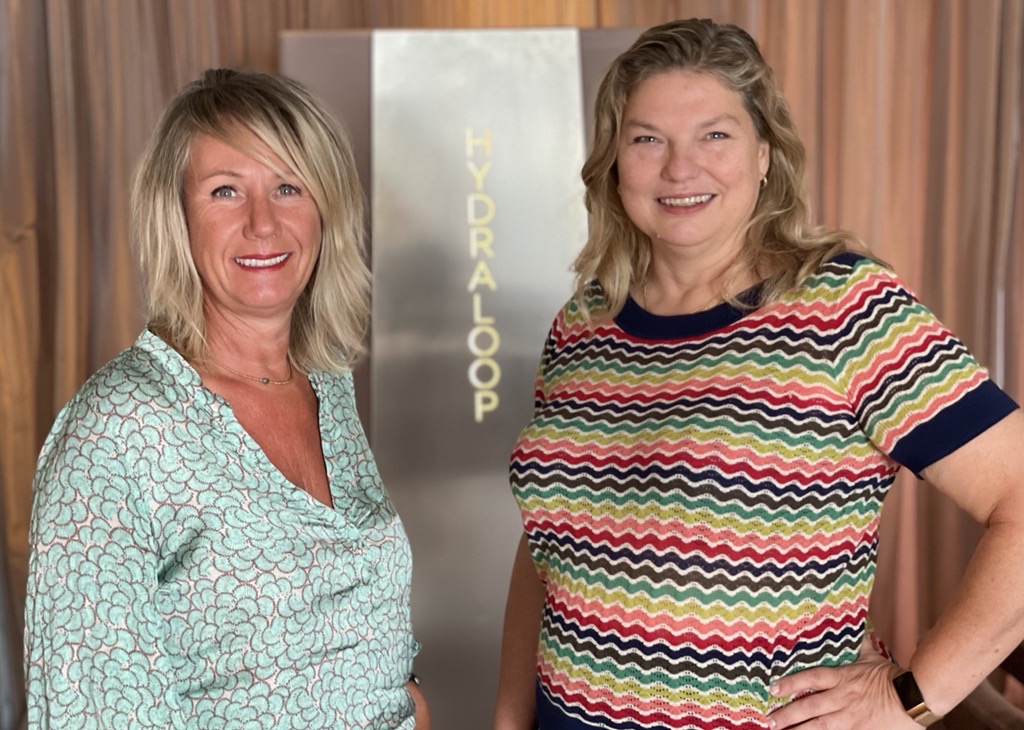 Barbara Mounier
Barbara Mounier MA is the Head of Communications and Partner Strategy of Hydraloop Systems, a global leader in designing and producing innovative decentralized water recycling products. Barbara is responsible for Hydraloop's internal and external communications strategy and execution as well as the Hydraloop Partner Platform. Protecting and strengthening Hydraloop's reputation as a game-changing cleantech company with a multi-billion market perspective, she has 20+ years of extensive experience in media relations and communications strategy.
Sabine Stuiver
(Listen to our podcast interview with Sabine Stuiver, here.)
Brussels, Belgium. 28 June 2022 16:00-18:00h. Next Generation Women Leaders in VCs and Startups – Major Drivers of a Sustainable Future . Organized by K4I Forum in the European Parliament & Collabwith.
The discussions will dive into the particular role and impact of women for a sustainable future and analyse how women-led startups, researchers, VCs and businesses are shaping a sustainable society and economy in different industries, achieving carbon neutrality, circularity, resource efficiency, preservation of natural resources and biodiversity as well as sustainable food and clean energy production.

At K4I we are continuously following the achievements of female innovators since our first debate hosted at the European Parliament in February 2020 and we will continue supporting women innovators and the important goal of women equality in general in collaboration with the EU institutions and like-minded organisations.
REPORT: Closing the gender investment gap for a more resilient innovative inclusive and balanced economy
Download the report: https://collabwith.co/2021/04/report-launch-2020/
*