A curated list of challenges, programs, funding opportunities, academic research and startups that have caught our eye.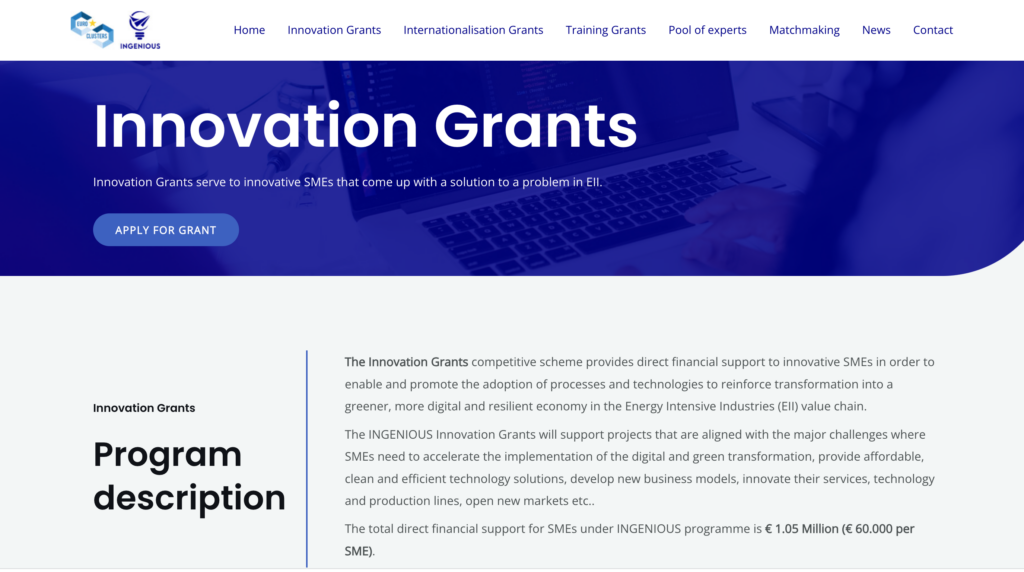 INGENIOUS Innovation Grants
The SMEs should form consortia consisting of a minimum of 2 and a maximum of 3 SMEs. SMEs of EU and Ukraine are eligible to participate. Potential consortium that can be comprised by 2 or 3 SMEs:
a) 1 SME as challenge owner and 1 SME as a solution provider.
b) 2 SMEs as challenge owners and 1 SME as a solution provider.
c)1 SME as challenge owner and 2 SMEs as solution providers.
TARGET-X First Open Call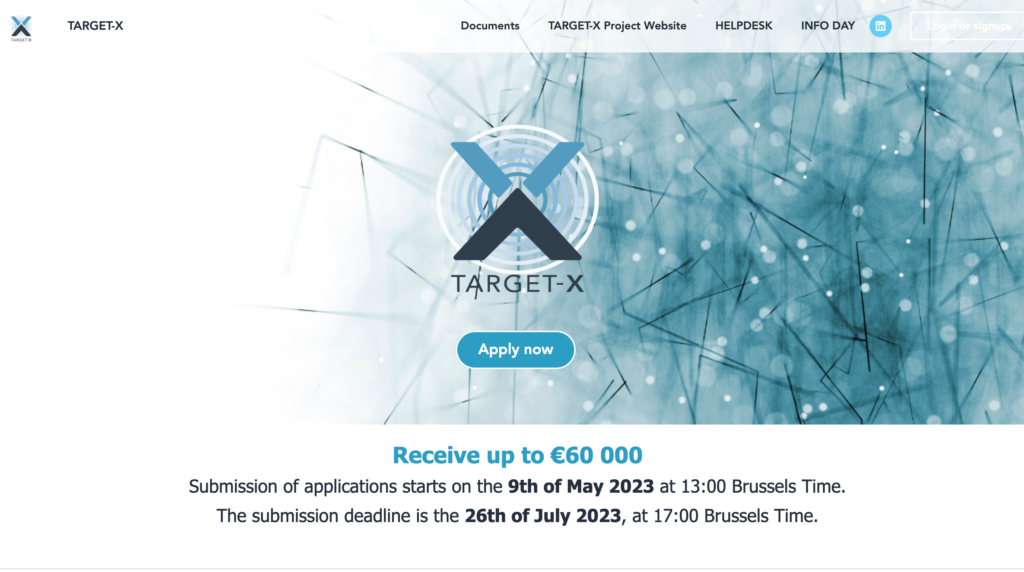 The selection of the Open Call proposals will be carried out in a seven steps process.
● Step one will check the proposals against admissibility and eligibility criteria.
● Step two (In/Out Scope Screening) will involve a 'Selection Committee' to assess the proposal according to the criteria (one partner per proposal).
● Step three will involve independent experts to assess the proposal according to the criteria (two experts per proposal).
● Step four will involve the TARGET-X Consensus Group to agree on a common position, including comments and scores for all evaluated proposals.
● Step five will involve the 'Selection Committee' to decide the 'List of Finalists' and 'Reserve List'.
● Step six will check the ethical aspects of the selected proposals.
● Step seven will include the review of legal documents before the SubGrant Agreement signature.
For further information see the Guide for Applicants (see https://target-x.fundingbox.com/).
Objective: to enhance the sustainable growth of SMEs operating, in the rural tourism and ecotourism sectors in Greece, Cyprus, Bulgaria, Slovenia, Romania and Italy by providing technical and financial support, whilst boosting their awareness, development and capacity in the area of sustainability and digitization.
STAR GROWTH Open Call aims to:
Support SMEs by adopting sustainable and innovative practices through customised technical support activities and capacity building programs;
Support SMEs through processes of i) preparation and / or application for sustainability / environmental certification, ii) preparation and / or generation of Product Environmental Footprint (PEF) studies and Organization Environmental Footprint (OEF) studies, iii) implementation of improvement measures following the recommendations of the PEF / OEF studies, iv) developing of sustainability strategy plans;
Support SMEs for training and capacity building activities in order to empower their staff towards innovation and sustainability;
Support SMEs by increasing SMEs' competitiveness via boosting innovation in sustainable and resilient tourism
Women Innovators in Manufacturing at EIT RIS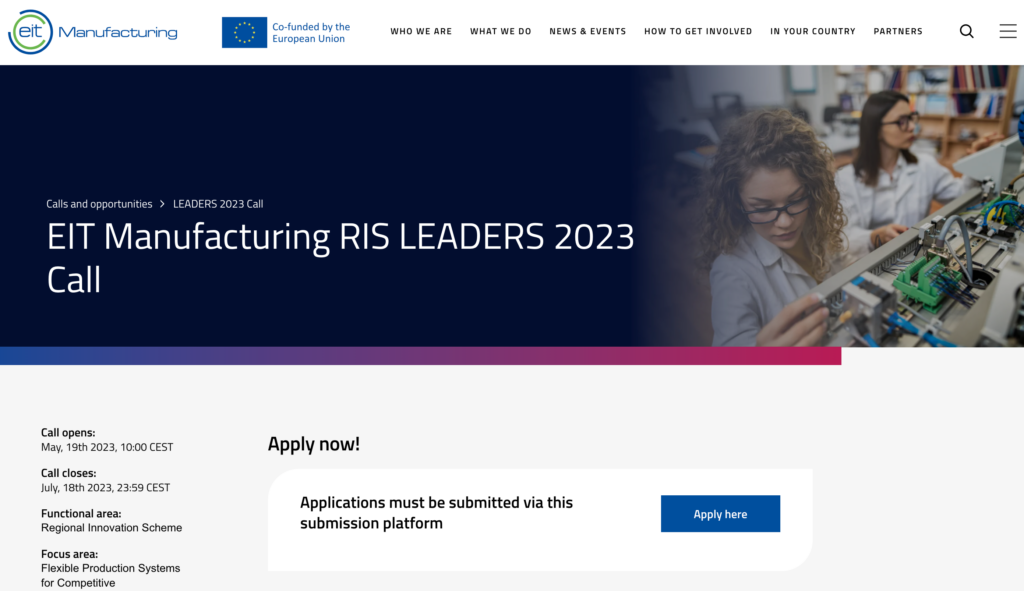 The LEADERS – Women Innovators in Manufacturing at EIT RIS competition celebrates the women innovators behind solutions addressing manufacturing-related challenges.
The prizes are awarded to women innovators based in the RIS eligible countries who have created a large impact on the innovation ecosystem by transforming ideas into new and advanced products and/or services to benefit the people and planet.
The applicants can have more information and submit a proposal through the following website: https://www.eitmanufacturing.eu/calls/leaders-2023-call/
ICAERUS PUSH Open Calls for Innovation Development (ID) aim to attract research and technology stakeholders (e.g., drone manufacturers, start-ups and SMEs exploiting innovative drone services and technologies, AI and IoT companies, research institutes), who can either deliver and exploit drone-related data sets which allow the assessment of technical and non-technical hypotheses or develop ideas, concepts and prototypes, which can then be introduced to the market. It is planned to finance 4 winners in this call. The total sum for this iteration of the PUSH Open Call is 240,000 €, and each winner may ask for up to 60,000 €.
TheCollabEDIT will be published on the Collabwith Magazine once per week, however, you can join the Collabwith platform to check the funding and collaboration opportunities yourself every day, or as many times you want on the Collabwith Marketplace.
If you are looking for something more specific, we can make together a "Collaboration Plan" for you and your needs. Check up here the membership options or services.
ABOUT COLLABWITH
Collabwith is a technology and a service to structure collaboration for innovation. It's a tool to connect academics-startups-organizations. Because a tool is not enough to transform how you collaborate, here we have created a new methodology, personalized trainings, a new way of communication and a tailored made consulting for you to be more effective and efficient, now.
Grow your business and innovation through smart collaborations with Collabwith innovative and holistic approach to collaboration.
Magazine: https://collabwith.co
CollaborationXInnovation Platform: https://platform.collabwith.co
Do you want to know more? Book a demo with us, Contact us here.