A curated list of challenges, programs, funding opportunities, academic research and startups that have caught our eye.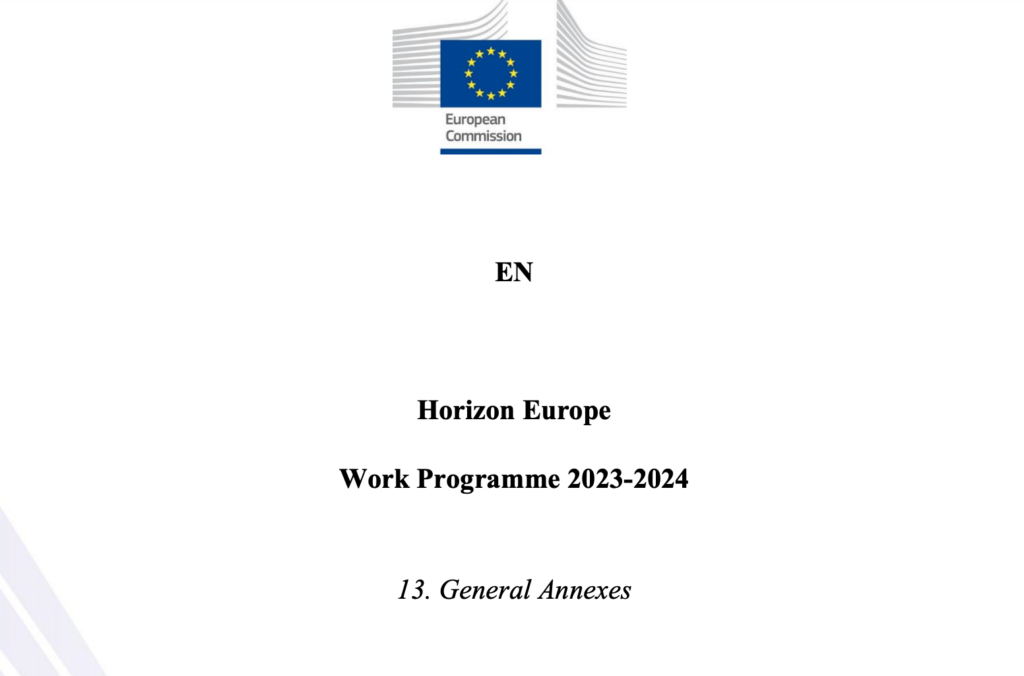 Boosting generation and diffusion of advanced technologies in SMEs bases on a supply chain model (CSA)
Projects are expected to contribute to the following outcomes:
Build a model for each industrial ecosystem to identify disruptions and technological opportunities for the uptake of advanced technologies in a supply chain;
Alert on current disruptions and identify potential future disruptions;
Identify potential alternate suppliers of critical advanced technologies;
Launch one pilot project per each industrial ecosystem focused on building alliances among traditional and tech-savvy SMEs through industrial cluster organisations;
Explore concrete collaboration opportunities between different type of EU businesses, particularly tech-savvy SMEs and traditional SMEs;
Increase the adoption of advanced technologies in traditional SMEs, looking at skills shortages among other barriers, and help EU tech-savvy SMEs that developed critical technology applications to expand their market potential in the EU;
Demonstrate how the adoption of advanced technologies in SMEs can enable them to reduce resource, material and energy consumption, thus contributing to EU climate neutrality objectives.
Community Program of OpenWebSearch.EU Project: 1st Open Call for the Third-Parties)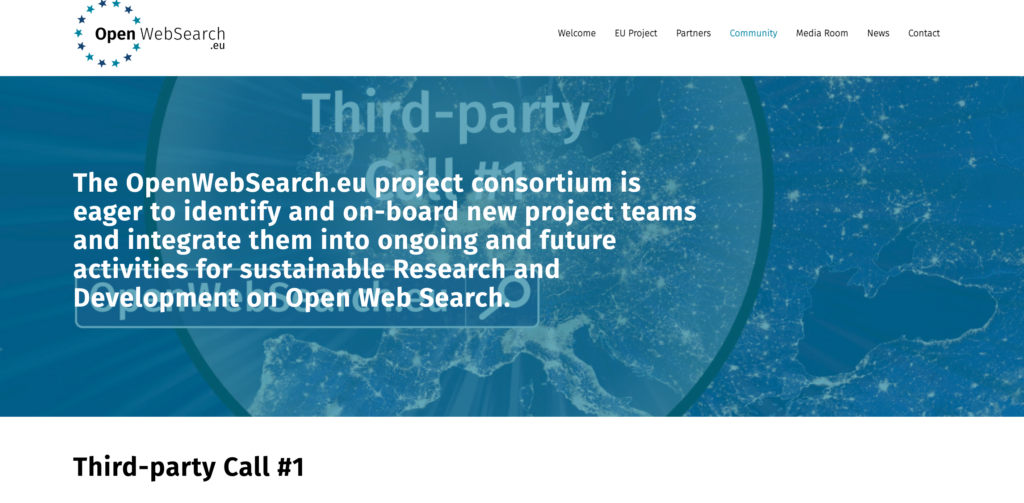 OpenWebSearch.eu aims at building and piloting a legally compliant Open Web Index as a European infrastructure. The third-party calls are essential for stimulating an ecosystem around open search and important part of project exploitation plan.
The OpenWebSearch.eu project consortium is eager to on-board new third-party project teams in OpenWebSearch.eu landscape and integrate them in the future activities for sustainable Research and Development. Therefore, the candidate third-party project should probe the closely related topics addressed in the project and should aim at widening and enriching the existing R&D activities as well as suggesting new ones which are complementary to the project goals and aims.
OBJECTIVES OF THE PROGRAMME AND PRIORITY ISSUES The overall objective (OO) of the EU-Viet Nam Women-led Green Partnership Programme is: Women in all their diversity influence decision-making processes on climate change and environmental conservation policies and actions in Viet Nam. The specific objectives (SO) and outputs of the programme are:
SO 1. Increase participation of women and girls in all their diversity, NSAs and members of mass organisations, in decision-making processes at national and provincial levels on climate change adaptation and mitigation and on environmental issues.
SO 2. Improve access to decent jobs and entrepreneurship opportunities in the green economy and the circular economy for women and girls in all their diversity.
2023 Democracy and Human Rights Call for Proposals – Philippines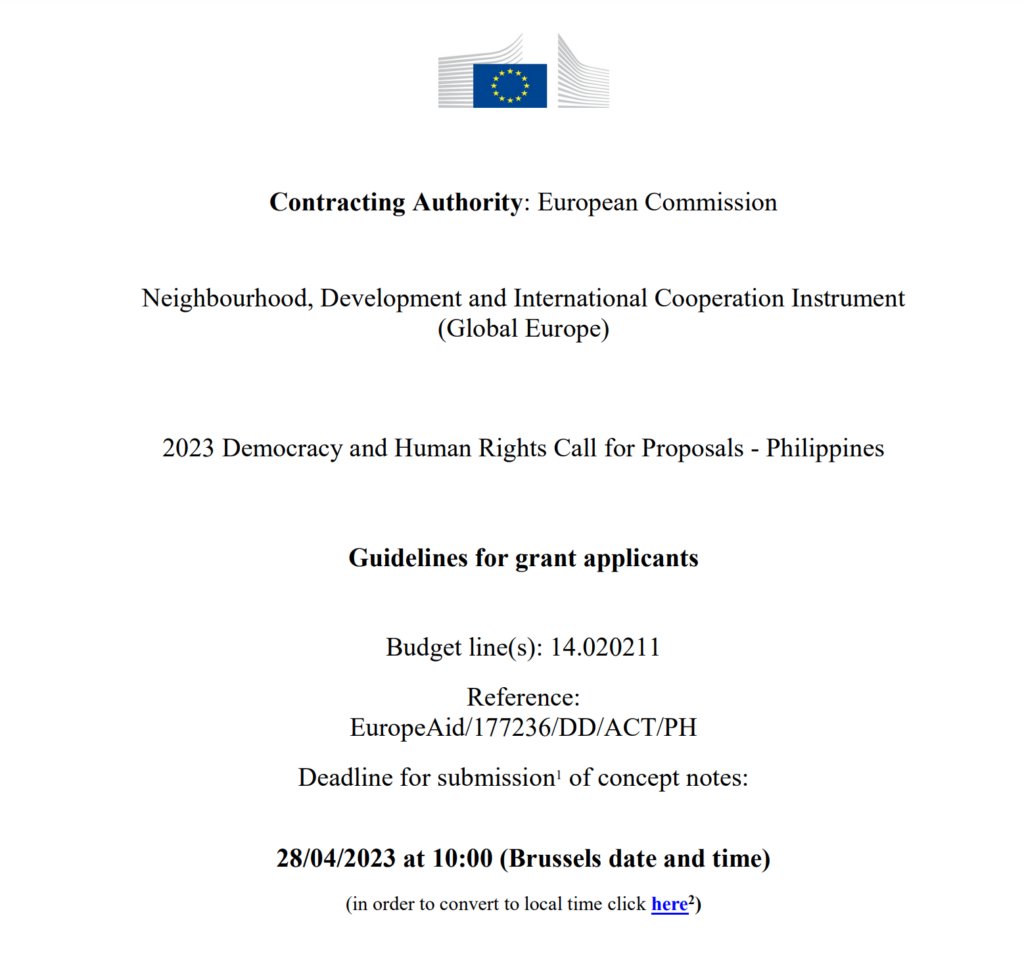 OBJECTIVES OF THE PROGRAMME AND PRIORITY ISSUES
The global objective of this call for proposals is:
To support and strengthen civil society organisations working in critical democracy and human rights issues in the Philippines
The specific objective(s) of this call for proposals are:
To support human rights defenders working on the most critical areas of human rights policy and democracy issues
To contribute to the national effort in eliminating the worst forms of child labour in the Philippines
To contribute to the fight against online sexual abuse and exploitation of children (OSAEC) and other forms of inhumane and degrading treatment
To support democracy through freedom of expression and access to information online and offline
This action will facilitate the integration into the single market of Ukrainian SMEs (businesses based in Ukraine, and displaced Ukrainian-registered companies currently operating from the EU. This in turn will support the recovery and development of the Ukrainian economy. It will also bring new opportunities for EU businesses to access markets in Ukraine or find alternative suppliers in Ukraine.
The role of the consortium is to select Ukrainian companies that can benefit from direct support, and to help them integrate into the single market. A special focus will be provided to support women and social economy entrepreneurs.
This action makes use of and capitalises on existing networks and infrastructures set up under European funding programmes and therefore ensures that the proposed action is delivered in the fastest and most cost-efficient possible way.
TheCollabEDIT will be published on the Collabwith Magazine once per week, however, you can join the Collabwith platform to check the funding and collaboration opportunities yourself every day, or as many times you want on the Collabwith Marketplace.
If you are looking for something more specific, we can make together a "Collaboration Plan" for you and your needs. Check up here the membership options or services.
ABOUT COLLABWITH
Collabwith is a technology and a service to structure collaboration for innovation. It's a tool to connect academics-startups-organizations. Because a tool is not enough to transform how you collaborate, here we have created a new methodology, personalized trainings, a new way of communication and a tailored made consulting for you to be more effective and efficient, now.
Grow your business and innovation through smart collaborations with Collabwith innovative and holistic approach to collaboration.
Magazine: https://collabwith.co
CollaborationXInnovation Platform: https://platform.collabwith.co
Do you want to know more? Book a demo with us, Contact us here.