A curated list of challenges, programs, funding opportunities, academic research and startups that have caught our eye.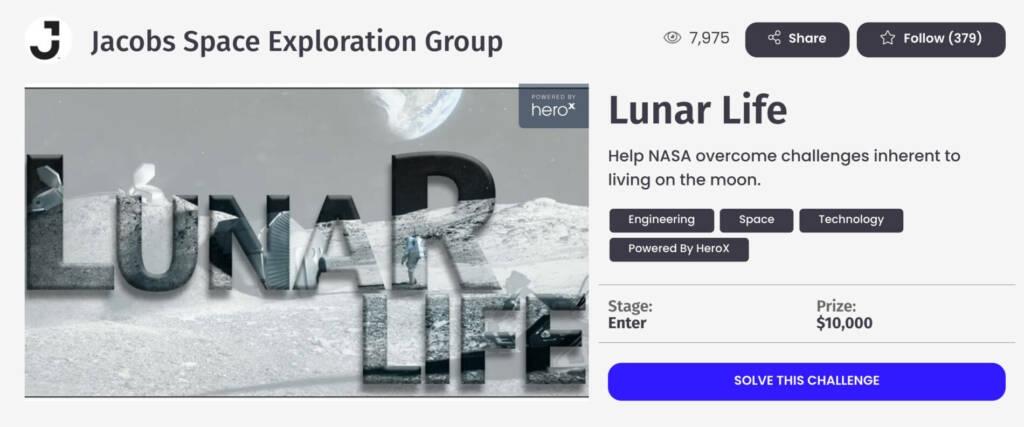 Jacobs Space Exploration Group
Lunar Life represents humankind's passion for breaking earth's boundaries to explore and live on the moon.
It's going to be hard living on the moon. It can be extremely cold, dusty, and dark. There's nothing there to eat or drink. There's not even air to breathe. However, there are resources that we can use. Leveraging technology will enable us to combine lunar resources with our own to sustain a human presence on the moon.
To compete in this challenge, submit an idea that will assist NASA with sustaining a human presence on the moon by helping to overcome the challenges posed by such a difficult environment, including lunar dust, extreme temperatures, lunar resource mining, resource reusability, energy harvesting and management, surface transportation, in-space manufacturing, communications, etc.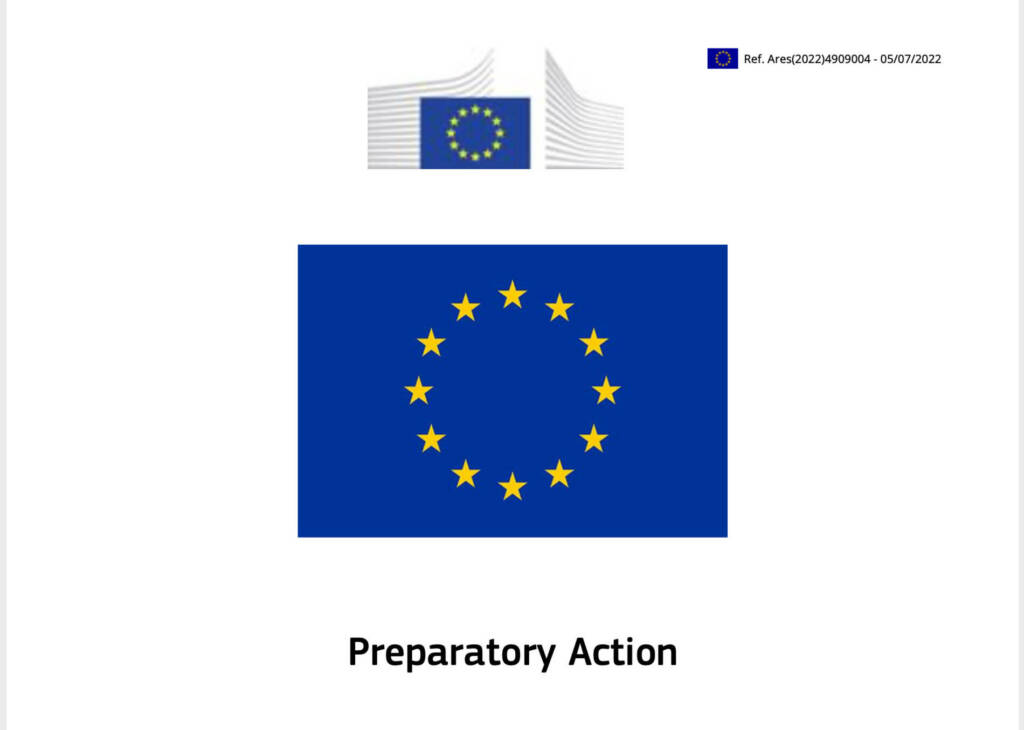 European media platforms
The Commission is launching a new €6million call for proposals to set up European media platforms projects, aiming to improve EU citizens' access to trusted information across the European Union.
Applicants should submit projects that enhance and expand technical media systems delivering news media content and/or programming. They are encourage to collaborate and to increase the availability of original reporting, helping news media organisations reach new audiences. They should thus explain how these projects would allow to effectively handling the content or contain sufficient methods for content search and discovery systems.
The transparency and openness of technical tools and editorial arrangements are fundamental components of the call. Users should feel safe, informed when accessing information and protected from undesired manipulation techniques. When used, algorithms should be explainable and verifiable, and designed to accommodate citizens' fundamental rights as well as values linked to news quality standards, such as fact-based communication, unbiased reporting, independence, pluralism, diversity of viewpoints, fairness, transparency, and respect for human dignity, equality and human rights.
Participants are invited to submit COST Action proposals contributing to the scientific, technological, economic, cultural or societal knowledge advancement and development of Europe. Multi- and interdisciplinary proposals are encouraged.
The Open Call Action proposal submission, evaluation, selection and approval (SESA) procedure is fully science and technology-driven and will ensure a simple, transparent and competitive proposal evaluation and selection process, reflecting the bottom-up, open and inclusive principles of COST.
Participants planning to submit a proposal for a COST Action will need to refer to the SESA guidelines and to the Open Call Announcement on the Documents and Guidelines page.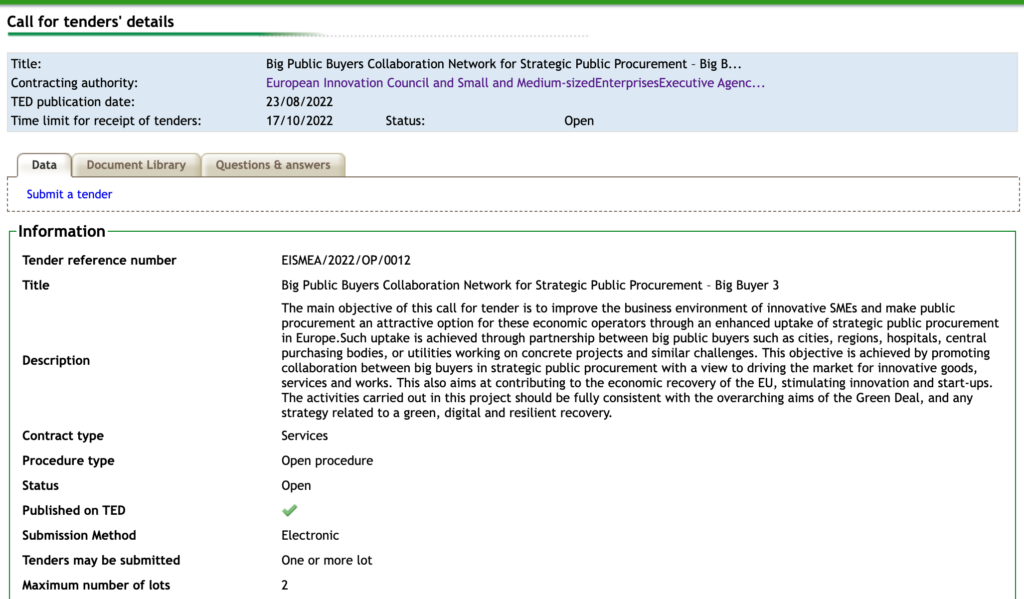 Big Public Buyers Collaboration Network for Strategic Public Procurement
The main objective of this call for tender is to improve the business environment of innovative SMEs and make public procurement an attractive option for these economic operators through an enhanced uptake of strategic public procurement in Europe.Such uptake is achieved through partnership between big public buyers such as cities, regions, hospitals, central purchasing bodies, or utilities working on concrete projects and similar challenges. This objective is achieved by promoting collaboration between big buyers in strategic public procurement with a view to driving the market for innovative goods, services and works. This also aims at contributing to the economic recovery of the EU, stimulating innovation and start-ups. The activities carried out in this project should be fully consistent with the overarching aims of the Green Deal, and any strategy related to a green, digital and resilient recovery.
This Call for Proposals implements the second EP Pilot Project "A European public sphere: a new online media offer for young Europeans". A similar call was published in 2020, for projects starting in 2021.
Objectives of the Pilot Project
Increased availability of online information, in different languages, around European topics that affect young people across the EU, presented in engaging formats and through multiple viewpoints. Engaging discussions and youth events.
Expected results
Collaboration between at least 5 media organisations from 5 EU Member States;
Creation of daily, thought-provoking content around current affairs, through innovative cross-border editorial processes;
An outreach plan, to reach as many young Europeans as possible;
Distribution via own channels, partner websites, blogs and/or social media networks;
Engaging discussions and youth events.
Budget
The total available budget is EUR 2 million.
The maximum rate of co-financing is 70% of eligible costs. Applicants may propose a lower co-funding rate.
The Commission expects to fund 2 proposals. The maximum grant is set at EUR 1,2 million.
Timing
Deadline for applications: 21 October 2021 24h CET
Suggested start date: March 2022
Suggested duration 12 to 15 months
TheCollabEDIT will be published on the Collabwith Magazine once per week, however, you can join the Collabwith platform to check the funding and collaboration opportunities yourself every day, or as many times you want on the Collabwith Marketplace.
If you are looking for something more specific, we can make together a "Collaboration Plan" for you and your needs. Check up here the membership options or services.
ABOUT COLLABWITH
Collabwith is a technology and a service to structure collaboration for innovation. It's a tool to connect academics-startups-organizations. Because a tool is not enough to transform how you collaborate, here we have created a new methodology, personalized trainings, a new way of communication and a tailored made consulting for you to be more effective and efficient, now.
Grow your business and innovation through smart collaborations with Collabwith innovative and holistic approach to collaboration.
Magazine: https://collabwith.co
CollaborationXInnovation Platform: https://platform.collabwith.co
Do you want to know more? Book a demo with us, Contact us here.