Bienvenidos al podcast Business of Collaboration creado por Collabwith. Collabwith es una plataforma digital y SaaS que permite que los ecosistemas de innovación conecten con startups, académicos y empresas en un entorno de matchmaking y marketplace. Hola, Soy Jara Pascual, fundadora y CEO de Collabwith y soy vuestro host de este podcast.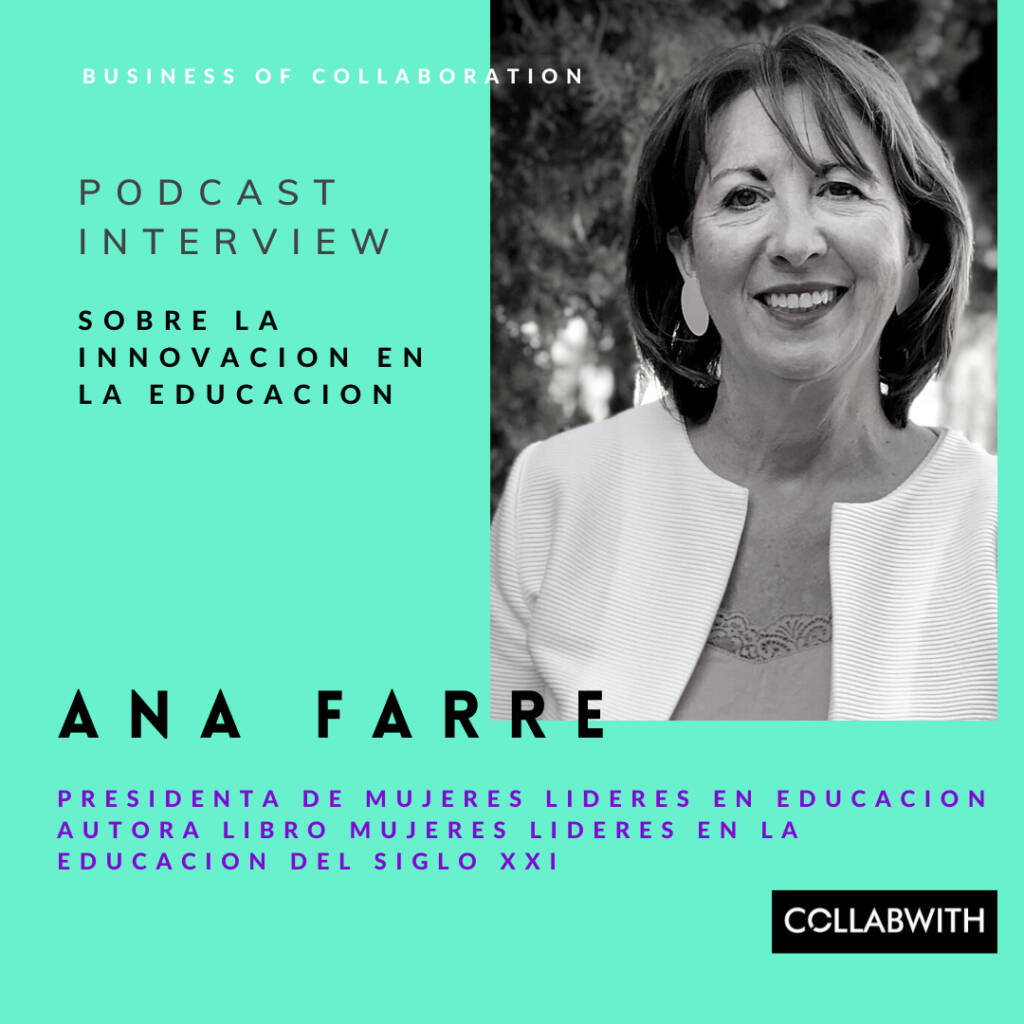 Hoy, tenemos una invitada Ana Farré y vamos a hablar de la innovación en la educación y como de su propósito de visualizar nuevas formas de educar, ha escrito un libro lleno de entrevistas, pero lo que más me ha sorprendido es que ha creado una comunidad de mujeres que quieren transformar la educación, los sistemas educativos y que son expertas desde diferentes perspectivas, como la arquitectura, las emociones, enseñanza, dyslexia. Ana es de Barcelona, pero trabaja en Zaragoza en el Campus de la Fundación Ibercaja, como directora. Y es Presidenta de la Asociación de Mujeres Líderes en Educación.
Suscríbete gratuitamente a la plataforma Collabwith, platform.collabwith.co y si comentas sobre ésta conversación en el podcast, mándanos un pantallazo de tu comentario a hello@collabwith.org y consigue gratis una taza de Collabwith.
Y ahora vamos al podcast, disfruta de la conversación!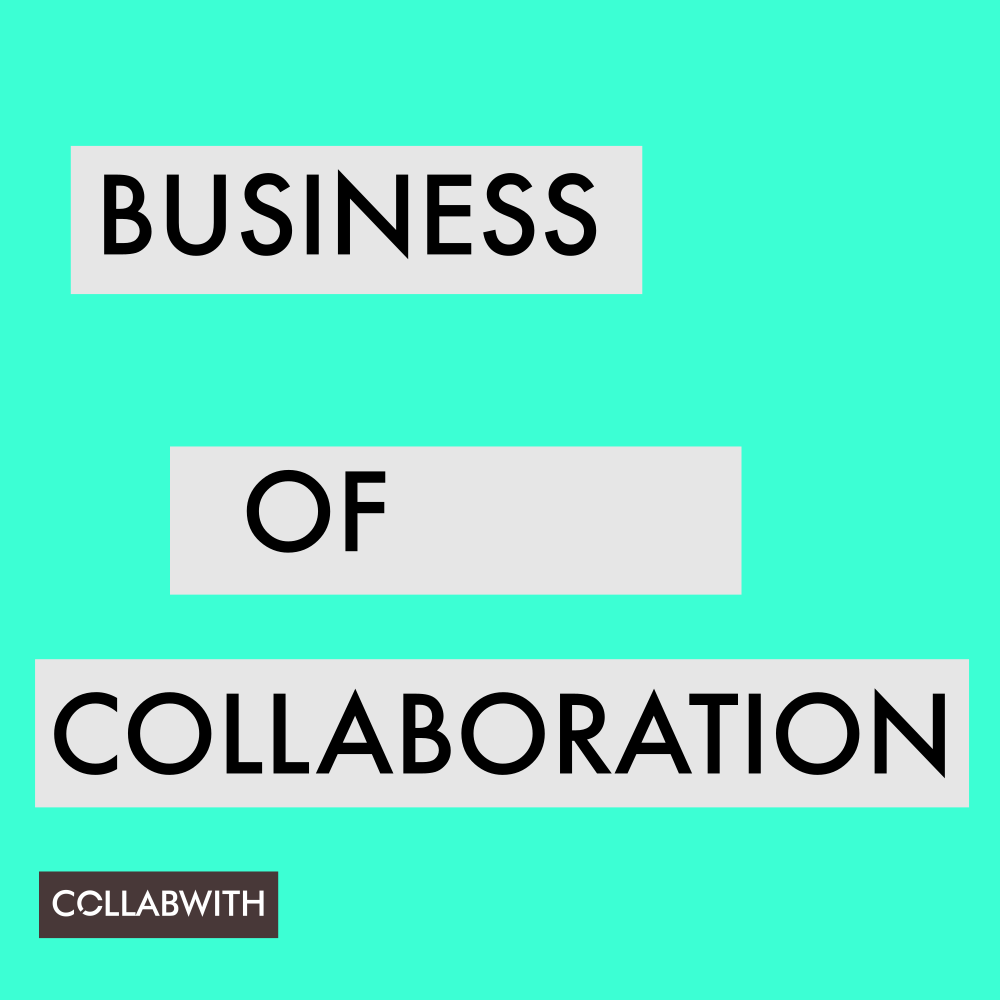 Podcast: Play in new window | Download
Subcribe to our podcast Business of Collaboration on Stitcher, iTunes, Android or via RSS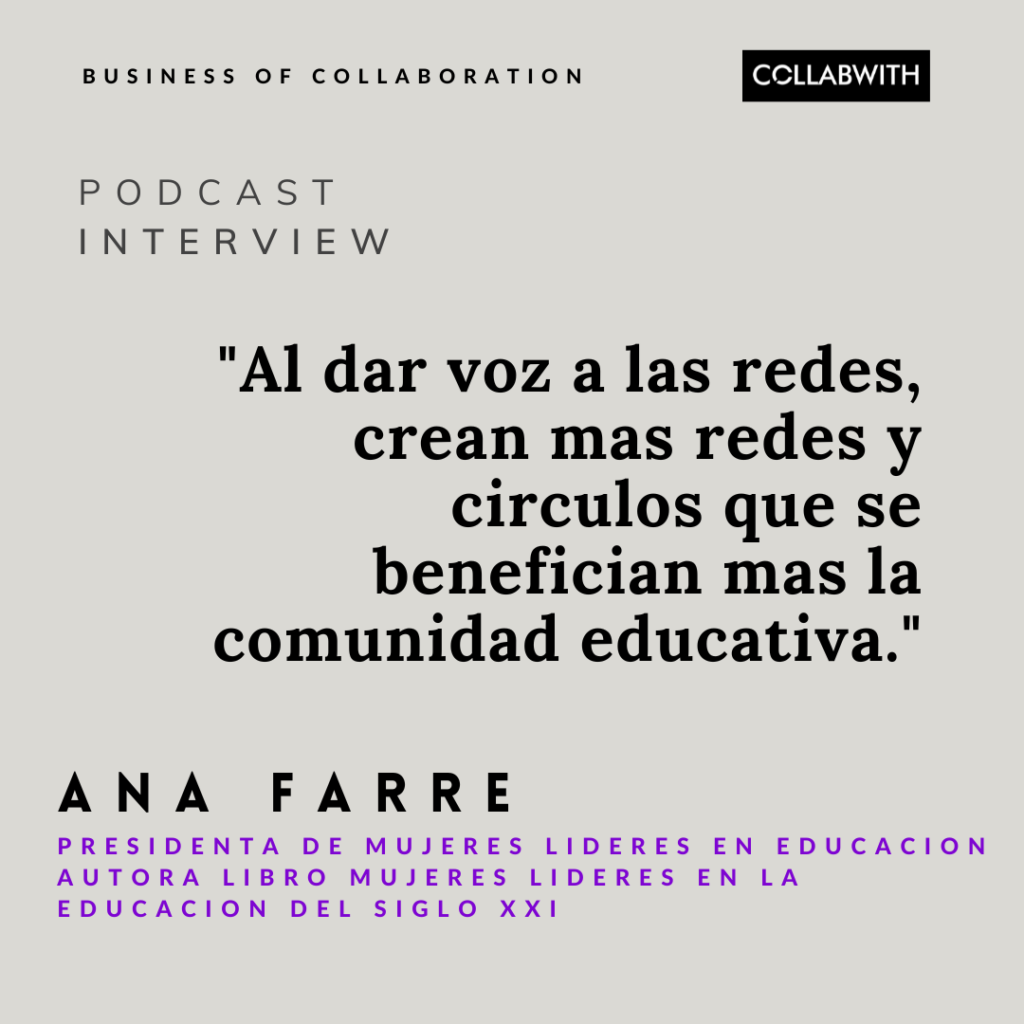 Farre pone el foco en dos 'revoluciones', llámese una, la que está sufriendo todo el sistema educativo y la otra, el papel que sigue teniendo la mujer en la sociedad española.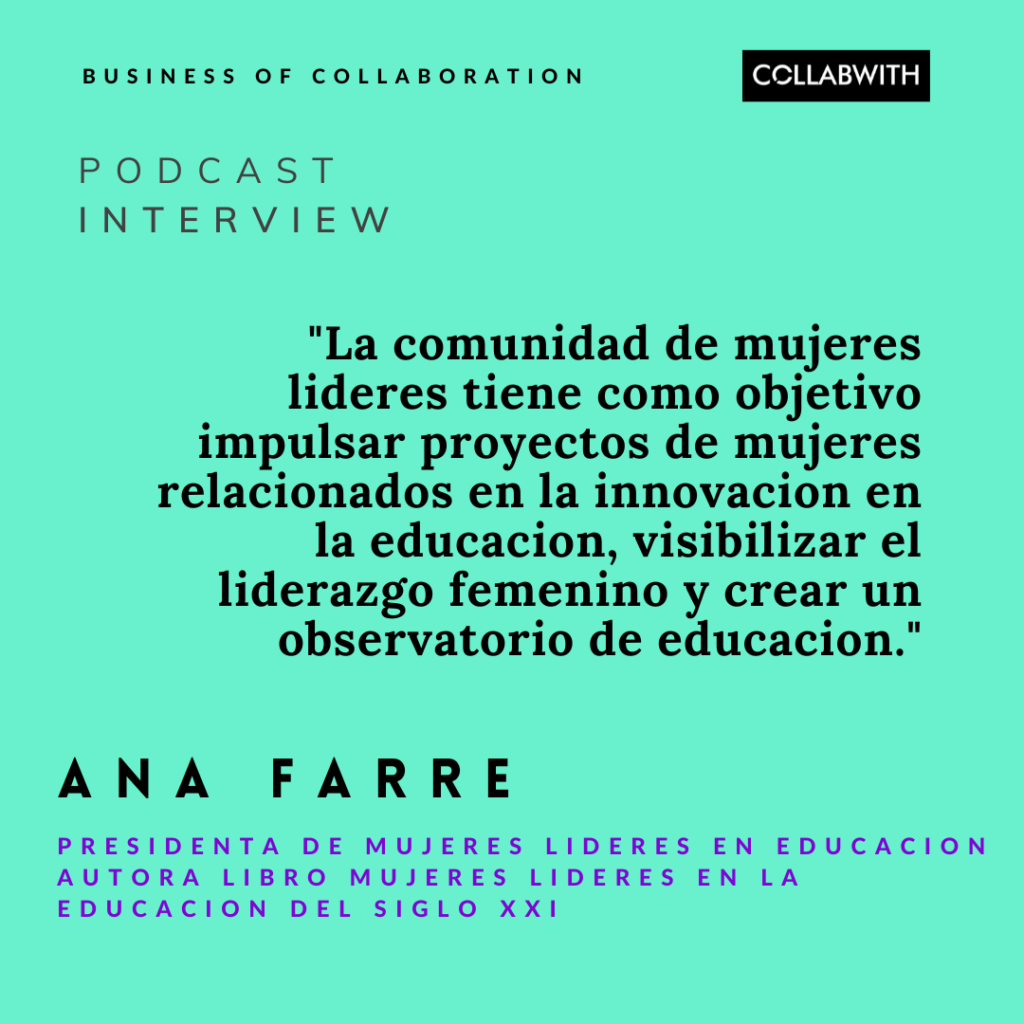 Nos habla de la visión de que la mujer sigue siendo la gran educadora en el siglo XXI. Así mismo, habla de la fuerza de su vida y de su mensaje. Mujeres que ya incorporaron la teoría a su praxis, gracias a los años que cuentan de experiencia. ¿Cómo tiene que ser el nuevo liderazgo?, ¿Cómo tiene que ser el nuevo rol del docente? Son algunas de las preguntas que plantea en su libro. Habla de la importancia de la fuerza de la red, la fuerza de la unión, la fuerza de la vida y de las redes que suman.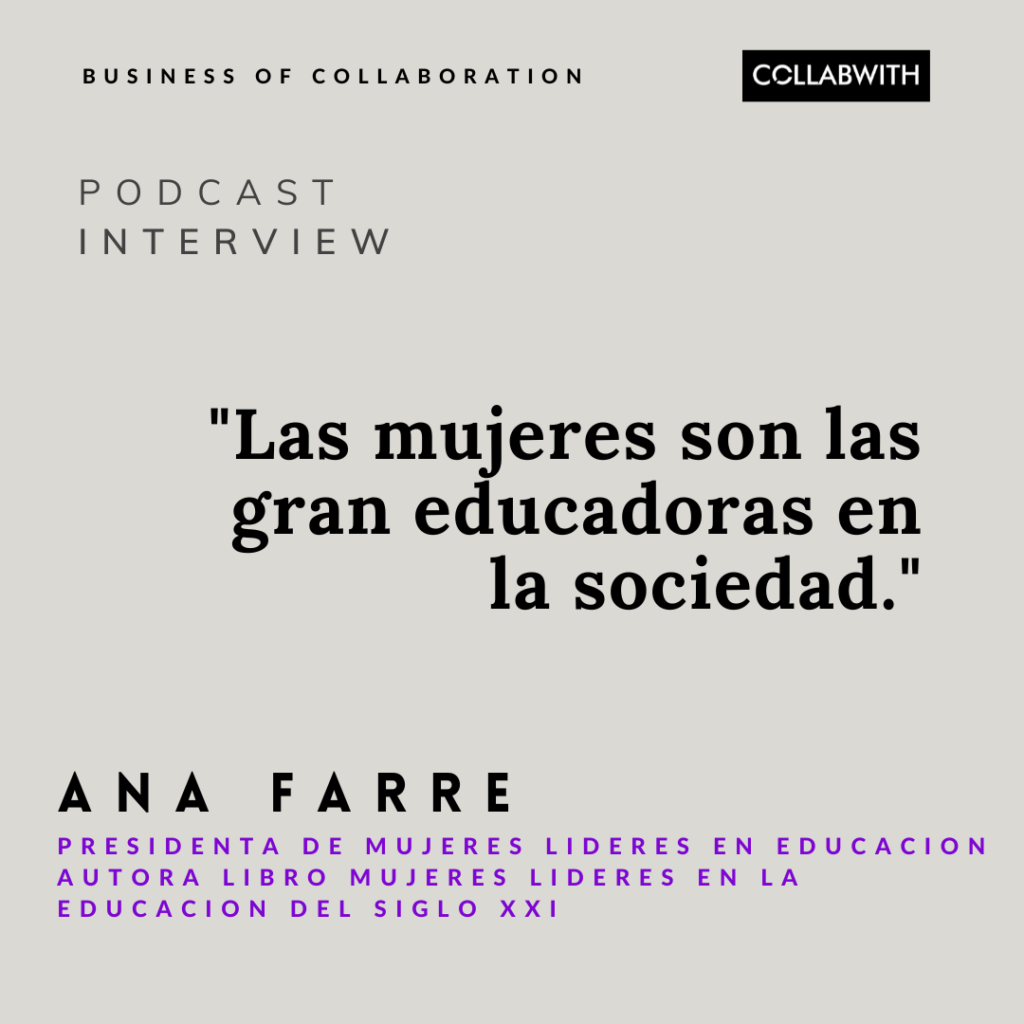 Para Farre, invertir en educación es invertir en sostenibilidad, invertir en el futuro. También escucharás de la inteligencia colectiva de las mujeres; por su capacidad empática, sensibilidad especial y de comunicación. Propone al nuevo líder como anfitrión y llega a la pregunta de cómo con este nuevo liderazgo se puede generar innovación.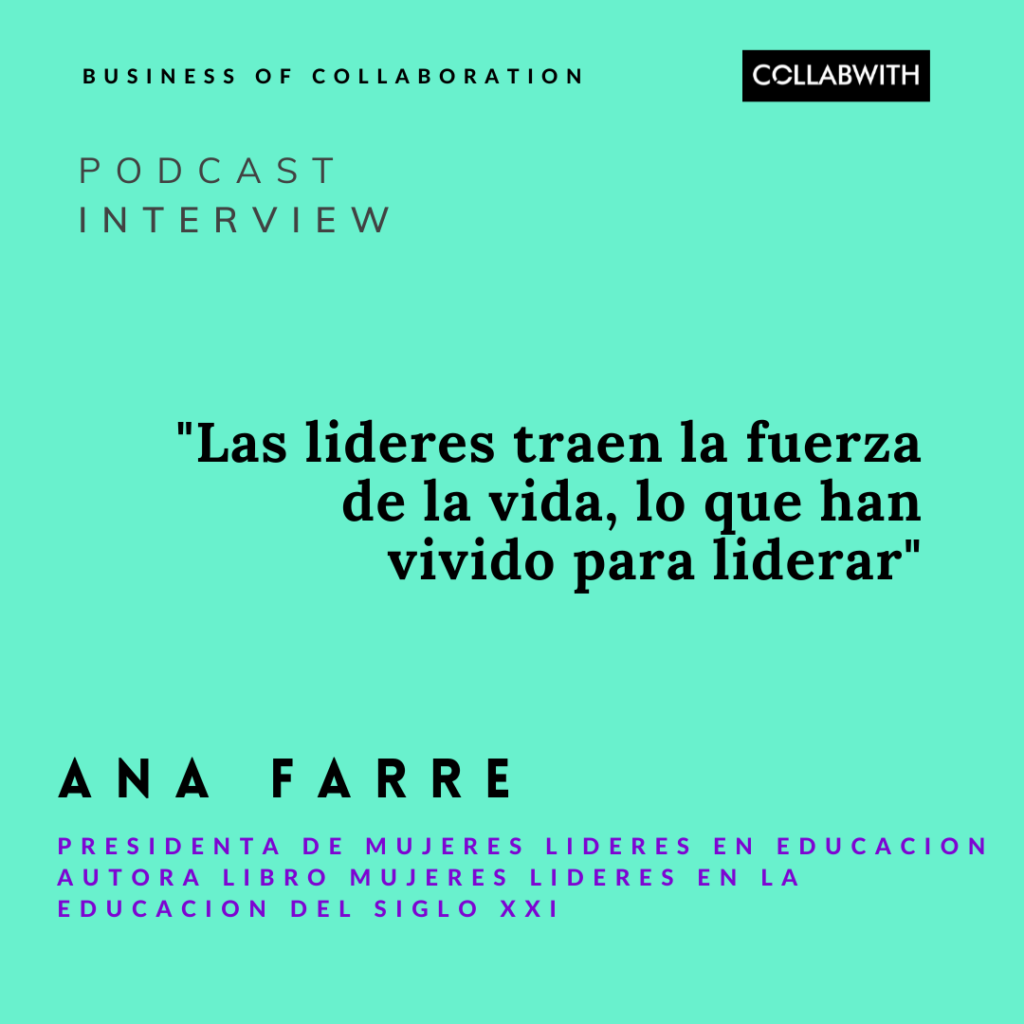 Ana Farré
Presidenta de Mujeres Líderes en Educación, Directora del Campus Ibercaja de la Fundación Ibercaja y Autora del libro "Mujeres Líderes en la Educación del Siglo XXI."
You can listen more Podcasts here.
En los  últimos 25 años, desarrolla su carrera profesional en la Fundación Ibercaja, desde donde se dedica a la gestión socio cultural para revertir directamente en la mejora de las personas y  del territorio. Junto a los equipos de la Fundación, ha ocupado puestos de dirección y liderado con éxito numerosos proyectos de índole social, educativa y cultural.
Desde 2015 asume el reto de dirigir durante 5 años el centro Ibercaja Patio de la Infanta en Zaragoza, convirtiéndolo en el buque insignia de la marca y en centro dinamizador de la vida socio cultural de la ciudad.
ABOUT COLLABWITH
Collabwith is a technology and a service to structure collaboration for innovation. It's a tool to connect academics-startups-organizations. Because a tool is not enough to transform how you collaborate, here we have created a new methodology, personalized trainings, a new way of communication and a tailored made consulting for you to be more effective and efficient, now.
Grow your business and innovation through smart collaborations with Collabwith innovative and holistic approach to collaboration.
Magazine: https://collabwith.co
CollaborationXInnovation Platform: https://platform.collabwith.co
Do you want to know more? Book a demo with us, Contact us here.