A curated list of challenges, programs, funding opportunities, academic research and startups that have caught our eye.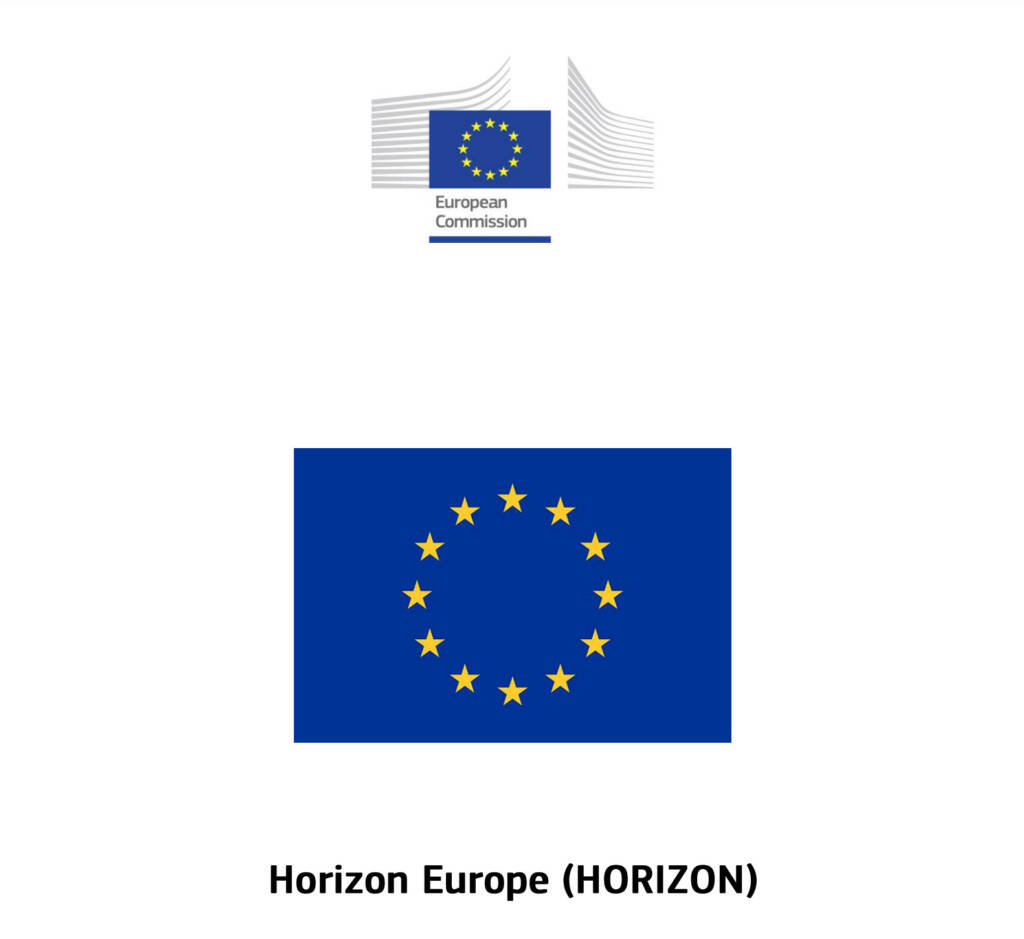 Horizon – EIC Scale Up 100
1. Admissibility conditions: described in Annex A and Annex E of the Horizon Europe Work Programme General Annexes
Proposal page limits and layout: described in Part B of the Application Form available in the Submission System
2. Eligible countries: described in Annex B of the Work Programme General Annexes
A number of non-EU/non-Associated Countries that are not automatically eligible for funding have made specific provisions for making funding available for their participants in Horizon Europe projects. See the information in the Horizon Europe Programme Guide.
3. Other eligibility conditions: described in Annex B of the Work Programme General Annexes
4. Financial and operational capacity and exclusion: described in Annex C of the Work Programme General Annexes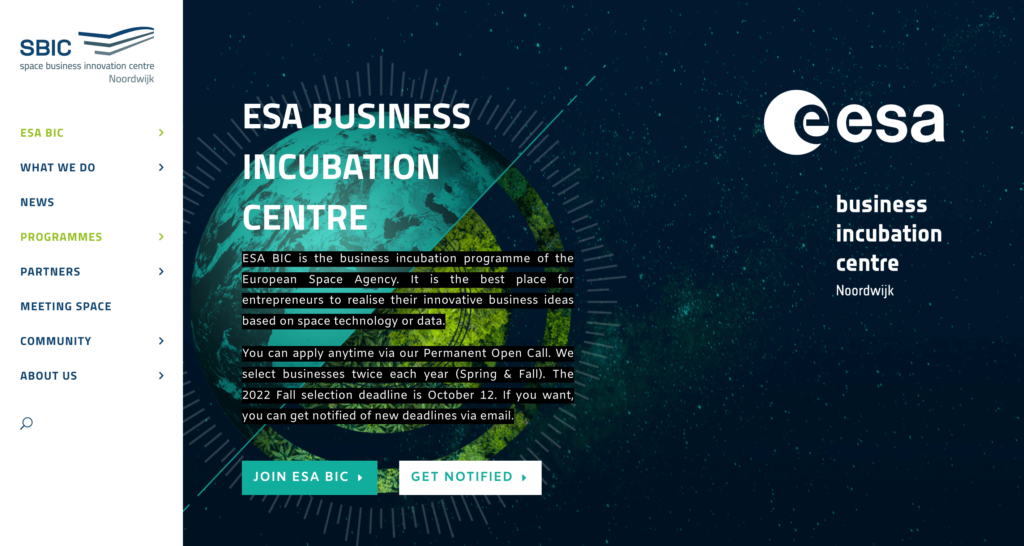 ESA Business Incubation Centre
ESA BIC Noordwijk offers technical, business and financial support to startups that use space technology for terrestrial applications.
ESA BIC Noordwijk is part of a network of 22 (and counting) ESA BICs across Europe, which were established to empower entrepreneurship and to allow local economies to benefit from space data and technologies. The programme is managed by a local partner: Space Business Innovation Centre Noordwijk.
Why should you participate? It's thé hub for commercialisation of space technology in The Netherlands It helps you go from idea to prototype or market introduction You'll work in an innovative, high-tech entrepreneurial environment You are close to ESA's biggest R&D facility, ESTEC
Technical support Up to 80 hours of Technical Support (from the European Space Agency and/or partners)
Zero-equity funding Up to € 50.000 Incentive Funding for product development & patents
KTEs – Knowledge Transfer Experiments A novel type of experiments allowing smaller projects, or less mature ideas to be presented, tested and thus potentially find the fertile ground to grow and reveal its product potentials. KTEs act as internships / traineeships, apprenticeships and short-term training programmes for unemployed people for vacant digital jobs. Expected duration: short-term (3 months)
Scheme: Internships projects between two different entities from two different EU Countries: one Academic/Industrial partner who act as Sending Organization and one Academic/Industrial partner who act as Host Organization. Beneficiaries
Budget: up to 8,000€ to cover mobility allowance for implementing the internship.
FTTEs – Focused Technology Transfer Experiments Within this type of experiments, one party transfers to the receiving partner a specific HW or SW technology in order to enable improved product or processes.
Expected duration: short-term (up to 9 months)
Scheme: Two different entities from two different EU Countries: one Academic and one Industrial or two industrials.
Budget: up to 80,000€ to cover staff, travel and equipment
CTTEs – Cross-domain Technology Transfer Experiments Complex multidisciplinary transfers and productization of novel CLEC CPS and the IoT technologies to wider markets.
Expected duration: short-term (9 months)
Scheme: Three (3) entities from at least two different EU Countries (at least one SME; the experiment should be led by the SME)
Budget: up to 80,000 € to cover staff, travel and equipment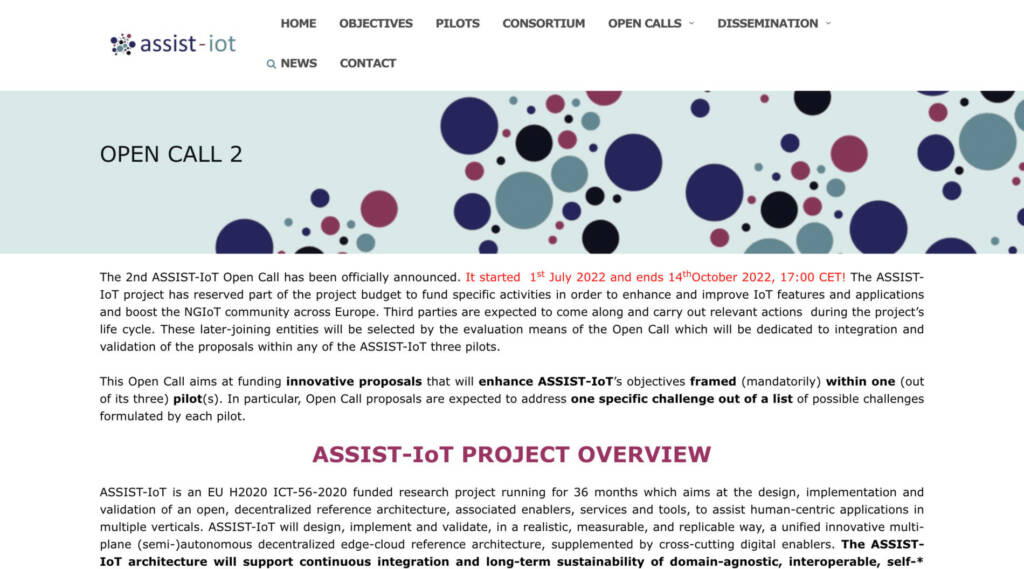 The 2nd Assist -IOT Open Call
The 2nd ASSIST-IoT Open Call has been officially announced. It started 1st July 2022 and ends 14thOctober 2022, 17:00 CET! The ASSIST-IoT project has reserved part of the project budget to fund specific activities in order to enhance and improve IoT features and applications and boost the NGIoT community across Europe. Third parties are expected to come along and carry out relevant actions during the project's life cycle. These later-joining entities will be selected by the evaluation means of the Open Call which will be dedicated to integration and validation of the proposals within any of the ASSIST-IoT three pilots.
This Open Call aims at funding innovative proposals that will enhance ASSIST-IoT's objectives framed (mandatorily) within one (out of its three) pilot(s). In particular, Open Call proposals are expected to address one specific challenge out of a list of possible challenges formulated by each pilot.
ASSIST-IoT PROJECT OVERVIEW ASSIST-IoT is an EU H2020 ICT-56-2020 funded research project running for 36 months which aims at the design, implementation and validation of an open, decentralized reference architecture, associated enablers, services and tools, to assist human-centric applications in multiple verticals. ASSIST-IoT will design, implement and validate, in a realistic, measurable, and replicable way, a unified innovative multi-plane (semi-)autonomous decentralized edge-cloud reference architecture, supplemented by cross-cutting digital enablers. The ASSIST-IoT architecture will support continuous integration and long-term sustainability of domain-agnostic, interoperable, self-* capable, intelligent, distributed, scalable, secure and trustworthy IoT ecosystems. More information available here.
The present call for proposals under this topic encourages applications in one or a combination of the following intervention areas (a non-exclusive list):
Demonstration processes, i.e. helping new products to reach the market faster or having more efficient and sustainable processes adopted by the industry.
Valorisation of research results and practical applications. This might include the active involvement of ecosystems and the co-creation process with stakeholders and end-users.
Connecting or making complementary use of testing and demonstration facilities at interregional level. In this framework, synergies with circularity hubs are encouraged.
Improving the use of natural resources and in the reuse of materials, promoting circularity models (de- and remanufacturing) and investments in carbon neutrality. Specific implementation (including funding) strategies can be envisaged, ensuring the participation of all stakeholders (industry, SMEs, local authorities, educational institutions and civil society).
Implementation of interregional demonstration cases to test and replicate the results.
Innovation diffusion and involvement of SMEs in EU value chains.
TheCollabEDIT will be published on the Collabwith Magazine once per week, however, you can join the Collabwith platform to check the funding and collaboration opportunities yourself every day, or as many times you want on the Collabwith Marketplace.
If you are looking for something more specific, we can make together a "Collaboration Plan" for you and your needs. Check up here the membership options or services.
ABOUT COLLABWITH
Collabwith is a technology and a service to structure collaboration for innovation. It's a tool to connect academics-startups-organizations. Because a tool is not enough to transform how you collaborate, here we have created a new methodology, personalized trainings, a new way of communication and a tailored made consulting for you to be more effective and efficient, now.
Grow your business and innovation through smart collaborations with Collabwith innovative and holistic approach to collaboration.
Magazine: https://collabwith.co
CollaborationXInnovation Platform: https://platform.collabwith.co
Do you want to know more? Book a demo with us, Contact us here.